Spanking in public: Another great parenting debate
When you spank your kid in public, don't be surprised if strangers have something to say about it.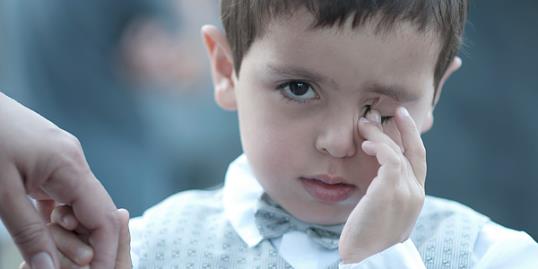 Doctors, academics, child-rearing experts and millions of parents all have an opinion on the topic of spanking.
It's not exactly a new debate, however, a writer over at The Stir raises an interesting point: When you hit your child in public, does it become everyone's business?
More from MSN Living: 4 musts for moms of boys
She recounts a recent incident on a New York City subway platform where she witnessed a mother was spanking her 4- or 5-year-old boy:
I'm not going to lie. I completely disapproved. I don't feel comfortable with the notion of spanking your kid in public. That feels like it's more about humiliation than discipline to me.  But I guess my face didn't reflect that because she looked at me and gave that exasperated mom look before saying, "He's a handful." She clearly expected me to sympathize with her. I didn't utter a word. I just turned my head, hoping that passive-aggressive move made it clear that we were not on the same page.
More from MSN Living: 10 single mom secrets
The author goes onto to say another passenger took a much more direct approach to show her displeasure by saying, "Spanking solves nothing."
The mom shot back, "Mind your own business, lady." Not exactly a shocking reaction.
So, is spanking ever OK? If so, under what circumstances is it acceptable?
The American Academy of Pediatrics does not endorse spanking under any circumstances. It's a form of punishment that becomes less effective with repeated use, according to the AAP; it also makes discipline more difficult as the child outgrows it.
Instead of spanking, the AAP recommends time-outs, which force children to calm down and think about their emotions rather than acting on them reflexively. Isn't the whole point of punishment to understand what they did wrong and reflect upon why they did it in the first place?
How do you feel about parents spanking their kids in public? Is it a personal choice for each parent and family? Or do you disapprove?
Bing: The long-term effects of spanking
More from Family Room:
Study: Same-sex parents raise well-adjusted kids
Some teachers ban kids from having best friends
Love content like this? Friend us on Facebook, follow us on Twitter and find us on Pinterest.
Readers: Calling all mom bloggers — we're looking for fresh voices on MSN Living. Email us your samples and contact info.
Photo: Pablo Baracat Photography/Getty Images
News, stories, tips and laughs for moms & dads
Find out which classroom supplies and dorm-room buys you don't need to spend a fortune on

4 steps for raising a child who doesn't feel emotionally stranded.

Any of these sound familiar?

Fire challenge involves pouring alcohol on one's chest and lighting it

A coincidence after the furlough?

Helpful tips for easing first day jitters.

Getting ready for fall has never been more fun.

Great reads for the back-to-school mindset.

Remember the concept of weekends being a time for rest, relaxation, and togetherness? No? Us either. Between soccer games, playdates, dragging your kids to see the new exhibition at the local children's museum, and we need to pick up a gift for that birthday party that starts in . . . 20 minutes, juggling a busy family's weekend schedule can be more stressful than a weekday. While we know it's simply not realistic to cancel all your plans and obligations moving forward, clearing the calendar for just one weekend can be just the refresher that your family's craving. Here's why.

You just had a baby? You're a superstar! All those diapers, all that spit up, and you're makin' magic happen. But you're also likely tired - really tired - and busy (so, so busy). Taking time for yourself might seem like an indulgence but a happy mom makes for a happy baby. Here are 7 things you should definitely do to keep your sanity intact and your spirit high. <more, below>

Summertime is on, and the kids are out of school. Every mom knows that for these three months it's more important than ever to keep the kids busy. But you don't have to schedule your life away with camps, or drop a bundle on activities and games that come in a box. You can make your own fun, and even include the kids in the prep, with some simple, inexpensive DIY crafts that will keep them playing 'til the lightening bugs come out. Make your own fingerpaint, bubbles, and crayons. Create a fort-building kit and superhero capes that will kick their imaginations into overdrive. Here are 10 of our favorite kid-friendly DIY crafts to fuel your summertime fun.