Spanking in public: Another great parenting debate
When you spank your kid in public, don't be surprised if strangers have something to say about it.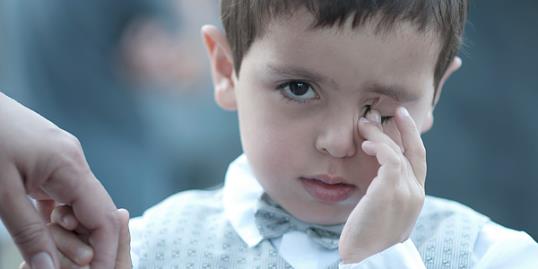 Doctors, academics, child-rearing experts and millions of parents all have an opinion on the topic of spanking.
It's not exactly a new debate, however, a writer over at The Stir raises an interesting point: When you hit your child in public, does it become everyone's business?
More from MSN Living: 4 musts for moms of boys
She recounts a recent incident on a New York City subway platform where she witnessed a mother was spanking her 4- or 5-year-old boy:
I'm not going to lie. I completely disapproved. I don't feel comfortable with the notion of spanking your kid in public. That feels like it's more about humiliation than discipline to me.  But I guess my face didn't reflect that because she looked at me and gave that exasperated mom look before saying, "He's a handful." She clearly expected me to sympathize with her. I didn't utter a word. I just turned my head, hoping that passive-aggressive move made it clear that we were not on the same page.
More from MSN Living: 10 single mom secrets
The author goes onto to say another passenger took a much more direct approach to show her displeasure by saying, "Spanking solves nothing."
The mom shot back, "Mind your own business, lady." Not exactly a shocking reaction.
So, is spanking ever OK? If so, under what circumstances is it acceptable?
The American Academy of Pediatrics does not endorse spanking under any circumstances. It's a form of punishment that becomes less effective with repeated use, according to the AAP; it also makes discipline more difficult as the child outgrows it.
Instead of spanking, the AAP recommends time-outs, which force children to calm down and think about their emotions rather than acting on them reflexively. Isn't the whole point of punishment to understand what they did wrong and reflect upon why they did it in the first place?
How do you feel about parents spanking their kids in public? Is it a personal choice for each parent and family? Or do you disapprove?
Bing: The long-term effects of spanking
More from Family Room:
Study: Same-sex parents raise well-adjusted kids
Some teachers ban kids from having best friends
Love content like this? Friend us on Facebook, follow us on Twitter and find us on Pinterest.
Readers: Calling all mom bloggers — we're looking for fresh voices on MSN Living. Email us your samples and contact info.
Photo: Pablo Baracat Photography/Getty Images
News, stories, tips and laughs for moms & dads
Transform the fall vegetable into cool decor pieces.

Put together these creative, but simple, Halloween looks for your youngsters.

We know you're documenting just about every move baby makes. (Do you even have any memory left on your phone? We didn't think so.) These tips from professional photographers can help you perfect your pics.

These six on-trend ideas will make baby's room your new favorite place to hang out.

Baby probably won't remember his first birthday party, but that doesn't mean you can't go all out (after all, parents need to celebrate making it through this first year, right?). These fun, colorful themes take planning to the next level.

See what celebrities who had problems conceiving have to say.

You'll be hearing a lot of advice and opinions. Some of it will be really helpful and some will be just plain wrong. Here are the most common things people say about babies that aren't true.

A new dad finds an Epcot Center's worth of innovation after expecting none at all.

The dog days of summer may be well behind us, but that doesn't mean it's time to pack in the outdoor adventures quite yet.

Protect yourself and your family with these ingenious gizmos and smartphone apps.

Make sure your go-to gadgets are as cute as your style, with these trendy tech finds!

Oh, how the times have changed...