Michelle Duggar says she's trying for baby No. 20!
How many is too many?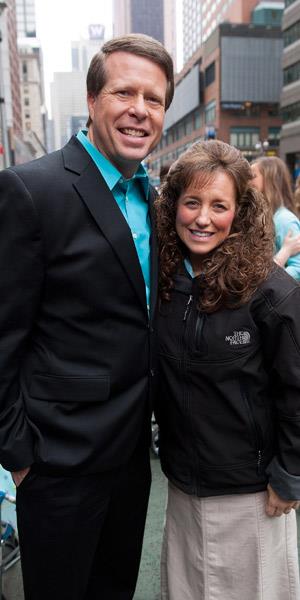 Word on the
CelebrityBabyScoop
street is that
Michelle Duggar
and her gang of
19 kids
are ready to open their arms once more for
baby No. 20
!
Jim Bob
and Michelle, who are parents to more J-named kids than I can count on my hands (but not my hands and toes combined, y'all!), are not currently expecting — but it doesn't mean they aren't trying to add another baby to the already oversized mix. In an exclusive interview with
CelebrityBabyScoop.c​om
, Michelle shared: "I would be so grateful if the Lord blessed us with another one. We're trying at this point and we shall see if that is a possibility. If not, we are so thankful and grateful for the ones that God has given us so far. We are also definitely enjoying our grandbabies! They are so precious!"
Back in March, Michelle spoke with People about the possibility of adoption. She said, "The kids are definitely pushing towards wanting us to open our home up to another child or more. They see how much we have been blessed with and how little so many children have and they want to share. We tell our children that would have to be something that is God's will for our family, and we will see if it is. Our children love children, and we all do." Looks like, for now, the plan is to conceive naturally.
But before you fall off your rocker, Michelle says she's well aware that the critics feel adding one more baby Duggar may officially cause the cup to runneth over — but they still want to try. "I think that there is this ideology that goes behind overpopulation that I don't really agree with," she says. "It's a different perspective and that's where people have their different ideas, and that's okay. That's what makes the world go around; there are many different ideas and different perspectives about certain topics."
And don't ask mama if she's done her research, because she and JB are well-versed in the world of overpopulation (and they don't agree!). She added, "We have studied it and I believe that there is a misconception about overpopulation. I think that the whole mindset of overpopulation is really overrated. A few years back, we stated that the whole population of the world could be stood
shoulder-to-shoulder​
in Jacksonville. That may have changed a little bit since we've heard that statistic."
One thing you've got give Michelle credit for (whether you're with her or not), is the fact that she doesn't let public opinion deter her and her family from their beliefs, their desires and most importantly — their family planning. She even chalks some of the negative comments about their decision to expand once more to basic math. She told CelebrityBabyScoop, "People were saying, 'Oh, that's way too many kids and I can't imagine that many children in one family!' However, my daughter, Jill, said to us, 'Mom, Dad, I don't understand why people would say that. Love really, truly multiplies…it doesn't divide. When you have more people in the family, there is that many more people to spread love all around!' I think Jill said it very wisely; love does multiply. It's a joy, because there are that many more people and that much more love in the house!"
While I couldn't picture parenting — or hell, even delivering — 19 kids and still wanting more, I can totally get behind their daughter's comments. Adding to your family really does make the love multiply (even though diapers, space and baby gear it does not).
The joys that new baby and a new family member bring are unlike anything else in the world, so it's not hard to see that Michelle, Jim Bob and their brood just want sprinkle a little more of that special sauce around. It's sweet, isn't it?
Do you think 20 babies is too many?
More from The Bump:
By Kylie McConville
Photo: Getty Images / The Bump
News, stories, tips and laughs for moms & dads
As all the kids line up to go to school, your son, Timmy, turns to you and says, "I don't want to take the bus. My stomach hurts. Please don't make me go." You cringe and think, Here we go again. What should be a simple morning routine explodes into a daunting challenge.

Learning these 10 things is a good base with which to begin the tough preteen and teen years. Helping our children maneuver life is our jobs as parents, even if we haven't quite figured it all out ourselves yet.

We've all seen her... But should we judge her?

Unique, or downright strange?

In a few short weeks you'll be dropping your child off at college, where they'll spend the next four years learning, laughing, and probably partying. Of course, in true teen fashion, your child has already started shopping for their dorm room essentials. Don't panic just yet!

When tots burst through the door after a busy day at school, the first order of business is securing a snack.

The only thing more important than what you pack your child for lunch is what you pack it in.

Frustrated mom invents Ignore No More app

Do you have the right mix of moms surrounding you?

It's hard to keep young kids entertained while being confined indoors, but fear not, for we have some fun ideas to keep the entire family from climbing the walls during rainy days.

Back in our day, ending up with the same exact backpack as your BFF was a legitimate back-to-school concern. Nowadays? There are so many options, it's dizzying!

It is a parent's eternal dilemma: What do I make the kids for lunch today? And tomorrow? And next week? We fall into ruts, succumb to the tried-and-true, give in to our children's demands for junk food. No more! These school lunch ideas—for everything from sandwiches to snacks to hot meals—will freshen up your daily routine, so much so you may be tempted to make them for yourself.