Michelle Duggar says she's trying for baby No. 20!
How many is too many?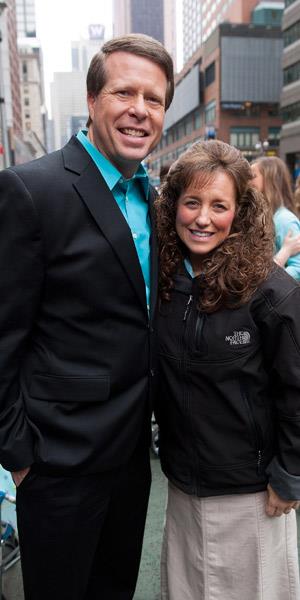 Word on the
CelebrityBabyScoop
street is that
Michelle Duggar
and her gang of
19 kids
are ready to open their arms once more for
baby No. 20
!
Jim Bob
and Michelle, who are parents to more J-named kids than I can count on my hands (but not my hands and toes combined, y'all!), are not currently expecting — but it doesn't mean they aren't trying to add another baby to the already oversized mix. In an exclusive interview with
CelebrityBabyScoop.c​om
, Michelle shared: "I would be so grateful if the Lord blessed us with another one. We're trying at this point and we shall see if that is a possibility. If not, we are so thankful and grateful for the ones that God has given us so far. We are also definitely enjoying our grandbabies! They are so precious!"
Back in March, Michelle spoke with People about the possibility of adoption. She said, "The kids are definitely pushing towards wanting us to open our home up to another child or more. They see how much we have been blessed with and how little so many children have and they want to share. We tell our children that would have to be something that is God's will for our family, and we will see if it is. Our children love children, and we all do." Looks like, for now, the plan is to conceive naturally.
But before you fall off your rocker, Michelle says she's well aware that the critics feel adding one more baby Duggar may officially cause the cup to runneth over — but they still want to try. "I think that there is this ideology that goes behind overpopulation that I don't really agree with," she says. "It's a different perspective and that's where people have their different ideas, and that's okay. That's what makes the world go around; there are many different ideas and different perspectives about certain topics."
And don't ask mama if she's done her research, because she and JB are well-versed in the world of overpopulation (and they don't agree!). She added, "We have studied it and I believe that there is a misconception about overpopulation. I think that the whole mindset of overpopulation is really overrated. A few years back, we stated that the whole population of the world could be stood
shoulder-to-shoulder​
in Jacksonville. That may have changed a little bit since we've heard that statistic."
One thing you've got give Michelle credit for (whether you're with her or not), is the fact that she doesn't let public opinion deter her and her family from their beliefs, their desires and most importantly — their family planning. She even chalks some of the negative comments about their decision to expand once more to basic math. She told CelebrityBabyScoop, "People were saying, 'Oh, that's way too many kids and I can't imagine that many children in one family!' However, my daughter, Jill, said to us, 'Mom, Dad, I don't understand why people would say that. Love really, truly multiplies…it doesn't divide. When you have more people in the family, there is that many more people to spread love all around!' I think Jill said it very wisely; love does multiply. It's a joy, because there are that many more people and that much more love in the house!"
While I couldn't picture parenting — or hell, even delivering — 19 kids and still wanting more, I can totally get behind their daughter's comments. Adding to your family really does make the love multiply (even though diapers, space and baby gear it does not).
The joys that new baby and a new family member bring are unlike anything else in the world, so it's not hard to see that Michelle, Jim Bob and their brood just want sprinkle a little more of that special sauce around. It's sweet, isn't it?
Do you think 20 babies is too many?
More from The Bump:
By Kylie McConville
Photo: Getty Images / The Bump
News, stories, tips and laughs for moms & dads
Readers share their favorite holiday family traditions that really make it the most wonderful time of the year. By Lauren Passell

Brand new Babycenter.com baby-naming reports reveal a few naming trends that may surprise you (or not).

Every family has its oddballs. And the holiday season is the one time of year when you're pretty much forced to interact and play nice with the grand majority of them. Click through the slideshow above for our guide to dealing with the five worst kinds of kin. *Disclaimer: All characters appearing in this work are fictitious. Any resemblance to real persons, living or dead, is purely coincidental.

When you're single, dating, and childless, the most important dining-out decision you need to make is red, white, or beer. But when you're married (or otherwise partnered) with kids, just thinking about eating out as a couple may have you reaching for the liquor cabinet: The babysitting tab alone often exceeds the meal, and that's assuming you can even find anyone reliable to watch the children. Do you just bring the kids along with you? As much as we're in favor of that, the answer is no: You do deserve a date night! And there are, in fact, better ways to go about hiring a babysitter than stalking teens at the local mall (or really anywhere: stalking teens = bad idea). Here are seven ways to find child care so you can go and enjoy a well-deserved night out.

Plus, kitten names to watch

The names that best symbolized our year

As you trim your tree, hang the lights, bake cookies and prepare for guests, remember that there's a certain member of your family who also deserves something extra special this holiday season: your dog. Save a little space under the tree for these beds, toys, collars and outfits for your favorite canine. Plus, we've even included a couple of gifts for the dog lovers in your life!

Dr. Marty Becker shares questions you should ask yourself before making the commitment to foster a shelter pet.

What one mom learned about herself might just change your world

From Ryan Gosling earrings to portable speakers, there's something here for kids of all ages.

When it comes to holiday giving, it's the thought that counts, which is why homemade gifts from kids are so treasured by their mothers. Children might not have money to spend on an expensive piece of jewelry or designer handbag, but they do have the time to DIY something special for their number one fan. If you're in charge of helping the little ones think of presents, check out the above list of homemade gifts for mom. From a custom vase to Instagram coasters to Warhol-inspired wall art, we have something for every taste and skill level.

At our household, we have a large, diverse collection of toys. While I'm not as uptight as my husband on what enters our kids' toy chest, my husband must approve all toy acquisitions mostly because of aesthetics (appearance is important). In our search for functional and stylish toys, the sustainable ones often have the best design, and appeal to the visual and tactile senses or improve fine motor skills such as dexterity and hand coordination. Here are a few of our family favorites that intrigue and hold our little ones' attention—and look good, too.