Anti-social Dallas Zoo gorilla being shown door
Patrick never bonded with his female counterparts, zoo officials said.
DALLAS (AP) — There will be no rose ceremony for a 430-pound bachelor gorilla that failed to form any meaningful relationships with fellow apes during an 18-year stay at the Dallas Zoo.
Patrick, the 23-year-old Western lowland gorilla known for being gregarious with zoo staff and the public but ambivalent toward his female counterparts, has been handed his walking papers. The silverback will be transferred to the Riverbanks Zoo and Garden in Columbia, S.C. where he'll be allowed more solitude, according to a statement issued Monday by the Dallas Zoo.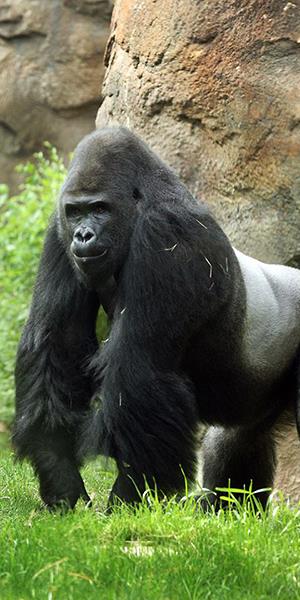 "It's become clear that he prefers to live a solitary life," said Dr. Lynn Kramer, head veterinarian at the Dallas Zoo. "This move will allow Patrick to continue to thrive while creating an opportunity for our four remaining males to form a cohesive bachelor group."
Patrick was born at the Bronx Zoo in New York City in April 1990, but maternal neglect forced him to be moved to the Toronto Zoo where he was hand-raised with another male his own age. Both gorillas arrived in Dallas at age 5 and were integrated into a small troop of one silverback and two females, before being removed to form a bachelor group together.
Despite his affability with humans and his popularity in zoo presentations about gorillas, zoo officials said Patrick's reaction toward female apes has ranged from indifference to aggression.
No move date was announced for Patrick, a gorilla Kramer described as extremely intelligent and adept at using tools. A two-day bon-voyage celebration at the Dallas Zoo will be held Saturday and Sunday.
Patrick's departure will leave the Dallas Zoo with six gorillas.
More from Off the Leash:
14 baby pandas cuddle in a crib
Duct tape used in theft of 23 goats
Deaf dog alerts owner to intruder
Friend us on Facebook, follow us on Twitter and find us on Pinterest.
Photo: Patrick, a 23-year-old Western lowland gorilla (Courtesy of the Dallas Zoo via Facebook, www.facebook.com/Dal​lasZoo)
Are you sure you want to delete this comment?
pics, advice, info and stories for pet lovers
Adopting an animal is a major commitment. Yet all too often people put more effort into researching what kind of car to get than the type of pet that would best fit their lifestyle.

'Tis the season to send out holiday greeting cards to all your friends and family. But, as our friends at Awkward Family Pet Photos know, not all holiday snapshots are the same. Some are just plain kooky — especially when pets are included. So with good tidings and great cheer, here are 10 wacky holiday animal portraits that are sure to make you laugh out loud and get you in the holiday spirit. And possibly make you think twice about dressing up the family cat this year.

King of the jungle? Nah, it's just a labradoodle!

Do you have a finicky furry friend on your holiday gift list this year? You're in luck! We've rounded up the coolest cat-approved products to bring you purrfect gift ideas for every kind of cat -- from the curious kitten to the most refined feline. Any one of these special gifts could make your resident kitty purr with pleasure and maybe, just maybe, like the present this year even more than the box and wrapping paper it came in!

Plus, puppy names to watch

We asked 218 veterinary professionals to vote on the dog breeds and mixes that are not good choices for first-time pet parents. German Shepherds, Bulldogs and Akitas are among the breeds new pet owners should steer clear of.

"No! Bad dog!" How many times have you scolded your misbehaving canine with those words? Probably too many. But before you fly off the handle, one of the most important things to understand about correcting bad behavior is that punishment doesn't work.

If you have a hard time cruising through the toy aisle without loading up, you're not alone. But the good news is that there are tons of inexpensive dog toys that still deliver big fun. Check out our picks, and be sure to share in the comments if we left off your dog's favorite!

Sexy mice? Yes, they exist

Stray surprises subway passengers.

Newly cast cat will better match character from the book series, producer and author say.