Dog survives 13 days on snowy mountain
Rescue team saves stranded pup.
A 2-year-old Bernese mountain dog named Ohly got spooked and ran off during a snow trek on a part of British Columbia's Mount Seymour nearly two weeks ago.
Ohly's family and friends tried to search for him, but with the dog in a ravine that's so steep it's known as "Suicide Gully," the North Shore Rescue team stepped in so that the searchers weren't putting themselves in danger.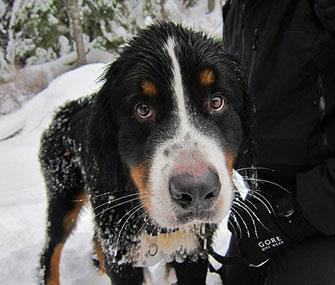 The team found Ohly, but the scared dog kept running away. On Saturday, with the help of a helicopter, the team was finally able to recover to Ohly, and reunited him with his relieved family.
More from Off the Leash: Miley Cyrus' dog dies
He was dehydrated, but otherwise O.K. after his 13-day adventure. The Goad family took to Facebook to thank the team, other volunteers and those whose donations covered the $9,000 cost of the rescue, calling Ohly's return the "best Christmas present ever."
— Read it at the Huffington Post Canada 
More from Off the Leash: World's largest elephant range found
Photo: Flickr // Ohly was rescued Saturday by the North Shore Rescue team.
Bing: Dogs in the news.
More from Vetstreet:
Do All Dogs Need Sweaters or Coats?
5 Once-Popular Dog Breeds Sadly Losing Popularity
Puppy Saves Boy From Speeding Truck
10 Dog and Cat Breeds With Magical Origins
10 Best Holiday Awkward Family Pet Photos
pics, advice, info and stories for pet lovers
267 veterinary professionals offered up their picks for the Most Athletic, Biggest Flirt and other popular high school categories.

BarkBuddy helps match prospective doggie-adopters with potential pets.

It's all calm and quiet around your house until one of these visitors appears.

Are you a cat owner? Are you sure about that? Who caters to her resident feline's every need? Who dotes upon her demanding little dictator? Who can be put in her place with just one look of disdain from the kitty in the corner?

Dogs might not seem as mysterious as cats, but canines do have their fair share of behaviors that are truly baffling.

In some households pets are allowed everywhere, all the time. In others, pets aren't allowed on any furniture, ever. But in many, the answer lies somewhere in between.