Dog survives 13 days on snowy mountain
Rescue team saves stranded pup.
A 2-year-old Bernese mountain dog named Ohly got spooked and ran off during a snow trek on a part of British Columbia's Mount Seymour nearly two weeks ago.
Ohly's family and friends tried to search for him, but with the dog in a ravine that's so steep it's known as "Suicide Gully," the North Shore Rescue team stepped in so that the searchers weren't putting themselves in danger.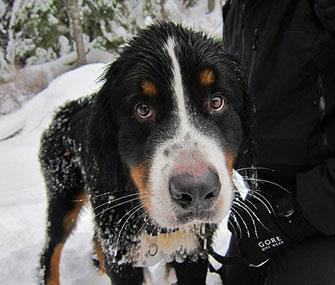 The team found Ohly, but the scared dog kept running away. On Saturday, with the help of a helicopter, the team was finally able to recover to Ohly, and reunited him with his relieved family.
More from Off the Leash: Miley Cyrus' dog dies
He was dehydrated, but otherwise O.K. after his 13-day adventure. The Goad family took to Facebook to thank the team, other volunteers and those whose donations covered the $9,000 cost of the rescue, calling Ohly's return the "best Christmas present ever."
— Read it at the Huffington Post Canada 
More from Off the Leash: World's largest elephant range found
Photo: Flickr // Ohly was rescued Saturday by the North Shore Rescue team.
Bing: Dogs in the news.
More from Vetstreet:
Do All Dogs Need Sweaters or Coats?
5 Once-Popular Dog Breeds Sadly Losing Popularity
Puppy Saves Boy From Speeding Truck
10 Dog and Cat Breeds With Magical Origins
10 Best Holiday Awkward Family Pet Photos
pics, advice, info and stories for pet lovers
Plus, puppy names to watch

We asked 218 veterinary professionals to vote on the dog breeds and mixes that are not good choices for first-time pet parents. German Shepherds, Bulldogs and Akitas are among the breeds new pet owners should steer clear of.

"No! Bad dog!" How many times have you scolded your misbehaving canine with those words? Probably too many. But before you fly off the handle, one of the most important things to understand about correcting bad behavior is that punishment doesn't work.

If you have a hard time cruising through the toy aisle without loading up, you're not alone. But the good news is that there are tons of inexpensive dog toys that still deliver big fun. Check out our picks, and be sure to share in the comments if we left off your dog's favorite!

Sexy mice? Yes, they exist