Dog survives 13 days on snowy mountain
Rescue team saves stranded pup.
A 2-year-old Bernese mountain dog named Ohly got spooked and ran off during a snow trek on a part of British Columbia's Mount Seymour nearly two weeks ago.
Ohly's family and friends tried to search for him, but with the dog in a ravine that's so steep it's known as "Suicide Gully," the North Shore Rescue team stepped in so that the searchers weren't putting themselves in danger.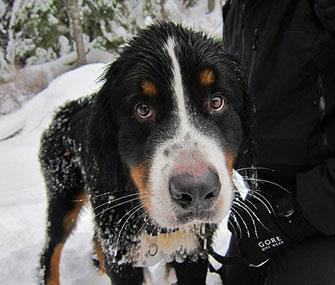 The team found Ohly, but the scared dog kept running away. On Saturday, with the help of a helicopter, the team was finally able to recover to Ohly, and reunited him with his relieved family.
More from Off the Leash: Miley Cyrus' dog dies
He was dehydrated, but otherwise O.K. after his 13-day adventure. The Goad family took to Facebook to thank the team, other volunteers and those whose donations covered the $9,000 cost of the rescue, calling Ohly's return the "best Christmas present ever."
— Read it at the Huffington Post Canada 
More from Off the Leash: World's largest elephant range found
Photo: Flickr // Ohly was rescued Saturday by the North Shore Rescue team.
Bing: Dogs in the news.
More from Vetstreet:
Do All Dogs Need Sweaters or Coats?
5 Once-Popular Dog Breeds Sadly Losing Popularity
Puppy Saves Boy From Speeding Truck
10 Dog and Cat Breeds With Magical Origins
10 Best Holiday Awkward Family Pet Photos
pics, advice, info and stories for pet lovers
It's Independence Day — and we're celebrating our freedom and everything American. Before you light up the grill or head out to catch the fireworks, take a moment to check out these fun photos of patriotic pups. We hope you have a wonderful holiday and, as always, remember to keep your pets safe.

You love him so much, but you put up with a lot for your pup.

There's no denying that cats are excellent companions, but sometimes they do something that leaves you scratching your head in total confusion. If you're used to dogs, cats' social interactions and the way they communicate can be very confusing. Yet it's these special behaviors, like affectionate head-butting and their penchant for cardboard boxes, that make us love them so much. To help you better understand your elusive feline, we rounded up 10 cat behaviors that people commonly consider mysterious. You'll find that many of these habits aren't weird at all for cats -- they're normal. Click through this slideshow to learn more about mysterious feline habits and what they mean.

Soldier the cat is now recovering thanks to a special oxygen mask used for reviving animals.

Donna the dog served in Afghanistan and is retiring.

Kitty can't hide its excitement when his owner walks through the door.

It's an age-old discussion: Are you a cat person or a dog person?

Fire-rescue crews were able to lead the animal to safety.

For many, summer means getting outside and spending quality time with four-legged friends. Sometimes that's a game of fetch in the backyard, but sometimes it's fun in the sun (and sand) at the beach. Luckily, there are a number of beaches in the United States that let you bring your pooch — as long as you follow the rules, of course. Here are eight beaches that you can visit with your dog.

Factors include weather, walkability, yard sizes and more

Check out some of the sweetest cat naps we've ever seen...