Dog reunited with owner after 10 years
Coincidence connects man with long-lost Basset Hound.
Ten years ago, Jamie Carpentier lost custody of his Basset Hound, Ginger, when he and his wife divorced. But he didn't know that shortly afterward, she'd given the dog up to a shelter.
Ginger spent many happy years with an older couple who adopted her, but she recently returned to the shelter when they could no longer care for her. That's when Carpentier happened to look at the listings for adoptable dogs on the web site for the Humane Society for Greater Nashua, N.H.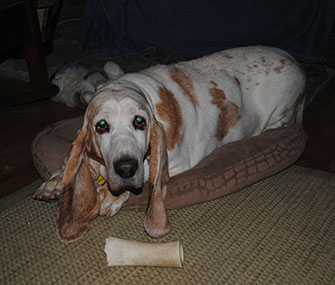 There, he read about a Basset named Ginger who, at 13, was about the same age as the dog he once had. He asked the group for a photo, and sent them photos of Ginger as a puppy — and the connection was made.
Carpentier recently arrived at the shelter to be reunited with Ginger as she was waking up from a nap.
"She heard my voice. I walked up to her and she kind of gave me a couple of licks or kisses. And I was like, 'She knows who I am, she remembers my voice,' " Carpentier said.
— Read it at the Nashua (N.H.) Telegraph
Bing: Hero dogs in the news
More from Vetstreet:
5 popular dog breeds to worry about most for health issues
How to protect pugs, bulldogs and other short-nosed breeds
Blind girl reunited with stolen therapy dog
Charlie Sheen pay's $10,000 for ill teen's therapy dog
Meet America's new top dog
Photo: Humane Society for Greater Nashua / At 13 years old, Ginger has been happily reunited with her original owner, who lost custody of her in his divorce and found her in a shelter.
Are you sure you want to delete this comment?
pics, advice, info and stories for pet lovers
Computer equipment delivery came with two cute stowaways.

Take a look at your house for these telltale signs that a cat is running the show.

Check out this list of requirements you should meet before getting a new puppy or adult dog.

Much like their famous owners, these pooches live a fabulous life. Some are rescues, others purebred, but one thing is certain – these dogs play an important part in their famous parents' lives. Can you guess who owns each of these dogs?

Pets are part of many children's lives. Learn how to help them foster strong, healthy relationships.

If you live with a feline companion, you know that cats can be quirky and totally entertaining. (Even if they'd never admit it in a million, trillion years.) Here are just a few of our favorite cat-isms, some with sandpaper tongue firmly in cheek. Did we miss any of yours?

Tummy troubles in your four-legged friends? Carrageenan in their pet food may be to blame.

There's more to choosing the perfect dog for your family than walking into a shelter and saying, "Find me one that looks like the dog from Marley and Me." Choosing a dog is more like buying a car. You want one that isn't just good looking, but is also a perfect fit for your family and lifestyle (and won't leak in the garage). Here are 8 great tips to help you determine the perfect pooch for your pack. By Jeremy Greenberg

CEO says, "it was one of the best ideas of my life"

Before you jump into marriage counseling, take a look at our list to see if you truly do love your dog more than your spouse.

Spring break isn't just for humans anymore. Cats and dogs know how to have fun in the sun, too, and would love to tag along on your vacation. In honor of the warm and relaxing days ahead, here are 15 pets catching some rays, going on hikes and floating in the pool.

Injuries often happen when dogs are outside chasing tennis balls or playing at dog parks. Because yours needs regular exercise, it can be difficult to protect him from many accidents.