Rare chick hatches at Central Park Zoo
Open wide!
The hatching of this member of the cuckoo species makes the Wildlife Conservation Society's Central Park Zoo only the fourth zoo in the U.S. to successfully rear a crested coua chick.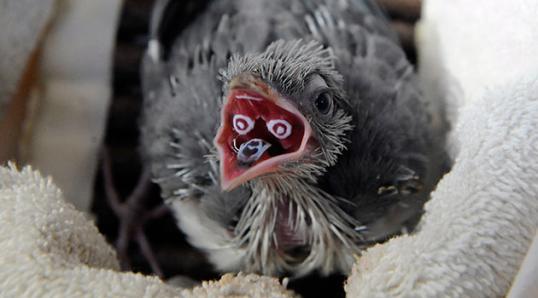 Native to the island of Madagascar, the animals are born with markings on the inside of their mouths that are unique to each individual chick. Experts believe the markings are used by the bird's parents for identification, or as a target for feeding them. They will begin to fade as the chick matures.
There are only about 40 crested couas living in American zoos.
Photo: Julie Larsen Maher, Wildlife Conservation Society
Bing: What are the rarest animals in the world?
More from Vetstreet:
Can All Dogs Swim? No, and This Popular Breed Is Worst
Lioness in China Gives Birth to Rare Tigon Cubs
What Do Animals See in the Mirror?
6 Foods to Never Feed Your Pet
Vets Show Heart & Skill Trying To Save Paralyzed Dog Gigi
pics, advice, info and stories for pet lovers
Tiny Terrier rescued from traffic in Texas.

Shaved legs, trimmed mustaches and long, luxurious coats — sometimes we think the Westminster Dog Show, which airs Monday and Tuesday, is like a red-carpet event for unusual-looking breeds.

February 14 isn't just a day to shower the special human in your life with chocolates and roses. It's also important to do something special for the one member in your family who loves you unconditionally — your pet. In honor of how much we love all things furry, feathered and four-legged, we rounded up our favorite cats and dogs celebrating Valentine's Day.

Here are nine fundamental steps for taking care of your new kitten.

Only 35 of its kind exist in the U.S.

Everyone wins at the Puppy Bowl.