Rare chick hatches at Central Park Zoo
Open wide!
The hatching of this member of the cuckoo species makes the Wildlife Conservation Society's Central Park Zoo only the fourth zoo in the U.S. to successfully rear a crested coua chick.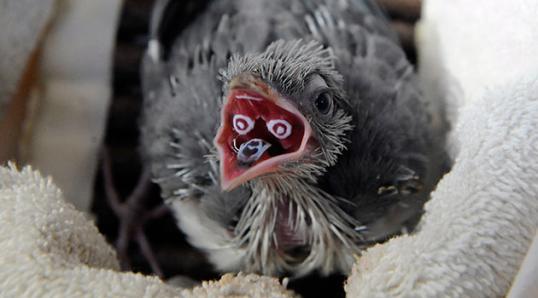 Native to the island of Madagascar, the animals are born with markings on the inside of their mouths that are unique to each individual chick. Experts believe the markings are used by the bird's parents for identification, or as a target for feeding them. They will begin to fade as the chick matures.
There are only about 40 crested couas living in American zoos.
Photo: Julie Larsen Maher, Wildlife Conservation Society
Bing: What are the rarest animals in the world?
More from Vetstreet:
Can All Dogs Swim? No, and This Popular Breed Is Worst
Lioness in China Gives Birth to Rare Tigon Cubs
What Do Animals See in the Mirror?
6 Foods to Never Feed Your Pet
Vets Show Heart & Skill Trying To Save Paralyzed Dog Gigi
pics, advice, info and stories for pet lovers
267 veterinary professionals offered up their picks for the Most Athletic, Biggest Flirt and other popular high school categories.

BarkBuddy helps match prospective doggie-adopters with potential pets.

It's all calm and quiet around your house until one of these visitors appears.

Are you a cat owner? Are you sure about that? Who caters to her resident feline's every need? Who dotes upon her demanding little dictator? Who can be put in her place with just one look of disdain from the kitty in the corner?

Dogs might not seem as mysterious as cats, but canines do have their fair share of behaviors that are truly baffling.

In some households pets are allowed everywhere, all the time. In others, pets aren't allowed on any furniture, ever. But in many, the answer lies somewhere in between.