Rare chick hatches at Central Park Zoo
Open wide!
The hatching of this member of the cuckoo species makes the Wildlife Conservation Society's Central Park Zoo only the fourth zoo in the U.S. to successfully rear a crested coua chick.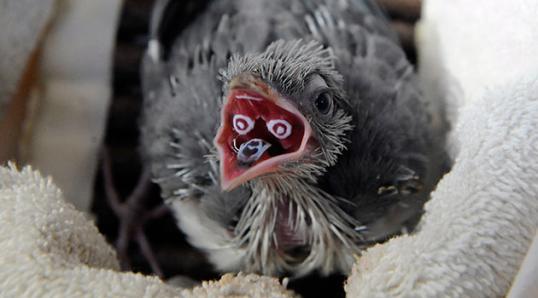 Native to the island of Madagascar, the animals are born with markings on the inside of their mouths that are unique to each individual chick. Experts believe the markings are used by the bird's parents for identification, or as a target for feeding them. They will begin to fade as the chick matures.
There are only about 40 crested couas living in American zoos.
Photo: Julie Larsen Maher, Wildlife Conservation Society
Bing: What are the rarest animals in the world?
More from Vetstreet:
Can All Dogs Swim? No, and This Popular Breed Is Worst
Lioness in China Gives Birth to Rare Tigon Cubs
What Do Animals See in the Mirror?
6 Foods to Never Feed Your Pet
Vets Show Heart & Skill Trying To Save Paralyzed Dog Gigi
pics, advice, info and stories for pet lovers
Donna the dog served in Afghanistan and is retiring.

Kitty can't hide its excitement when his owner walks through the door.

It's an age-old discussion: Are you a cat person or a dog person?

Fire-rescue crews were able to lead the animal to safety.

For many, summer means getting outside and spending quality time with four-legged friends. Sometimes that's a game of fetch in the backyard, but sometimes it's fun in the sun (and sand) at the beach. Luckily, there are a number of beaches in the United States that let you bring your pooch — as long as you follow the rules, of course. Here are eight beaches that you can visit with your dog.

Factors include weather, walkability, yard sizes and more

Check out some of the sweetest cat naps we've ever seen...

I love all pets. I wouldn't be a veterinarian if I didn't, and I celebrate the human-animal bond every day. I do look forward, though, to the day when these five breeds aren't as popular. The reasons vary, but in many cases the problems are health-related, and overbreeding by puppy mills and other less-than-ideal operations has a lot to do with that. What would help these breeds is for there to be a lot less of them. A couple of them need many more adopters and far less breeding, and all would benefit from people who are well-prepared for the challenges of owning a dog, and who make sure to look to rescue, shelters and reputable breeders for their pets. As always, whatever pet you choose, we veterinarians are here to help you make healthy choices for life.

The mayor of an affluent California town has landed himself in a messy situation.

Dog reunited with owner in Brazil.

These breeds used to be more popular, but they could just be one hit TV show, movie or commercial away from a comeback.