Doggy Drama Is Nothing New to the Presidential Campaign Trail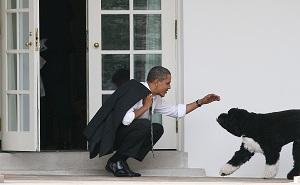 by Shayna Meliker
,
Vetstreet.com
President Harry S. Truman once famously said, "If you want a friend in Washington, get a dog." Unfortunately, that's not always true for presidential candidates. Or presidents, for that matter. 
Former Massachusetts governor and presumptive Republican presidential nominee Mitt Romney can't seem to live down the story of a family vacation in the 1980s, when he strapped his Irish Setter's crate to the roof of his station wagon.
The Boston Globe
first reported the story in 2007, but rival Newt Gingrich brought it back with a
recent campaign video
. Now the story is making headlines again: Romney's wife
Ann Romney
told ABC News' Diane Sawyer that Seamus, the Setter, loved the crate, since it meant he was going on vacation with the family. 
But the dog wars aren't confined to the challengers; this week, the conservative blog
The Daily Caller
pointed out that President Barack Obama wrote in his book, Dreams From My Father, that he
ate dog meat
while living in Indonesia as a child. We're not sure what either of these stories have to do with the ability to serve as commander-in-chief, but it's not the first time that canine-related bloopers have threatened to land presidential candidates in the dog pound. It turns out that faux paws have always dogged candidates on the campaign trail.
Favorite Pets of U.S. Presidents
President Lyndon B. Johnson owned a pair of Beagles named Him and Her during his years in the White House. He was frequently photographed playing with the dogs on the White House lawn, according to the
Lyndon Baines Johnson Library and Museum
. But the president offended dog lovers nationally in 1964, when he lifted Him by the ears in front of a group of visitors. The picture ran in newspapers across the country, and the American public was not as amused by the act as the onlookers in the famous photograph. 
On September 23, 1952, vice presidential nominee Richard Nixon delivered what famously came to be known as the "
Checkers Speech
," in response to allegations of misuse of campaign funds. "We did get something, a gift, after the election," he confessed during the half hour address. "A man down in Texas heard Pat on the radio mention that our two youngsters would like to have a dog, and, believe it or not, the day we left before this campaign trip, we got a message from Union Station in Baltimore, saying they had a package for us. We went down to get it. You know what it was? It was a little cocker spaniel dog, in a crate that he had sent all the way from Texas, black and white, spotted, and our little girl Tricia, the 6-year-old, named it Checkers." Defiant, Nixon declared that regardless of any backlash over the gift, his family would keep the puppy. Despite the speech, Nixon was retained on the Republican ticket, and he and Dwight D. Eisenhower went on to win the 1952 election.
Not all voters have been as forgiving of presidents dragging their pooches into the limelight. Just two days before the 1992 election,
First Dog Millie
made headlines when incumbent George H.W. Bush took a shot at rival Bill Clinton and his running mate, Al Gore. "My dog Millie knows more about foreign affairs than these two bozos," he declared of the Democratic candidates. Unfortunately for Bush and his English Springer Spaniel, voters disagreed, and he lost reelection that year — and Millie was replaced in the White House by Socks the cat.
Why Does My Dog… Always Lick Me?
While trying to end World War II, just months before his death, President Franklin D. Roosevelt had to fight off his own canine political scandal, recalls
The Atlantic
. In 1944, backers of Republican rival Thomas Dewey spread a rumor that Roosevelt's Scottish Terrier, Fala, had been left behind in the Aleutian Islands during a presidential visit, and that the president spent treasury money sending a Navy destroyer to rescue the dog. Roosevelt addressed the rumors during a national radio speech. "These Republican leaders have not been content with attacks on me, or my wife, or on my sons. No, not content with that, they now include my little dog, Fala. Well, of course, I don't resent attacks, and my family don't resent attacks — but Fala does resent them," he said. "I am accustomed to hearing malicious falsehoods about myself — such as that old, worm-eaten chestnut that I have represented myself as indispensable. But I think I have a right to resent, to object, to libelous statements about my dog!"
More from Vetstreet.com:
pics, advice, info and stories for pet lovers
Adopting an animal is a major commitment. Yet all too often people put more effort into researching what kind of car to get than the type of pet that would best fit their lifestyle.

'Tis the season to send out holiday greeting cards to all your friends and family. But, as our friends at Awkward Family Pet Photos know, not all holiday snapshots are the same. Some are just plain kooky — especially when pets are included. So with good tidings and great cheer, here are 10 wacky holiday animal portraits that are sure to make you laugh out loud and get you in the holiday spirit. And possibly make you think twice about dressing up the family cat this year.

King of the jungle? Nah, it's just a labradoodle!

Do you have a finicky furry friend on your holiday gift list this year? You're in luck! We've rounded up the coolest cat-approved products to bring you purrfect gift ideas for every kind of cat -- from the curious kitten to the most refined feline. Any one of these special gifts could make your resident kitty purr with pleasure and maybe, just maybe, like the present this year even more than the box and wrapping paper it came in!

Plus, puppy names to watch

We asked 218 veterinary professionals to vote on the dog breeds and mixes that are not good choices for first-time pet parents. German Shepherds, Bulldogs and Akitas are among the breeds new pet owners should steer clear of.

"No! Bad dog!" How many times have you scolded your misbehaving canine with those words? Probably too many. But before you fly off the handle, one of the most important things to understand about correcting bad behavior is that punishment doesn't work.

If you have a hard time cruising through the toy aisle without loading up, you're not alone. But the good news is that there are tons of inexpensive dog toys that still deliver big fun. Check out our picks, and be sure to share in the comments if we left off your dog's favorite!

Sexy mice? Yes, they exist

Stray surprises subway passengers.

Newly cast cat will better match character from the book series, producer and author say.