Doggy Drama Is Nothing New to the Presidential Campaign Trail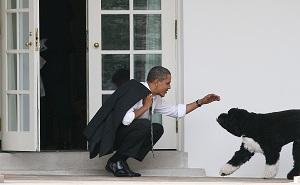 by Shayna Meliker
,
Vetstreet.com
President Harry S. Truman once famously said, "If you want a friend in Washington, get a dog." Unfortunately, that's not always true for presidential candidates. Or presidents, for that matter. 
Former Massachusetts governor and presumptive Republican presidential nominee Mitt Romney can't seem to live down the story of a family vacation in the 1980s, when he strapped his Irish Setter's crate to the roof of his station wagon.
The Boston Globe
first reported the story in 2007, but rival Newt Gingrich brought it back with a
recent campaign video
. Now the story is making headlines again: Romney's wife
Ann Romney
told ABC News' Diane Sawyer that Seamus, the Setter, loved the crate, since it meant he was going on vacation with the family. 
But the dog wars aren't confined to the challengers; this week, the conservative blog
The Daily Caller
pointed out that President Barack Obama wrote in his book, Dreams From My Father, that he
ate dog meat
while living in Indonesia as a child. We're not sure what either of these stories have to do with the ability to serve as commander-in-chief, but it's not the first time that canine-related bloopers have threatened to land presidential candidates in the dog pound. It turns out that faux paws have always dogged candidates on the campaign trail.
Favorite Pets of U.S. Presidents
President Lyndon B. Johnson owned a pair of Beagles named Him and Her during his years in the White House. He was frequently photographed playing with the dogs on the White House lawn, according to the
Lyndon Baines Johnson Library and Museum
. But the president offended dog lovers nationally in 1964, when he lifted Him by the ears in front of a group of visitors. The picture ran in newspapers across the country, and the American public was not as amused by the act as the onlookers in the famous photograph. 
On September 23, 1952, vice presidential nominee Richard Nixon delivered what famously came to be known as the "
Checkers Speech
," in response to allegations of misuse of campaign funds. "We did get something, a gift, after the election," he confessed during the half hour address. "A man down in Texas heard Pat on the radio mention that our two youngsters would like to have a dog, and, believe it or not, the day we left before this campaign trip, we got a message from Union Station in Baltimore, saying they had a package for us. We went down to get it. You know what it was? It was a little cocker spaniel dog, in a crate that he had sent all the way from Texas, black and white, spotted, and our little girl Tricia, the 6-year-old, named it Checkers." Defiant, Nixon declared that regardless of any backlash over the gift, his family would keep the puppy. Despite the speech, Nixon was retained on the Republican ticket, and he and Dwight D. Eisenhower went on to win the 1952 election.
Not all voters have been as forgiving of presidents dragging their pooches into the limelight. Just two days before the 1992 election,
First Dog Millie
made headlines when incumbent George H.W. Bush took a shot at rival Bill Clinton and his running mate, Al Gore. "My dog Millie knows more about foreign affairs than these two bozos," he declared of the Democratic candidates. Unfortunately for Bush and his English Springer Spaniel, voters disagreed, and he lost reelection that year — and Millie was replaced in the White House by Socks the cat.
Why Does My Dog… Always Lick Me?
While trying to end World War II, just months before his death, President Franklin D. Roosevelt had to fight off his own canine political scandal, recalls
The Atlantic
. In 1944, backers of Republican rival Thomas Dewey spread a rumor that Roosevelt's Scottish Terrier, Fala, had been left behind in the Aleutian Islands during a presidential visit, and that the president spent treasury money sending a Navy destroyer to rescue the dog. Roosevelt addressed the rumors during a national radio speech. "These Republican leaders have not been content with attacks on me, or my wife, or on my sons. No, not content with that, they now include my little dog, Fala. Well, of course, I don't resent attacks, and my family don't resent attacks — but Fala does resent them," he said. "I am accustomed to hearing malicious falsehoods about myself — such as that old, worm-eaten chestnut that I have represented myself as indispensable. But I think I have a right to resent, to object, to libelous statements about my dog!"
More from Vetstreet.com:
pics, advice, info and stories for pet lovers
The strong bonds that dogs can form are undeniable.

Think you know your pet's every unspoken wish? Think again. Your pet is unlikely to be capable of communicating her wants and needs in ways you might assume she would. Even those of you most in touch with your pets' feelings are likely missing a few cues here and there.

The Chesapeake Bay Retriever made both our readers' and veterinary professionals' lists of breeds that love the water.

You might proudly call yourself a dog owner, pet parent or canine guardian, but let's be real: Your dog owns you. You might be laughing now, but think about it — you've surrendered the best seat on the sofa to him, you plan your entire weekend around his trips to the dog park, and you take him to the groomer more often than you get your own hair cut. And let's not forget who's in every photo on your Facebook and Instagram feeds. Sound familiar? We thought so. But in case you still think you're in charge, here are seven classic signs that your dog is the one calling the shots.

One of the best things about being a veterinarian is all the different dogs I get to meet. Of course, I love the Labs and Beagles and Boxers and Poodles, not to mention those crazy Canine Cocktails, or what my parents used to call Heinz 57s. They are among the more popular dogs out there, and I see a lot of them. In fact, it used to be that it was rare to see anything else. Here are nine dog breeds I sometimes see now that I didn't see in the past.

We asked veterinary experts and readers which breeds they think and if it is OK to shave longhaired pets in the summer.

If you're searching for a breed that may enjoy the company of a kid, we have some great suggestions for you.

When searching for the right dog to add to your family, your first instinct might be to bring home a tiny little thing that your kids can cradle in their laps. But we're here to remind you that the best fit for you may be a large dog breed.

Many breeds were developed to do work that required them to act independently. Those dogs tend to be smart, but as family pets, they may need more leadership and training than others. Ultimately, though, they're worth it. Here are 11 dog breeds that tend to have independent personalities.

Many of us here at Vetstreet are fascinated by pets who have unique coats and cool shapes hidden in their markings. So we asked our Facebook fans to share pictures of animals that have interesting coloration, and you did not disappoint. From mustachioed cats to a horse of a different color, here are our 13 favorite photos of pets with cool coats.

We surveyed 284 veterinary professionals (including vets, veterinary technicians and office staff) to see which breeds they felt were most likely to chew something they shouldn't and wind up in the veterinary emergency room, and we've listed the top five answers below. Do you agree with their opinions? Which breeds would you add to the list?

This Fourth of July, Americans will celebrate with the sights and sounds of fireworks. While we love the pyrotechnics, it's important to remember that our patriotic midsummer spectacular is no holiday for many of our pets.