Doggy Drama Is Nothing New to the Presidential Campaign Trail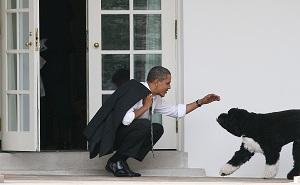 by Shayna Meliker
,
Vetstreet.com
President Harry S. Truman once famously said, "If you want a friend in Washington, get a dog." Unfortunately, that's not always true for presidential candidates. Or presidents, for that matter. 
Former Massachusetts governor and presumptive Republican presidential nominee Mitt Romney can't seem to live down the story of a family vacation in the 1980s, when he strapped his Irish Setter's crate to the roof of his station wagon.
The Boston Globe
first reported the story in 2007, but rival Newt Gingrich brought it back with a
recent campaign video
. Now the story is making headlines again: Romney's wife
Ann Romney
told ABC News' Diane Sawyer that Seamus, the Setter, loved the crate, since it meant he was going on vacation with the family. 
But the dog wars aren't confined to the challengers; this week, the conservative blog
The Daily Caller
pointed out that President Barack Obama wrote in his book, Dreams From My Father, that he
ate dog meat
while living in Indonesia as a child. We're not sure what either of these stories have to do with the ability to serve as commander-in-chief, but it's not the first time that canine-related bloopers have threatened to land presidential candidates in the dog pound. It turns out that faux paws have always dogged candidates on the campaign trail.
Favorite Pets of U.S. Presidents
President Lyndon B. Johnson owned a pair of Beagles named Him and Her during his years in the White House. He was frequently photographed playing with the dogs on the White House lawn, according to the
Lyndon Baines Johnson Library and Museum
. But the president offended dog lovers nationally in 1964, when he lifted Him by the ears in front of a group of visitors. The picture ran in newspapers across the country, and the American public was not as amused by the act as the onlookers in the famous photograph. 
On September 23, 1952, vice presidential nominee Richard Nixon delivered what famously came to be known as the "
Checkers Speech
," in response to allegations of misuse of campaign funds. "We did get something, a gift, after the election," he confessed during the half hour address. "A man down in Texas heard Pat on the radio mention that our two youngsters would like to have a dog, and, believe it or not, the day we left before this campaign trip, we got a message from Union Station in Baltimore, saying they had a package for us. We went down to get it. You know what it was? It was a little cocker spaniel dog, in a crate that he had sent all the way from Texas, black and white, spotted, and our little girl Tricia, the 6-year-old, named it Checkers." Defiant, Nixon declared that regardless of any backlash over the gift, his family would keep the puppy. Despite the speech, Nixon was retained on the Republican ticket, and he and Dwight D. Eisenhower went on to win the 1952 election.
Not all voters have been as forgiving of presidents dragging their pooches into the limelight. Just two days before the 1992 election,
First Dog Millie
made headlines when incumbent George H.W. Bush took a shot at rival Bill Clinton and his running mate, Al Gore. "My dog Millie knows more about foreign affairs than these two bozos," he declared of the Democratic candidates. Unfortunately for Bush and his English Springer Spaniel, voters disagreed, and he lost reelection that year — and Millie was replaced in the White House by Socks the cat.
Why Does My Dog… Always Lick Me?
While trying to end World War II, just months before his death, President Franklin D. Roosevelt had to fight off his own canine political scandal, recalls
The Atlantic
. In 1944, backers of Republican rival Thomas Dewey spread a rumor that Roosevelt's Scottish Terrier, Fala, had been left behind in the Aleutian Islands during a presidential visit, and that the president spent treasury money sending a Navy destroyer to rescue the dog. Roosevelt addressed the rumors during a national radio speech. "These Republican leaders have not been content with attacks on me, or my wife, or on my sons. No, not content with that, they now include my little dog, Fala. Well, of course, I don't resent attacks, and my family don't resent attacks — but Fala does resent them," he said. "I am accustomed to hearing malicious falsehoods about myself — such as that old, worm-eaten chestnut that I have represented myself as indispensable. But I think I have a right to resent, to object, to libelous statements about my dog!"
More from Vetstreet.com:
pics, advice, info and stories for pet lovers
Computer equipment delivery came with two cute stowaways.

Take a look at your house for these telltale signs that a cat is running the show.

Check out this list of requirements you should meet before getting a new puppy or adult dog.

Much like their famous owners, these pooches live a fabulous life. Some are rescues, others purebred, but one thing is certain – these dogs play an important part in their famous parents' lives. Can you guess who owns each of these dogs?

Pets are part of many children's lives. Learn how to help them foster strong, healthy relationships.

If you live with a feline companion, you know that cats can be quirky and totally entertaining. (Even if they'd never admit it in a million, trillion years.) Here are just a few of our favorite cat-isms, some with sandpaper tongue firmly in cheek. Did we miss any of yours?

Tummy troubles in your four-legged friends? Carrageenan in their pet food may be to blame.

There's more to choosing the perfect dog for your family than walking into a shelter and saying, "Find me one that looks like the dog from Marley and Me." Choosing a dog is more like buying a car. You want one that isn't just good looking, but is also a perfect fit for your family and lifestyle (and won't leak in the garage). Here are 8 great tips to help you determine the perfect pooch for your pack. By Jeremy Greenberg

CEO says, "it was one of the best ideas of my life"

Before you jump into marriage counseling, take a look at our list to see if you truly do love your dog more than your spouse.

Spring break isn't just for humans anymore. Cats and dogs know how to have fun in the sun, too, and would love to tag along on your vacation. In honor of the warm and relaxing days ahead, here are 15 pets catching some rays, going on hikes and floating in the pool.

Injuries often happen when dogs are outside chasing tennis balls or playing at dog parks. Because yours needs regular exercise, it can be difficult to protect him from many accidents.