Researchers reverse dog paralysis
There's promising news for dogs with spinal cord injuries.
In a clinical trial at the U.K.'s Cambridge University, researchers were able to reverse paralysis in several dogs by removing cells from the lining of their noses, growing them in a laboratory for several weeks, then transplanting them into the damaged part of the spinal cord.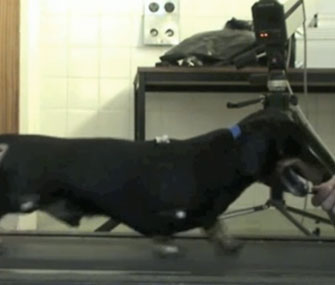 The transplanted cells regenerated nerve fibers across the damaged region, enabling the dogs to regain the use of their hind legs and coordinate movement with their front legs, according to the study, which was published in the journal Brain.
May Hay, whose 10-year-old dachshund, Jasper, was part of the trial, had to wheel her pet around because his "back legs were useless. Now he whizzes around the house and garden and is able to keep up with the other dogs. It's wonderful." —
Watch it at
BBC News
Photo: BBC News // Jasper, a 10-year-old dog, regained the use of his hind legs after a nose cell transplant.
Bing: See adorable pictures of dachshunds.
More from Vetstreet:
Video: Rare white penguins spotted
5 dogs breeds that are sadly losing popularity
10 most popular kitten names
Want a large dog that is gentle? This breed is for you
Video: Vets show heart & skill trying to save paralyzed dog
pics, advice, info and stories for pet lovers
Do you have a finicky furry friend on your holiday gift list this year? You're in luck! We've rounded up the coolest cat-approved products to bring you purrfect gift ideas for every kind of cat -- from the curious kitten to the most refined feline. Any one of these special gifts could make your resident kitty purr with pleasure and maybe, just maybe, like the present this year even more than the box and wrapping paper it came in!

Plus, puppy names to watch

We asked 218 veterinary professionals to vote on the dog breeds and mixes that are not good choices for first-time pet parents. German Shepherds, Bulldogs and Akitas are among the breeds new pet owners should steer clear of.

"No! Bad dog!" How many times have you scolded your misbehaving canine with those words? Probably too many. But before you fly off the handle, one of the most important things to understand about correcting bad behavior is that punishment doesn't work.

If you have a hard time cruising through the toy aisle without loading up, you're not alone. But the good news is that there are tons of inexpensive dog toys that still deliver big fun. Check out our picks, and be sure to share in the comments if we left off your dog's favorite!

Sexy mice? Yes, they exist

Stray surprises subway passengers.

Newly cast cat will better match character from the book series, producer and author say.

Saola sighted in Vietnam.

Juneau came to owner's rescue.

A popular scent for men has become a commonly used bait for wild cats.