Girl's plea for puppy goes viral, gets a million 'likes'
Twogirlsandapuppy earns kids a new dog.
Late last year, Cadence and Emerson Cordell, who live outside of Boston, heard about a nearby family who promised the kids a cat if their photo asking for one got more than 1,000 likes on Facebook.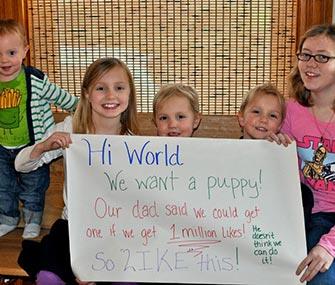 The Internet quickly over-delivered so, the girls bargained with their dad: if a photo of them with their three younger brothers asking for a puppy got 1 million likes, they could get one. Their dad, Ryan Cordell, agreed, thinking it would never get anywhere close, and their mom, Evie, set up a Facebook page, Twogirlsandapuppy, for her daughters.
In just 12 hours, the photo had topped 1 million likes, and mom was on to a different website — Petfinder — where she's started looking for a young labrador or golden retriever to adopt.
Bing: Find pets to adopt online
"They didn't quite believe it had happened so quickly," Evie Cordell said of the girls' reaction. "My youngest daughter thinks every million we reach we should get another puppy, which is not going to happen."
— Read it at ABC News
Photo: Twogirlsandapuppy / Facebook / The Cordell kids were successful with their Facebook plea.
pics, advice, info and stories for pet lovers
Computer equipment delivery came with two cute stowaways.

Take a look at your house for these telltale signs that a cat is running the show.

Check out this list of requirements you should meet before getting a new puppy or adult dog.

Much like their famous owners, these pooches live a fabulous life. Some are rescues, others purebred, but one thing is certain – these dogs play an important part in their famous parents' lives. Can you guess who owns each of these dogs?

Pets are part of many children's lives. Learn how to help them foster strong, healthy relationships.

If you live with a feline companion, you know that cats can be quirky and totally entertaining. (Even if they'd never admit it in a million, trillion years.) Here are just a few of our favorite cat-isms, some with sandpaper tongue firmly in cheek. Did we miss any of yours?

Tummy troubles in your four-legged friends? Carrageenan in their pet food may be to blame.

There's more to choosing the perfect dog for your family than walking into a shelter and saying, "Find me one that looks like the dog from Marley and Me." Choosing a dog is more like buying a car. You want one that isn't just good looking, but is also a perfect fit for your family and lifestyle (and won't leak in the garage). Here are 8 great tips to help you determine the perfect pooch for your pack. By Jeremy Greenberg

CEO says, "it was one of the best ideas of my life"

Before you jump into marriage counseling, take a look at our list to see if you truly do love your dog more than your spouse.

Spring break isn't just for humans anymore. Cats and dogs know how to have fun in the sun, too, and would love to tag along on your vacation. In honor of the warm and relaxing days ahead, here are 15 pets catching some rays, going on hikes and floating in the pool.

Injuries often happen when dogs are outside chasing tennis balls or playing at dog parks. Because yours needs regular exercise, it can be difficult to protect him from many accidents.