Top Pet-Friendly Corporations Across America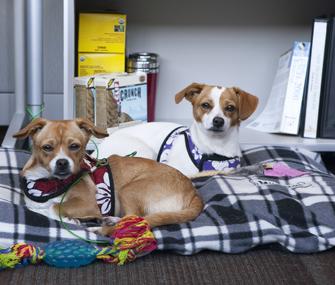 by Nora Zelevansky, Vetstreet.com
In the average workplace, employers try to boost morale by offering casual Fridays, sweet performance rewards and even four-day weeks. 
Another proven strategy: letting employees bring their pets to the office. 
In a 2010 study conducted at Central Michigan University, volunteers were 30 percent less likely to snitch on a co-worker with a dog around, suggesting that a canine's mere presence improves collaborations and increases productivity. 
According to the Christian Science Monitor, 17 percent of employers have already caught on to the idea and allow pets in the workplace. Here are seven of those companies that take being animal-friendly to the next level: 
CLIF Bar & Company
Outdoorsy types swear by CLIF Bar & Company, an organic energy and nutrition snack company known for energy bars made from brown rice, flaxseed and dried fruits. Since the company is heavily focused on environmentalism and spending time outside, it's not surprising that many staff members have dogs who hike and run with them. Luckily, those pups can join their owners at work, a policy that sprang organically from the company's culture. (They even negotiated a group vet insurance deal.) On a busy day, there might be as many as 20 dogs running around the 260-person Emeryville, Calif., office, which means lunch breaks are filled with walks to the nearby park and fetch sessions in the auditorium. 
Amazon
It's truly a jungle at the Amazon offices. At the company's Seattle hub in South Lake Union alone, there are more than 300 dogs onsite, ranging from Siberian Huskies to Chihuahuas. It's pup heaven at this company, with dog biscuits stocked at reception desks, water fountains in outdoor plaza areas and nearby off-leash dog parks. This policy is nothing new for the company: Images of Amazon's first dog, a Corgi named Rufus, were regularly featured on the website in the early days. And Rufus' legacy lives on — his name is emblazoned across office door handles.
Bissell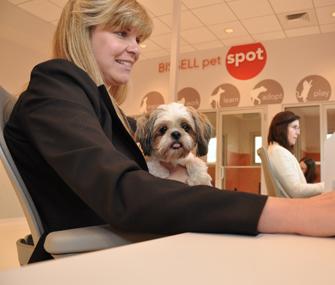 Bissell may be known for vacuums and supplies that help clean up after pets, but it's also seriously committed to animal causes. In October 2011, they founded the Bissell Pet Foundation to promote pet adoption and animal welfare through spay/neuter programs, microchipping and foster care, with the goal of awarding more than $250,000 in grants annually. This love of pets starts at the top: CEO Mark Bissell and his wife, Cathy, are pet parents to three black Labs, and 72 percent of their employees are pet owners. Not only are workers encouraged to bring their furry friends to the office, but the company actually constructed an animal-friendly space called The Bissell Pet Spot, complete with indoor kennels, a bathing station and outdoor play area.
Kimpton Hotels
If the hosPETality program at Kimpton Hotels is any indicator, the company acknowledges the importance of having pets at your side. The general manager of each hotel determines whether or not employees can bring their beloved canines to work, but everyone is offered reduced-rate pet health insurance. And some lucky staff member pets are actually part of a Director of Pet Relations program, in which furry friends serve as ambassadors to critter-loving guests. For example, Timmy at Monaco Portland belongs to the concierge, and "Diva of Pet Relations" Georgie belongs to the GM at Hotel Vintage Plaza. 
Google
If you want to learn more about pet-friendly offices, Google them! The world's most popular search engine and web portal has long been known for its relatively flexible workplace vibe, especially when it comes to critters. In fact, animals are so beloved here that the cafe at Google's Mountain View campus is named for a former employee's Leonberger, Yoshka. Satellite offices around the country have free rein to make their own dog policies, but at the Seattle location, there are dedicated spaces for pups equipped with cushy pillows, water bowls and plenty of toys. 
Ben & Jerry's
Even Ben & Jerry's companywide voicemail message references "the human you're trying to reach" and laments that "office dogs" don't get their own phones to answer. Four-legged employees are walked along an adjacent pond, and baggies are provided for cleanup. At regular cookouts in the summer, there are even carnival-type events organized for dogs, with toys and treats offered in place of ice cream. 
P & G Pet Care
If you produce pet products, it would make sense that you'd be sensitive to your animal-owning employees. The folks at P & G Pet Care (the company behind IAMS) put their best paw forward, encouraging employees to bring "four-legged family members" into the office. At their Mason campus, the corporation built a dog park and a special canine entrance. As a result, the senior-level management has noticed increased productivity and joy, thanks to desk-side nuzzles from sweet dogs — a benefit that's priceless.
More from Vetstreet.com
Are you sure you want to delete this comment?
pics, advice, info and stories for pet lovers
The strong bonds that dogs can form are undeniable.

Think you know your pet's every unspoken wish? Think again. Your pet is unlikely to be capable of communicating her wants and needs in ways you might assume she would. Even those of you most in touch with your pets' feelings are likely missing a few cues here and there.

The Chesapeake Bay Retriever made both our readers' and veterinary professionals' lists of breeds that love the water.

You might proudly call yourself a dog owner, pet parent or canine guardian, but let's be real: Your dog owns you. You might be laughing now, but think about it — you've surrendered the best seat on the sofa to him, you plan your entire weekend around his trips to the dog park, and you take him to the groomer more often than you get your own hair cut. And let's not forget who's in every photo on your Facebook and Instagram feeds. Sound familiar? We thought so. But in case you still think you're in charge, here are seven classic signs that your dog is the one calling the shots.

One of the best things about being a veterinarian is all the different dogs I get to meet. Of course, I love the Labs and Beagles and Boxers and Poodles, not to mention those crazy Canine Cocktails, or what my parents used to call Heinz 57s. They are among the more popular dogs out there, and I see a lot of them. In fact, it used to be that it was rare to see anything else. Here are nine dog breeds I sometimes see now that I didn't see in the past.

We asked veterinary experts and readers which breeds they think and if it is OK to shave longhaired pets in the summer.

If you're searching for a breed that may enjoy the company of a kid, we have some great suggestions for you.

When searching for the right dog to add to your family, your first instinct might be to bring home a tiny little thing that your kids can cradle in their laps. But we're here to remind you that the best fit for you may be a large dog breed.

Many breeds were developed to do work that required them to act independently. Those dogs tend to be smart, but as family pets, they may need more leadership and training than others. Ultimately, though, they're worth it. Here are 11 dog breeds that tend to have independent personalities.

Many of us here at Vetstreet are fascinated by pets who have unique coats and cool shapes hidden in their markings. So we asked our Facebook fans to share pictures of animals that have interesting coloration, and you did not disappoint. From mustachioed cats to a horse of a different color, here are our 13 favorite photos of pets with cool coats.

We surveyed 284 veterinary professionals (including vets, veterinary technicians and office staff) to see which breeds they felt were most likely to chew something they shouldn't and wind up in the veterinary emergency room, and we've listed the top five answers below. Do you agree with their opinions? Which breeds would you add to the list?

This Fourth of July, Americans will celebrate with the sights and sounds of fireworks. While we love the pyrotechnics, it's important to remember that our patriotic midsummer spectacular is no holiday for many of our pets.