Dad's reaction to puppy surprise goes viral
A new pup for Christmas? Priceless.
Philip Michaels couldn't have asked for a better reaction when he brought a puppy home from a shelter for his father for Christmas.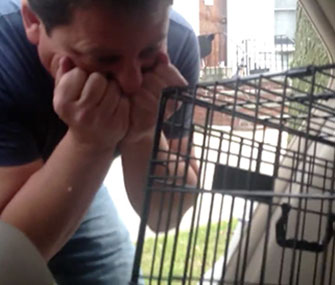 Michaels writes on YouTube that his dad was heartbroken when the family's 15-year-old Maltese died about six months ago. With Christmas around the corner, Michaels and his mother returned to the same place where they adopted their last dog, and there they found a Havanese-Maltese mix puppy.
Thinking he was coming outside to unload groceries from the car, his son caught his priceless reaction to the puppy surprise on video.
Bing: See photos of Havanese-Maltese mix dogs.
The Queens, N.Y., family named the pup Monty — and the sweet video has been watched about 450,000 times in less than two days.
 Photo: YouTube // Video captures a Queens, N.Y., dad's reaction to getting a new puppy.
More from Vetstreet:
Blind dog gets help from a guide cat
My dog has a gay tail – What does that mean?
Do all dogs need sweaters or coats? Only 3 types do
Cat is a Ping-Pong champ in the making
Top 10 puppy names of the year
pics, advice, info and stories for pet lovers
Do you have a finicky furry friend on your holiday gift list this year? You're in luck! We've rounded up the coolest cat-approved products to bring you purrfect gift ideas for every kind of cat -- from the curious kitten to the most refined feline. Any one of these special gifts could make your resident kitty purr with pleasure and maybe, just maybe, like the present this year even more than the box and wrapping paper it came in!

Plus, puppy names to watch

We asked 218 veterinary professionals to vote on the dog breeds and mixes that are not good choices for first-time pet parents. German Shepherds, Bulldogs and Akitas are among the breeds new pet owners should steer clear of.

"No! Bad dog!" How many times have you scolded your misbehaving canine with those words? Probably too many. But before you fly off the handle, one of the most important things to understand about correcting bad behavior is that punishment doesn't work.

If you have a hard time cruising through the toy aisle without loading up, you're not alone. But the good news is that there are tons of inexpensive dog toys that still deliver big fun. Check out our picks, and be sure to share in the comments if we left off your dog's favorite!

Sexy mice? Yes, they exist

Stray surprises subway passengers.

Newly cast cat will better match character from the book series, producer and author say.

Saola sighted in Vietnam.

Juneau came to owner's rescue.

A popular scent for men has become a commonly used bait for wild cats.