Denise Richards adopts puppy during Sandy relief work
The actress reportedly fell in love with one particular pup.
When Denise Richards volunteered to promote disaster relief efforts after Superstorm Sandy, we're guessing she had no idea the gig would come with a new puppy.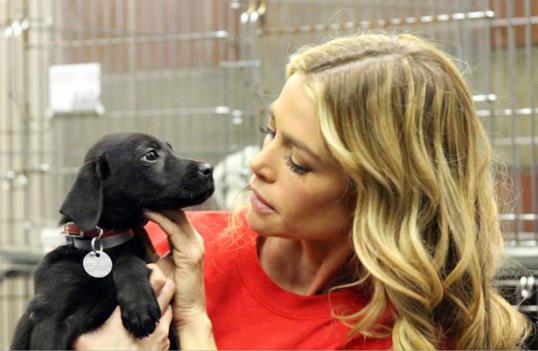 According to the North Shore Animal League, Richards visited the Long Island shelter to champion adoptions and ask for help for animals affected by Sandy. The actress is well known for her animal welfare work.
The shelter wrote on its Facebook page:
"During their visit, Denise and her family fell in love with Tara the Labrador mutt-i-gree puppy and welcomed her into their home!"
If helping with relief efforts means we get to cuddle with adorable puppies like Tara, sign us up!
Photo: North Shore Animal League
Bing: Find out how you can help animals effected by the storm.
More from Vetstreet:
4 Best Household Items to Remove Pet Stains From Carpets
5 Dog Breeds That Are Sadly Losing Popularity
Video: How to Get Your Dog to Stop Begging
5 Cold Weather Pet Dangers to Avoid
Why Does My Cat… Stare at Me?
pics, advice, info and stories for pet lovers
From designer crosses to giant breeds, we scoured Vetstreet's data of millions of dog breeds to determine the trendiest breeds of the past decade.

Tow lot employee finds abandoned pup.

Animals, says Dr. Patty Khuly, are the best listeners in the world and don't care that you've just been dumped or laid off.

With all the glitz and glamour that comes out of Tinseltown (not to mention the endless tabloid fodder), it's not always obvious that many celebrities are animal lovers, too.

"No! Bad dog!" How many times have you scolded your misbehaving canine with those words? Probably too many. But before you fly off the handle, one of the most important things to understand about correcting bad behavior is that punishment doesn't work.

Your dog loves sticking his head out the window, but imagine the tragic results of disregarding his (or your) safety.

Death is a natural part of life, but it's never easy to understand. Here are some tips when the time comes to talk to your kids about pets passing.

Are you a 'dog person' or 'cat person'?

Whether they're on small pups like the Pug or huge ones like the Mastiff, adorable wrinkles are the envy of many a dog lover — which is exactly why we set out in search of the canine world's most wrinkled breeds.

Adopting an animal is a major commitment. Yet all too often people put more effort into researching what kind of car to get than the type of pet that would best fit their lifestyle.

From certain species of butterflies, zebras to horses and cockatoos, you might be surprised that some of our favorite creatures are dying out.

Creating a cat-friendly home means incorporating elements that accommodate your cat's natural instincts to climb, scratch and rest. Why not look for furniture that gives kitty what she needs and offers function for you too?