Researcher uncover secret of owls' neck twist
Backup arterties help the birds rotate their heads up to 270 degrees.
Researchers at Johns Hopkins University School of Medicine investigated how owls can turn their heads up to 270 degrees without injuring themselves. They found that owls have backup arteries that provide more nutrients when their blood vessels get strained by rapid turning.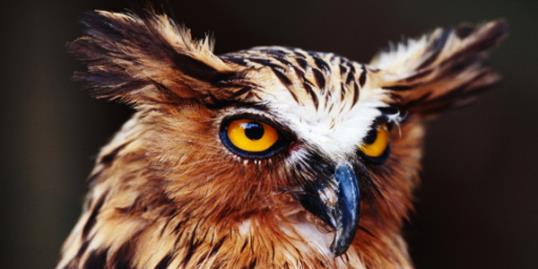 Scientists already knew that the birds only had one socket pivot, which allows them to twist more than humans, who have two.
But the new study revealed that the arteries also collect any excess blood that's created by the extreme turning.
Bing: See owls up close
The team's research was summarized on the U.S. National Science Foundation website.
— Read it at National Geographic
More from Vetstreet:
6 bizarre eating habits of animals
The year's 10 trendiest cat names
Playtime for baby monkey and kitten
10 most popular dog breeds that are biggest losers
10 surprising things about how animals sleep
Photo: Karl Lehmann/Getty Images
pics, advice, info and stories for pet lovers
The adorable pair of kittens who shut down a New York subway get to stay together after all

An Arizona dog gets a second chance thanks to the kindness of a passerby

Loki is fourth dog firefighter has saved by mouth-to-mouth resuscitation

World Wildlife Foundation reports 441 new species discovered in Amazon rainforest

When a dog gets out of the water, one of the first things he does is shake. In just a second or two, water sprays everywhere, and then the moment ends. Now imagine if you could watch your dog shaking in slow motion. Think of your pup's floppy ears, loose jowls and bulging eyes. What would it look like? Well, photographer Carli Davidson set out to capture just that in her new book, Shake. In 2010, Davidson started using a high-speed-shutter camera to photograph rescue dogs in mid-shake. When she posted the photos on Facebook, they quickly went viral. The project's popularity led her to this book, in which two photos of 61 canine models, including French Bulldogs, Springer Spaniels and Boxers, are presented side by side in mid-shake. Check out our photo gallery featuring some of our favorite shakes from the book, and don't be afraid to post photos on our Facebook wall of your dog shaking. We know it will be a challenge, but it will be worth it!