Researcher uncover secret of owls' neck twist
Backup arterties help the birds rotate their heads up to 270 degrees.
Researchers at Johns Hopkins University School of Medicine investigated how owls can turn their heads up to 270 degrees without injuring themselves. They found that owls have backup arteries that provide more nutrients when their blood vessels get strained by rapid turning.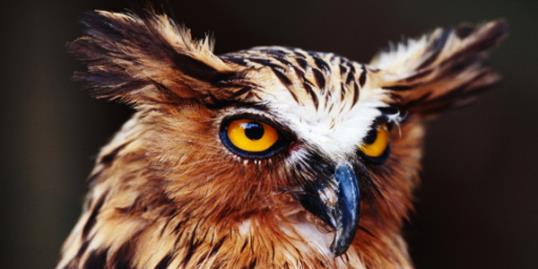 Scientists already knew that the birds only had one socket pivot, which allows them to twist more than humans, who have two.
But the new study revealed that the arteries also collect any excess blood that's created by the extreme turning.
Bing: See owls up close
The team's research was summarized on the U.S. National Science Foundation website.
— Read it at National Geographic
More from Vetstreet:
6 bizarre eating habits of animals
The year's 10 trendiest cat names
Playtime for baby monkey and kitten
10 most popular dog breeds that are biggest losers
10 surprising things about how animals sleep
Photo: Karl Lehmann/Getty Images
pics, advice, info and stories for pet lovers
Plus, puppy names to watch

We asked 218 veterinary professionals to vote on the dog breeds and mixes that are not good choices for first-time pet parents. German Shepherds, Bulldogs and Akitas are among the breeds new pet owners should steer clear of.

"No! Bad dog!" How many times have you scolded your misbehaving canine with those words? Probably too many. But before you fly off the handle, one of the most important things to understand about correcting bad behavior is that punishment doesn't work.

If you have a hard time cruising through the toy aisle without loading up, you're not alone. But the good news is that there are tons of inexpensive dog toys that still deliver big fun. Check out our picks, and be sure to share in the comments if we left off your dog's favorite!

Sexy mice? Yes, they exist