Chihuahua inherits $100,000
Muriel Siebert also left $10,000 a month to an animal medical center and $48 million to her foundation that teaches people about the humane support of animals.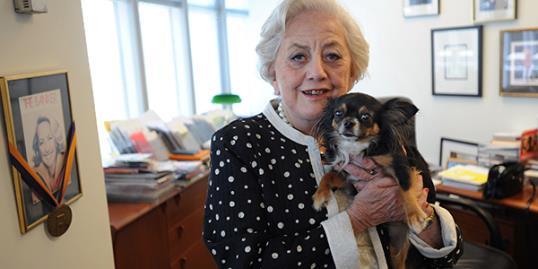 When Muriel Siebert, the first woman to hold a seat on the New York Stock Exchange, died last month at age 84, she left her little dog with a big inheritance.
Monster Girl, a long-haired Chihuahua, was left to Siebert's friend, Lynda Fox-Frazer, along with $100,000 for her care — and the request that her dog "not be left alone for long periods of time during the day."
Bing: Most pampered celeb pets
Siebert also left $10,000 month to the Animal Medical Center in Manhattan for the duration of Monster Girl's life, and $48 million to her own foundation, which teaches people about financial literacy and the "humane support of animals."
— Read it at New York Daily News
More from Vetstreet:
12 yappiest dog breeds
Why does my dog ... Automatically like some dogs and hate others?
This dog is compact in size and great for families
8 thoughtful ways to honor your pet
11 tiniest dog breeds with big, bold personalities

Friend us on Facebook, follow us on Twitter and find us on Pinterest.
Photo: Muriel Siebert, the first woman to hold a seat on the New York Stock Exchange (© ​Susan Watts/NY Daily News Archive via Getty Images)
pics, advice, info and stories for pet lovers
The strong bonds that dogs can form are undeniable.

Think you know your pet's every unspoken wish? Think again. Your pet is unlikely to be capable of communicating her wants and needs in ways you might assume she would. Even those of you most in touch with your pets' feelings are likely missing a few cues here and there.

The Chesapeake Bay Retriever made both our readers' and veterinary professionals' lists of breeds that love the water.

You might proudly call yourself a dog owner, pet parent or canine guardian, but let's be real: Your dog owns you. You might be laughing now, but think about it — you've surrendered the best seat on the sofa to him, you plan your entire weekend around his trips to the dog park, and you take him to the groomer more often than you get your own hair cut. And let's not forget who's in every photo on your Facebook and Instagram feeds. Sound familiar? We thought so. But in case you still think you're in charge, here are seven classic signs that your dog is the one calling the shots.

One of the best things about being a veterinarian is all the different dogs I get to meet. Of course, I love the Labs and Beagles and Boxers and Poodles, not to mention those crazy Canine Cocktails, or what my parents used to call Heinz 57s. They are among the more popular dogs out there, and I see a lot of them. In fact, it used to be that it was rare to see anything else. Here are nine dog breeds I sometimes see now that I didn't see in the past.

We asked veterinary experts and readers which breeds they think and if it is OK to shave longhaired pets in the summer.

If you're searching for a breed that may enjoy the company of a kid, we have some great suggestions for you.

When searching for the right dog to add to your family, your first instinct might be to bring home a tiny little thing that your kids can cradle in their laps. But we're here to remind you that the best fit for you may be a large dog breed.

Many breeds were developed to do work that required them to act independently. Those dogs tend to be smart, but as family pets, they may need more leadership and training than others. Ultimately, though, they're worth it. Here are 11 dog breeds that tend to have independent personalities.

Many of us here at Vetstreet are fascinated by pets who have unique coats and cool shapes hidden in their markings. So we asked our Facebook fans to share pictures of animals that have interesting coloration, and you did not disappoint. From mustachioed cats to a horse of a different color, here are our 13 favorite photos of pets with cool coats.

We surveyed 284 veterinary professionals (including vets, veterinary technicians and office staff) to see which breeds they felt were most likely to chew something they shouldn't and wind up in the veterinary emergency room, and we've listed the top five answers below. Do you agree with their opinions? Which breeds would you add to the list?

This Fourth of July, Americans will celebrate with the sights and sounds of fireworks. While we love the pyrotechnics, it's important to remember that our patriotic midsummer spectacular is no holiday for many of our pets.