Hero pug saves family from fire
Thanks to the dog, no one was injured in the blaze.
Late Sunday night, a family in Citrus Heights, Calif., awoke to the barking of their 3-year-old pug. The little dog was alerting them to a fire in the attic of their home — even before the smoke detectors picked up on it.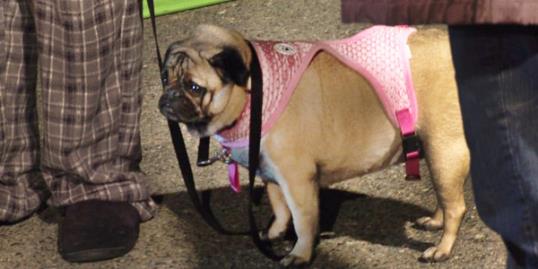 Firefighters were able to quickly suppress the fire, keeping it from doing extensive damage to the home, thanks to the dog's quick thinking.
No one was injured in the blaze.
— Read it at the Los Angeles Times
More from Vetstreet:
5 popular dog breeds to worry about most for health issues
How to protect pugs, bulldogs and other short-nosed breeds
Blind girl reunited with stolen therapy dog
Charlie Sheen pay's $10,000 for ill teen's therapy dog
Meet America's new top dog
Bing: Adorable pug puppies
Photo: Courtesy of Fox40, http://aka.ms/pug
pics, advice, info and stories for pet lovers
It's Independence Day — and we're celebrating our freedom and everything American. Before you light up the grill or head out to catch the fireworks, take a moment to check out these fun photos of patriotic pups. We hope you have a wonderful holiday and, as always, remember to keep your pets safe.

You love him so much, but you put up with a lot for your pup.

There's no denying that cats are excellent companions, but sometimes they do something that leaves you scratching your head in total confusion. If you're used to dogs, cats' social interactions and the way they communicate can be very confusing. Yet it's these special behaviors, like affectionate head-butting and their penchant for cardboard boxes, that make us love them so much. To help you better understand your elusive feline, we rounded up 10 cat behaviors that people commonly consider mysterious. You'll find that many of these habits aren't weird at all for cats -- they're normal. Click through this slideshow to learn more about mysterious feline habits and what they mean.

Soldier the cat is now recovering thanks to a special oxygen mask used for reviving animals.

Donna the dog served in Afghanistan and is retiring.

Kitty can't hide its excitement when his owner walks through the door.

It's an age-old discussion: Are you a cat person or a dog person?

Fire-rescue crews were able to lead the animal to safety.

For many, summer means getting outside and spending quality time with four-legged friends. Sometimes that's a game of fetch in the backyard, but sometimes it's fun in the sun (and sand) at the beach. Luckily, there are a number of beaches in the United States that let you bring your pooch — as long as you follow the rules, of course. Here are eight beaches that you can visit with your dog.

Factors include weather, walkability, yard sizes and more

Check out some of the sweetest cat naps we've ever seen...