Hero pug saves family from fire
Thanks to the dog, no one was injured in the blaze.
Late Sunday night, a family in Citrus Heights, Calif., awoke to the barking of their 3-year-old pug. The little dog was alerting them to a fire in the attic of their home — even before the smoke detectors picked up on it.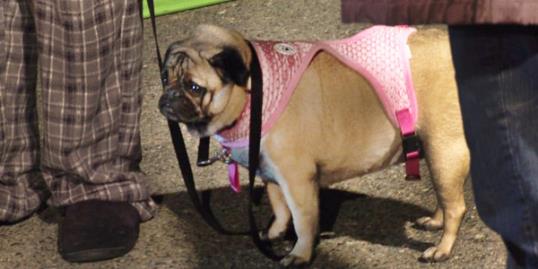 Firefighters were able to quickly suppress the fire, keeping it from doing extensive damage to the home, thanks to the dog's quick thinking.
No one was injured in the blaze.
— Read it at the Los Angeles Times
More from Vetstreet:
5 popular dog breeds to worry about most for health issues
How to protect pugs, bulldogs and other short-nosed breeds
Blind girl reunited with stolen therapy dog
Charlie Sheen pay's $10,000 for ill teen's therapy dog
Meet America's new top dog
Bing: Adorable pug puppies
Photo: Courtesy of Fox40, http://aka.ms/pug
pics, advice, info and stories for pet lovers
What is the best route to follow should your pet bite one of your guests or run off and nip an innocent bystander?

Tiny Terrier rescued from traffic in Texas.

Shaved legs, trimmed mustaches and long, luxurious coats — sometimes we think the Westminster Dog Show, which airs Monday and Tuesday, is like a red-carpet event for unusual-looking breeds.

February 14 isn't just a day to shower the special human in your life with chocolates and roses. It's also important to do something special for the one member in your family who loves you unconditionally — your pet. In honor of how much we love all things furry, feathered and four-legged, we rounded up our favorite cats and dogs celebrating Valentine's Day.

Here are nine fundamental steps for taking care of your new kitten.

Only 35 of its kind exist in the U.S.