Hero pug saves family from fire
Thanks to the dog, no one was injured in the blaze.
Late Sunday night, a family in Citrus Heights, Calif., awoke to the barking of their 3-year-old pug. The little dog was alerting them to a fire in the attic of their home — even before the smoke detectors picked up on it.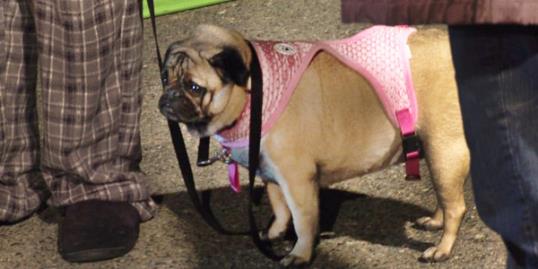 Firefighters were able to quickly suppress the fire, keeping it from doing extensive damage to the home, thanks to the dog's quick thinking.
No one was injured in the blaze.
— Read it at the Los Angeles Times
More from Vetstreet:
5 popular dog breeds to worry about most for health issues
How to protect pugs, bulldogs and other short-nosed breeds
Blind girl reunited with stolen therapy dog
Charlie Sheen pay's $10,000 for ill teen's therapy dog
Meet America's new top dog
Bing: Adorable pug puppies
Photo: Courtesy of Fox40, http://aka.ms/pug
pics, advice, info and stories for pet lovers
I love all pets. I wouldn't be a veterinarian if I didn't, and I celebrate the human-animal bond every day. I do look forward, though, to the day when these five breeds aren't as popular. The reasons vary, but in many cases the problems are health-related, and overbreeding by puppy mills and other less-than-ideal operations has a lot to do with that. What would help these breeds is for there to be a lot less of them. A couple of them need many more adopters and far less breeding, and all would benefit from people who are well-prepared for the challenges of owning a dog, and who make sure to look to rescue, shelters and reputable breeders for their pets. As always, whatever pet you choose, we veterinarians are here to help you make healthy choices for life.

The mayor of an affluent California town has landed himself in a messy situation.

Dog reunited with owner in Brazil.

These breeds used to be more popular, but they could just be one hit TV show, movie or commercial away from a comeback.

267 veterinary professionals offered up their picks for the Most Athletic, Biggest Flirt and other popular high school categories.