It's National Dress Up Your Pet Day
Who says you can only force your four-legged friend into a humiliating costume on Oct. 31?
Time to dig out your pet's Halloween costume, because today we're celebrating
National Dress Up Your Pet Day
.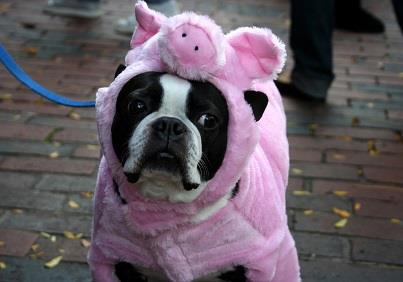 Of course, you don't have to put him in a Halloween costume — this holiday is not so limiting. You could just dress Fido or Fluffy up in a T-shirt or sweater. Even a tiny hat would suffice.
Or, how about a designer coat? Whatever attire you decide to put on your animal today, just be sure to take plenty of pictures and share them with us on our Facebook.
National Dress Up Your Pet Day was founded in 2009 by Celebrity Pet Lifestyle Expert and Animal Behaviorist, Colleen Paige. It is sponsored by the Animal Miracle Network as a fun way to celebrate our beloved pets and to support the pet fashion community.
"It's important to remember though, that it's not, however, a day to disrespect our pets with uncomfortable, vulgar and/or seasonally inappropriate costumes for the sake of a laugh or photo shoot," Paige is quoted on her website. "Have fun with your pets by dressing them in cute outfits and safe costumes - but keep your pet's comfort level in mind when involving him/her in this fun novelty day."
More from Vetstreet:
Veterinarian's surprising confession
10 dogs dressed up in red, white and blue
Are costumes safe for pets?
Why does my dog… sleep curled up in a ball when he sleeps?
10 trendiest dog names of the year
Bing: Pets in funny costumes
Photo: Andrew Teman, Flickr
Love content like this? Friend us on Facebook, follow us on Twitter and find us on Pinterest
pics, advice, info and stories for pet lovers
I love all pets. I wouldn't be a veterinarian if I didn't, and I celebrate the human-animal bond every day. I do look forward, though, to the day when these five breeds aren't as popular. The reasons vary, but in many cases the problems are health-related, and overbreeding by puppy mills and other less-than-ideal operations has a lot to do with that. What would help these breeds is for there to be a lot less of them. A couple of them need many more adopters and far less breeding, and all would benefit from people who are well-prepared for the challenges of owning a dog, and who make sure to look to rescue, shelters and reputable breeders for their pets. As always, whatever pet you choose, we veterinarians are here to help you make healthy choices for life.

The mayor of an affluent California town has landed himself in a messy situation.

Dog reunited with owner in Brazil.

These breeds used to be more popular, but they could just be one hit TV show, movie or commercial away from a comeback.

267 veterinary professionals offered up their picks for the Most Athletic, Biggest Flirt and other popular high school categories.