New owl species found in Indonesia
The Rinjani scops owl was discovered by its unique birdsong.
It was the unique call of the Rinjani scops owl that gave it away. It was heard by two members of a research team during a 2003 trip to the Indonesian island of Lombok, while they were on separate ends of the island.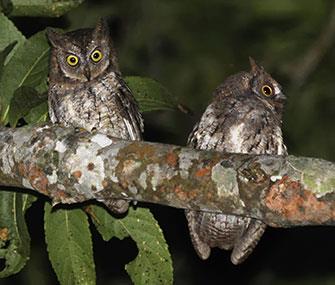 "I did not expect to find a new species, and certainly not one that is this common," said George Sangster, study co-author and a researcher with the Swedish Museum of Natural History.
According to Live Science, this kind of owl had escaped scientific detection for so long in part because it looks very similar to a related species.
The new species, with the scientific name Otus jolandae, is described in the journal PLOS One.
— Read it at Live Science
Bing: Secrets of owl neck rotation revealed.
More from Vetstreet:
Meet America's new top dog
The year's 10 trendiest cat names
11 unusual looking dog breeds
13 animals with the oddest mating rituals
Photo: Philippe Verbelen / The Rinjani scops owl was discovered on the Indonesian island of Lombok.
pics, advice, info and stories for pet lovers
Plus, puppy names to watch

We asked 218 veterinary professionals to vote on the dog breeds and mixes that are not good choices for first-time pet parents. German Shepherds, Bulldogs and Akitas are among the breeds new pet owners should steer clear of.

"No! Bad dog!" How many times have you scolded your misbehaving canine with those words? Probably too many. But before you fly off the handle, one of the most important things to understand about correcting bad behavior is that punishment doesn't work.

If you have a hard time cruising through the toy aisle without loading up, you're not alone. But the good news is that there are tons of inexpensive dog toys that still deliver big fun. Check out our picks, and be sure to share in the comments if we left off your dog's favorite!

Sexy mice? Yes, they exist