New owl species found in Indonesia
The Rinjani scops owl was discovered by its unique birdsong.
It was the unique call of the Rinjani scops owl that gave it away. It was heard by two members of a research team during a 2003 trip to the Indonesian island of Lombok, while they were on separate ends of the island.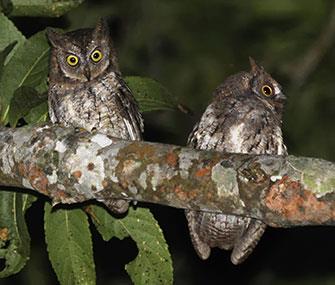 "I did not expect to find a new species, and certainly not one that is this common," said George Sangster, study co-author and a researcher with the Swedish Museum of Natural History.
According to Live Science, this kind of owl had escaped scientific detection for so long in part because it looks very similar to a related species.
The new species, with the scientific name Otus jolandae, is described in the journal PLOS One.
— Read it at Live Science
Bing: Secrets of owl neck rotation revealed.
More from Vetstreet:
Meet America's new top dog
The year's 10 trendiest cat names
11 unusual looking dog breeds
13 animals with the oddest mating rituals
Photo: Philippe Verbelen / The Rinjani scops owl was discovered on the Indonesian island of Lombok.
pics, advice, info and stories for pet lovers
267 veterinary professionals offered up their picks for the Most Athletic, Biggest Flirt and other popular high school categories.

BarkBuddy helps match prospective doggie-adopters with potential pets.

It's all calm and quiet around your house until one of these visitors appears.

Are you a cat owner? Are you sure about that? Who caters to her resident feline's every need? Who dotes upon her demanding little dictator? Who can be put in her place with just one look of disdain from the kitty in the corner?

Dogs might not seem as mysterious as cats, but canines do have their fair share of behaviors that are truly baffling.

In some households pets are allowed everywhere, all the time. In others, pets aren't allowed on any furniture, ever. But in many, the answer lies somewhere in between.