New owl species found in Indonesia
The Rinjani scops owl was discovered by its unique birdsong.
It was the unique call of the Rinjani scops owl that gave it away. It was heard by two members of a research team during a 2003 trip to the Indonesian island of Lombok, while they were on separate ends of the island.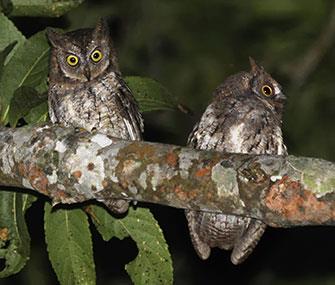 "I did not expect to find a new species, and certainly not one that is this common," said George Sangster, study co-author and a researcher with the Swedish Museum of Natural History.
According to Live Science, this kind of owl had escaped scientific detection for so long in part because it looks very similar to a related species.
The new species, with the scientific name Otus jolandae, is described in the journal PLOS One.
— Read it at Live Science
Bing: Secrets of owl neck rotation revealed.
More from Vetstreet:
Meet America's new top dog
The year's 10 trendiest cat names
11 unusual looking dog breeds
13 animals with the oddest mating rituals
Photo: Philippe Verbelen / The Rinjani scops owl was discovered on the Indonesian island of Lombok.
pics, advice, info and stories for pet lovers
Tiny Terrier rescued from traffic in Texas.

Shaved legs, trimmed mustaches and long, luxurious coats — sometimes we think the Westminster Dog Show, which airs Monday and Tuesday, is like a red-carpet event for unusual-looking breeds.

February 14 isn't just a day to shower the special human in your life with chocolates and roses. It's also important to do something special for the one member in your family who loves you unconditionally — your pet. In honor of how much we love all things furry, feathered and four-legged, we rounded up our favorite cats and dogs celebrating Valentine's Day.

Here are nine fundamental steps for taking care of your new kitten.

Only 35 of its kind exist in the U.S.

Everyone wins at the Puppy Bowl.