New owl species found in Indonesia
The Rinjani scops owl was discovered by its unique birdsong.
It was the unique call of the Rinjani scops owl that gave it away. It was heard by two members of a research team during a 2003 trip to the Indonesian island of Lombok, while they were on separate ends of the island.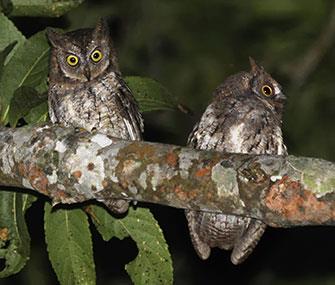 "I did not expect to find a new species, and certainly not one that is this common," said George Sangster, study co-author and a researcher with the Swedish Museum of Natural History.
According to Live Science, this kind of owl had escaped scientific detection for so long in part because it looks very similar to a related species.
The new species, with the scientific name Otus jolandae, is described in the journal PLOS One.
— Read it at Live Science
Bing: Secrets of owl neck rotation revealed.
More from Vetstreet:
Meet America's new top dog
The year's 10 trendiest cat names
11 unusual looking dog breeds
13 animals with the oddest mating rituals
Photo: Philippe Verbelen / The Rinjani scops owl was discovered on the Indonesian island of Lombok.
pics, advice, info and stories for pet lovers
We asked veterinary experts and readers which breeds they think and if it is OK to shave longhaired pets in the summer.

If you're searching for a breed that may enjoy the company of a kid, we have some great suggestions for you.

When searching for the right dog to add to your family, your first instinct might be to bring home a tiny little thing that your kids can cradle in their laps. But we're here to remind you that the best fit for you may be a large dog breed.

Many breeds were developed to do work that required them to act independently. Those dogs tend to be smart, but as family pets, they may need more leadership and training than others. Ultimately, though, they're worth it. Here are 11 dog breeds that tend to have independent personalities.

Many of us here at Vetstreet are fascinated by pets who have unique coats and cool shapes hidden in their markings. So we asked our Facebook fans to share pictures of animals that have interesting coloration, and you did not disappoint. From mustachioed cats to a horse of a different color, here are our 13 favorite photos of pets with cool coats.

We surveyed 284 veterinary professionals (including vets, veterinary technicians and office staff) to see which breeds they felt were most likely to chew something they shouldn't and wind up in the veterinary emergency room, and we've listed the top five answers below. Do you agree with their opinions? Which breeds would you add to the list?

This Fourth of July, Americans will celebrate with the sights and sounds of fireworks. While we love the pyrotechnics, it's important to remember that our patriotic midsummer spectacular is no holiday for many of our pets.

It's Independence Day — and we're celebrating our freedom and everything American. Before you light up the grill or head out to catch the fireworks, take a moment to check out these fun photos of patriotic pups. We hope you have a wonderful holiday and, as always, remember to keep your pets safe.

You love him so much, but you put up with a lot for your pup.

There's no denying that cats are excellent companions, but sometimes they do something that leaves you scratching your head in total confusion. If you're used to dogs, cats' social interactions and the way they communicate can be very confusing. Yet it's these special behaviors, like affectionate head-butting and their penchant for cardboard boxes, that make us love them so much. To help you better understand your elusive feline, we rounded up 10 cat behaviors that people commonly consider mysterious. You'll find that many of these habits aren't weird at all for cats -- they're normal. Click through this slideshow to learn more about mysterious feline habits and what they mean.

Soldier the cat is now recovering thanks to a special oxygen mask used for reviving animals.