Pigeon DNA may hold clues to evolution
Researchers have discovered that most of the domestic birds descend from one type.
Following in the footsteps of Charles Darwin, who raised pigeons, a team led by Michael D. Shapiro at the University of Utah has so far sequenced the DNA of 40 pigeon breeds to determine the mutations that created their different forms. Their findings support Darwin's theory that all pigeon breeds, which are almost as diverse as dog breeds, descend from the rock pigeon that lived in Europe, North Africa and Asia.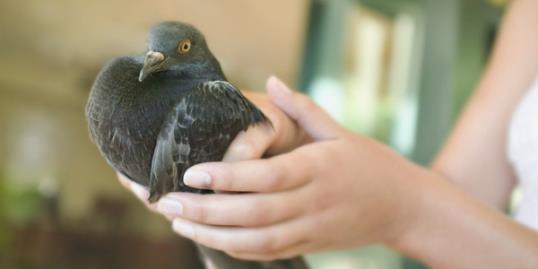 And they're hoping what they learn about these birds will help them discover more about how evolution works in general.
"It's a brilliant bit of investigative science, the type of research that hopefully will come to define the genomic era," said Beth Shapiro, who's no relation to Michael, of the University of California, Santa Cruz.
The findings were published in the journal Science.
— Read it at The New York Times
More from Vetstreet:
See the 5 best Super Bowl commercials staring animals
How can I tell if my cat likes me?
12 best couch potato dog breeds
Most popular dog breed in America is…
Photo: Robert Llewellyn/Getty Images
pics, advice, info and stories for pet lovers
Adopting an animal is a major commitment. Yet all too often people put more effort into researching what kind of car to get than the type of pet that would best fit their lifestyle.

'Tis the season to send out holiday greeting cards to all your friends and family. But, as our friends at Awkward Family Pet Photos know, not all holiday snapshots are the same. Some are just plain kooky — especially when pets are included. So with good tidings and great cheer, here are 10 wacky holiday animal portraits that are sure to make you laugh out loud and get you in the holiday spirit. And possibly make you think twice about dressing up the family cat this year.

King of the jungle? Nah, it's just a labradoodle!

Do you have a finicky furry friend on your holiday gift list this year? You're in luck! We've rounded up the coolest cat-approved products to bring you purrfect gift ideas for every kind of cat -- from the curious kitten to the most refined feline. Any one of these special gifts could make your resident kitty purr with pleasure and maybe, just maybe, like the present this year even more than the box and wrapping paper it came in!

Plus, puppy names to watch

We asked 218 veterinary professionals to vote on the dog breeds and mixes that are not good choices for first-time pet parents. German Shepherds, Bulldogs and Akitas are among the breeds new pet owners should steer clear of.

"No! Bad dog!" How many times have you scolded your misbehaving canine with those words? Probably too many. But before you fly off the handle, one of the most important things to understand about correcting bad behavior is that punishment doesn't work.

If you have a hard time cruising through the toy aisle without loading up, you're not alone. But the good news is that there are tons of inexpensive dog toys that still deliver big fun. Check out our picks, and be sure to share in the comments if we left off your dog's favorite!

Sexy mice? Yes, they exist

Stray surprises subway passengers.

Newly cast cat will better match character from the book series, producer and author say.