Banana Joe wins Westminster best in show
A tiny Affenpinscher from Massachusetts took the prestigious title.
Banana Joe, a tiny Affenpinscher from Massachusetts, got the ultimate retirement gift on Tuesday night: the Best in Show title at the prestigious 137th Westminster Kennel Club Dog Show at New York City's Madison Square Garden.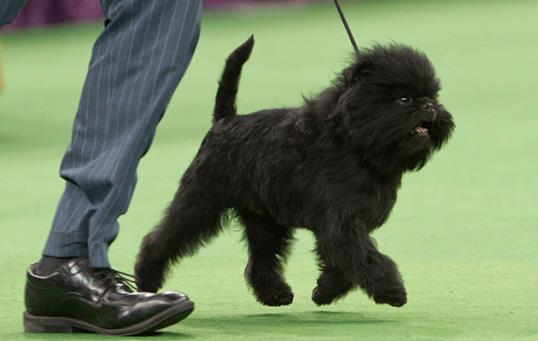 The 5-year-old CH. Banana Joe V Tani Kazari, a veteran in the ring who's lapped up 85 other Best in Show wins at other competitions throughout his career, was chosen as the top dog from among 2,721 canines — the show's largest number of entries in 15 years.
They fell into 187 breeds, including two that were
added to the competition this year
: the Russell Terrier and the Treeing Walker Coonhound.
His win makes this the second consecutive year that the Toy Group has clinched the Best in Show title. Joey succeeds the wobbling Pekingese CH. Palacegarden Malachy, who won the coveted title last year. Now 5 years old, Malachy has retired in Pennsylvania with his handler and co-owner, David Fitzpatrick, and eight other Pekingese.
Joey's thrilled handler, Ernesto Lara, snatched the little black dog up and hugged him tight after he was named the champion. Celebrating the dog's win, Lara was asked to describe Joey's personality.
"Nobody told him that he's a small breed," he said. "I don't think he'd believe that."
For the first time, a Reserve Best in Show title was also awarded this year. It went to an Old English Sheepdog who stunned the dog show world with his Herding Group win on Monday. At just 20 months old, Swagger was a relative novice who hadn't yet won a championship before coming to Westminster.
Best in Show Judge Michael J. Dougherty didn't see the seven contenders until he entered the ring at the end of the night, but his picks aligned with those of the crowd, who cheered loudly for both Joey and Swagger.
"Every one of you deserves some serious ribbonage," Dougherty told the handlers of the seven finalists before choosing his top two picks.
Photo: Frank Franklin II, AP / Westminster's Best in Show winner, Affenpinscher Banana Joe, takes a lap around the ring.
pics, advice, info and stories for pet lovers
Computer equipment delivery came with two cute stowaways.

Take a look at your house for these telltale signs that a cat is running the show.

Check out this list of requirements you should meet before getting a new puppy or adult dog.

Much like their famous owners, these pooches live a fabulous life. Some are rescues, others purebred, but one thing is certain – these dogs play an important part in their famous parents' lives. Can you guess who owns each of these dogs?

Pets are part of many children's lives. Learn how to help them foster strong, healthy relationships.

If you live with a feline companion, you know that cats can be quirky and totally entertaining. (Even if they'd never admit it in a million, trillion years.) Here are just a few of our favorite cat-isms, some with sandpaper tongue firmly in cheek. Did we miss any of yours?

Tummy troubles in your four-legged friends? Carrageenan in their pet food may be to blame.

There's more to choosing the perfect dog for your family than walking into a shelter and saying, "Find me one that looks like the dog from Marley and Me." Choosing a dog is more like buying a car. You want one that isn't just good looking, but is also a perfect fit for your family and lifestyle (and won't leak in the garage). Here are 8 great tips to help you determine the perfect pooch for your pack. By Jeremy Greenberg

CEO says, "it was one of the best ideas of my life"

Before you jump into marriage counseling, take a look at our list to see if you truly do love your dog more than your spouse.

Spring break isn't just for humans anymore. Cats and dogs know how to have fun in the sun, too, and would love to tag along on your vacation. In honor of the warm and relaxing days ahead, here are 15 pets catching some rays, going on hikes and floating in the pool.

Injuries often happen when dogs are outside chasing tennis balls or playing at dog parks. Because yours needs regular exercise, it can be difficult to protect him from many accidents.