Dolphins call each other by name
Researchers found that bottlenose dolphins whistle for loved ones.
A new study finds that bottlenose dolphins call out the names of certain other dolphins when they become separated.
The research by the University of St. Andrews Sea Mammal Research Unit in the U.K. is based on acoustic data from wild bottlenose dolphins around Sarasota Bay, Fla., from 1984 to 2009, and on the study of four captive males at The Seas Aquarium in Florida.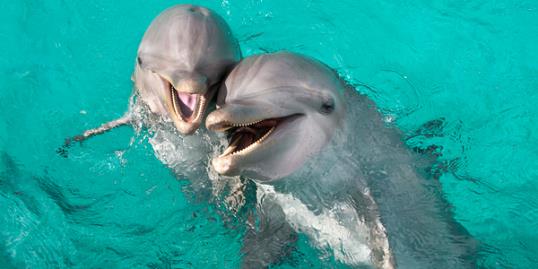 Previous research has found that dolphins have signature whistles for themselves, and the new research finds that dolphins who are close to them can copy their whistles to find them.
"Animals produced copies when they were separated from a close associate and this supports our belief that dolphins copy another animal's signature whistle when they want to reunite with that specific individual," said the study's lead author, Stephanie King.
Bing: More dolphin news
The findings were published in the journal "Proceedings of the Royal Society B."
— Read it at Discovery News
More from Vetstreet:
11 quirkiest and unique pet products of 2013
5 dog breeds that are worrisome
Man saves puppy from garage
Is mutt testing good or bad?
Meet America's new top dog
Why does my dog… kick grass after pooping?
Photo: Dolphins call each other by name / Eco/UIG/Getty Images

pics, advice, info and stories for pet lovers
267 veterinary professionals offered up their picks for the Most Athletic, Biggest Flirt and other popular high school categories.

BarkBuddy helps match prospective doggie-adopters with potential pets.

It's all calm and quiet around your house until one of these visitors appears.

Are you a cat owner? Are you sure about that? Who caters to her resident feline's every need? Who dotes upon her demanding little dictator? Who can be put in her place with just one look of disdain from the kitty in the corner?

Dogs might not seem as mysterious as cats, but canines do have their fair share of behaviors that are truly baffling.

In some households pets are allowed everywhere, all the time. In others, pets aren't allowed on any furniture, ever. But in many, the answer lies somewhere in between.