Dolphins call each other by name
Researchers found that bottlenose dolphins whistle for loved ones.
A new study finds that bottlenose dolphins call out the names of certain other dolphins when they become separated.
The research by the University of St. Andrews Sea Mammal Research Unit in the U.K. is based on acoustic data from wild bottlenose dolphins around Sarasota Bay, Fla., from 1984 to 2009, and on the study of four captive males at The Seas Aquarium in Florida.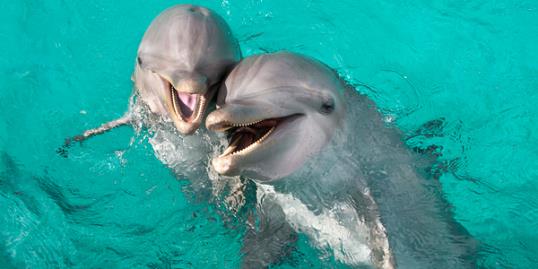 Previous research has found that dolphins have signature whistles for themselves, and the new research finds that dolphins who are close to them can copy their whistles to find them.
"Animals produced copies when they were separated from a close associate and this supports our belief that dolphins copy another animal's signature whistle when they want to reunite with that specific individual," said the study's lead author, Stephanie King.
Bing: More dolphin news
The findings were published in the journal "Proceedings of the Royal Society B."
— Read it at Discovery News
More from Vetstreet:
11 quirkiest and unique pet products of 2013
5 dog breeds that are worrisome
Man saves puppy from garage
Is mutt testing good or bad?
Meet America's new top dog
Why does my dog… kick grass after pooping?
Photo: Dolphins call each other by name / Eco/UIG/Getty Images

pics, advice, info and stories for pet lovers
Plus, puppy names to watch

We asked 218 veterinary professionals to vote on the dog breeds and mixes that are not good choices for first-time pet parents. German Shepherds, Bulldogs and Akitas are among the breeds new pet owners should steer clear of.

"No! Bad dog!" How many times have you scolded your misbehaving canine with those words? Probably too many. But before you fly off the handle, one of the most important things to understand about correcting bad behavior is that punishment doesn't work.

If you have a hard time cruising through the toy aisle without loading up, you're not alone. But the good news is that there are tons of inexpensive dog toys that still deliver big fun. Check out our picks, and be sure to share in the comments if we left off your dog's favorite!

Sexy mice? Yes, they exist