Dolphins call each other by name
Researchers found that bottlenose dolphins whistle for loved ones.
A new study finds that bottlenose dolphins call out the names of certain other dolphins when they become separated.
The research by the University of St. Andrews Sea Mammal Research Unit in the U.K. is based on acoustic data from wild bottlenose dolphins around Sarasota Bay, Fla., from 1984 to 2009, and on the study of four captive males at The Seas Aquarium in Florida.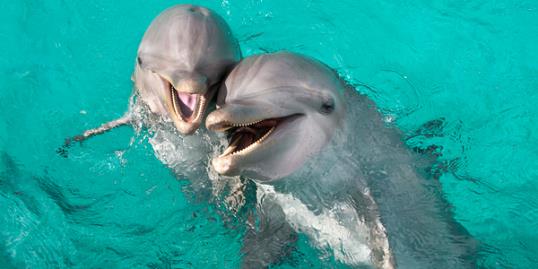 Previous research has found that dolphins have signature whistles for themselves, and the new research finds that dolphins who are close to them can copy their whistles to find them.
"Animals produced copies when they were separated from a close associate and this supports our belief that dolphins copy another animal's signature whistle when they want to reunite with that specific individual," said the study's lead author, Stephanie King.
Bing: More dolphin news
The findings were published in the journal "Proceedings of the Royal Society B."
— Read it at Discovery News
More from Vetstreet:
11 quirkiest and unique pet products of 2013
5 dog breeds that are worrisome
Man saves puppy from garage
Is mutt testing good or bad?
Meet America's new top dog
Why does my dog… kick grass after pooping?
Photo: Dolphins call each other by name / Eco/UIG/Getty Images

pics, advice, info and stories for pet lovers
What is the best route to follow should your pet bite one of your guests or run off and nip an innocent bystander?

Tiny Terrier rescued from traffic in Texas.

Shaved legs, trimmed mustaches and long, luxurious coats — sometimes we think the Westminster Dog Show, which airs Monday and Tuesday, is like a red-carpet event for unusual-looking breeds.

February 14 isn't just a day to shower the special human in your life with chocolates and roses. It's also important to do something special for the one member in your family who loves you unconditionally — your pet. In honor of how much we love all things furry, feathered and four-legged, we rounded up our favorite cats and dogs celebrating Valentine's Day.

Here are nine fundamental steps for taking care of your new kitten.

Only 35 of its kind exist in the U.S.