Dolphins call each other by name
Researchers found that bottlenose dolphins whistle for loved ones.
A new study finds that bottlenose dolphins call out the names of certain other dolphins when they become separated.
The research by the University of St. Andrews Sea Mammal Research Unit in the U.K. is based on acoustic data from wild bottlenose dolphins around Sarasota Bay, Fla., from 1984 to 2009, and on the study of four captive males at The Seas Aquarium in Florida.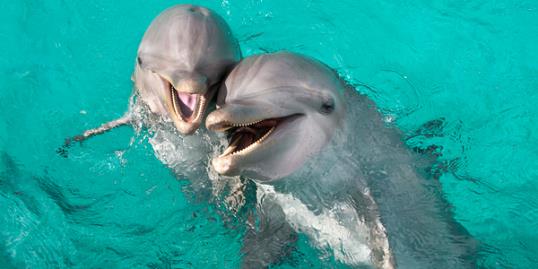 Previous research has found that dolphins have signature whistles for themselves, and the new research finds that dolphins who are close to them can copy their whistles to find them.
"Animals produced copies when they were separated from a close associate and this supports our belief that dolphins copy another animal's signature whistle when they want to reunite with that specific individual," said the study's lead author, Stephanie King.
Bing: More dolphin news
The findings were published in the journal "Proceedings of the Royal Society B."
— Read it at Discovery News
More from Vetstreet:
11 quirkiest and unique pet products of 2013
5 dog breeds that are worrisome
Man saves puppy from garage
Is mutt testing good or bad?
Meet America's new top dog
Why does my dog… kick grass after pooping?
Photo: Dolphins call each other by name / Eco/UIG/Getty Images

pics, advice, info and stories for pet lovers
It's Independence Day — and we're celebrating our freedom and everything American. Before you light up the grill or head out to catch the fireworks, take a moment to check out these fun photos of patriotic pups. We hope you have a wonderful holiday and, as always, remember to keep your pets safe.

You love him so much, but you put up with a lot for your pup.

There's no denying that cats are excellent companions, but sometimes they do something that leaves you scratching your head in total confusion. If you're used to dogs, cats' social interactions and the way they communicate can be very confusing. Yet it's these special behaviors, like affectionate head-butting and their penchant for cardboard boxes, that make us love them so much. To help you better understand your elusive feline, we rounded up 10 cat behaviors that people commonly consider mysterious. You'll find that many of these habits aren't weird at all for cats -- they're normal. Click through this slideshow to learn more about mysterious feline habits and what they mean.

Soldier the cat is now recovering thanks to a special oxygen mask used for reviving animals.

Donna the dog served in Afghanistan and is retiring.

Kitty can't hide its excitement when his owner walks through the door.

It's an age-old discussion: Are you a cat person or a dog person?

Fire-rescue crews were able to lead the animal to safety.

For many, summer means getting outside and spending quality time with four-legged friends. Sometimes that's a game of fetch in the backyard, but sometimes it's fun in the sun (and sand) at the beach. Luckily, there are a number of beaches in the United States that let you bring your pooch — as long as you follow the rules, of course. Here are eight beaches that you can visit with your dog.

Factors include weather, walkability, yard sizes and more

Check out some of the sweetest cat naps we've ever seen...