Chimps' short-term memory trumps humans'
Scientists stunned to discover chimpanzees outperformed people on sequencing tests.
A Japanese researcher showed a video last week at the annual meeting for the American Association for the Advancement of Science that left the room murmuring in amazement.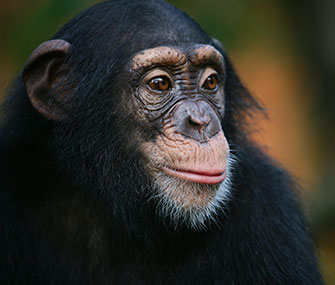 When the digits 1 through 9 appeared randomly on a screen before disappearing, a chimpanzee was able to recall the exact sequence and placement of each number.
"Don't worry, nobody can do it," researcher Tetsuro Matsuzawa of Kyoto University told his audience. "It's impossible for you."
While six out of six chimps who were tested were able to remember the numbers, only a human with savant syndrome would be able to do the same, he said.
This skill helps chimps survive in the wild, Matsuzawa said.
— Read it at Live Science
Bing: How does the human memory work?
More from Vetstreet:
Chimp and baby connect at zoo
Meet America's new top dog
Which president had the most pets?
10 animals with the oddest mating rituals
Why women love men who love cats
Photo: iStockPhoto
pics, advice, info and stories for pet lovers
With all the glitz and glamour that comes out of Tinseltown (not to mention the endless tabloid fodder), it's not always obvious that many celebrities are animal lovers, too.

From designer crosses to giant breeds, we scoured Vetstreet's data of millions of dog breeds to determine the trendiest breeds of the past decade.

Tow lot employee finds abandoned pup.

Animals, says Dr. Patty Khuly, are the best listeners in the world and don't care that you've just been dumped or laid off.

"No! Bad dog!" How many times have you scolded your misbehaving canine with those words? Probably too many. But before you fly off the handle, one of the most important things to understand about correcting bad behavior is that punishment doesn't work.

Your dog loves sticking his head out the window, but imagine the tragic results of disregarding his (or your) safety.

Death is a natural part of life, but it's never easy to understand. Here are some tips when the time comes to talk to your kids about pets passing.

Are you a 'dog person' or 'cat person'?

Whether they're on small pups like the Pug or huge ones like the Mastiff, adorable wrinkles are the envy of many a dog lover — which is exactly why we set out in search of the canine world's most wrinkled breeds.

Adopting an animal is a major commitment. Yet all too often people put more effort into researching what kind of car to get than the type of pet that would best fit their lifestyle.

From certain species of butterflies, zebras to horses and cockatoos, you might be surprised that some of our favorite creatures are dying out.

Creating a cat-friendly home means incorporating elements that accommodate your cat's natural instincts to climb, scratch and rest. Why not look for furniture that gives kitty what she needs and offers function for you too?