Top Pet Spending Cities in America
Where do resident spend the most on their furry friends?
by Mike Dang, Bundle
Whether you own a dog, cat, or something with scales, being a pet owner can be expensive. A March 2012
survey by the American Pet Products Association
estimates that 72.9 million homes in the U.S. own a pet, and that Americans will spend more than $52 billion this year on pet food, vet care, and grooming, among other pet-related expenses.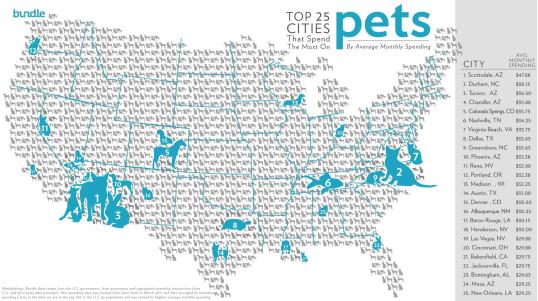 (Click here to see the infographic in high resolution.)

Pet spending varies depending on the size and type of your furry friend. Here's what you can expect to spend on a medium size dog, according to the ASPCA: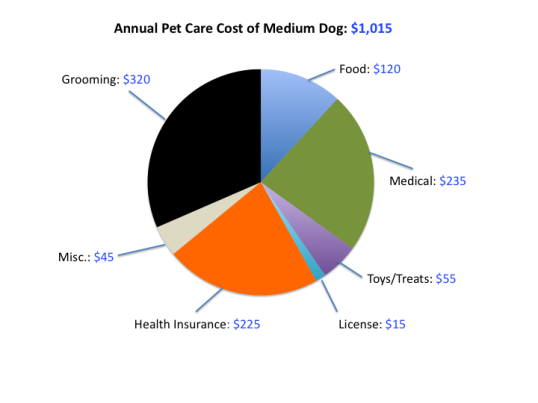 Don't forget about the unexpected costs pet owners incur when their critters get sick. John Grogan, author of Marley and Me,
says he paid $7,000
to a veterinary hospital to try to save his six-year-old Labrador, Gracie.
Some U.S. cities have a greater numbers of cat fanatics, dog devotees, lizard lovers and other domesticated family members than others. We looked at the top 100 cities in the U.S. for pet-related spending, and, according to our data (which is sourced from the U.S. government, anonymous and aggregated spending transactions from Citi, and third-party data providers), households in Scottsdale, Ariz. spend more on their pets than any other city in the U.S. — a median of $47.88 a month, nearly twice the U.S. monthly median of $23.96. In fact, four Arizona cities made it on our Top 10 list, making the Grand Canyon state the pet-friendliest in America.
10. Phoenix, Ariz.
Residents median monthly spending on pets: $33.38
9. Greensboro, N.C.
Residents median monthly spending on pets: $33.63
8. Dallas, Texas
Residents median monthly spending on pets: $33.63
7. Virginia Beach, Va.
Residents median monthly spending on pets: $33.75
6. Nashville, Tenn.
Residents median monthly spending on pets: $34.25
5. Colorado Springs, Colo.
Residents median monthly spending on pets: $35.75
4. Chandler, Ariz.
Residents median monthly spending on pets: $35.88
3. Tucson, Ariz.
Residents median monthly spending on pets: $36.50
2. Durham, N.C.
Residents median monthly spending on pets: $38.13
1. Scottsdale, Ariz.
Residents median monthly spending on pets: $47.88
More from Bundle.com

Wow! I don't know what kind of care or food these "top" cities provide for their pets. I have a lab, a shih tzu, and three cats, and I spend an average of $120 per month for their food and for flea preventative. That isn't counting treats or if one of them needs the vet. They must be feeding crap food to their pets.

Similar to Pitmamaof3 my husband and I have spent over 10k in the last 6 years on our dogs.  They are very much members of our family and we don't take rescuing lightly.  Every dog we have owned has been a rescue.  We make sure they are insured, get the best food and the best vet care including holistic with acupuncture and chiropractic if necessary.   I know everyone is going to say we are crazy and over the top but that is how we choose to care for our pets.  They have all been large dogs (over 80 lbs each) and averaged a 14 yr. life span even with cancer and kidney failure.  They did not suffer and had very good lives.  I certainly don't see why we single handedly didn't put St. Louis at number 1.  LOL  

I have three rescued/adopted pitties and I spend over $200/month on food and treats.  I buy Orijen 6 fish, EOS turkey pumpkin dog treats, CET chlorhexidine dog chews, organic carrots (from produce section of my local grocery store), and I'll grill a cubed steak for Sunday dinner to mix in with their kibble.  
Their medical/healthcare costs are higher too.  Between the k-9 Advantix, heartworm prevention, routine check ups, professional dental cleaning annually, different things that come up, I'm sure I spend over $2,000/year.    
Oh well... I guess that is why I work.  Love my fur-kids. :)
Geez, I spend more on one bag of dog food than most people spend on any given month according to the top 10 list. I am owned by 2 dogs, 1 GSD, and 1 small Pit Bull.
One bag of Merrick dry kibble, and 2 cases of Merrick canned, plus a bag of organic pumpkin treats comes to about $130.00 a month. 
I DO take them to the vet for pedi's because neither one of them likes getting their nails cut...so $30.00 a month for two pedi's. Plus the little one is being treated for Demodex, so $39.00 a month for 5 months to treat that plus the skin scrapings. And do we want to even talk about the cost of heartworm preventative medicine? 
Holy guacamole that stuff is EXPENSIVE, but ya have to have it. So our most recent trip to the vet for boosters, 3 year rabie shot, bordatella, skin scraping, heartworm test, pedi, for the little one, and 3 months of heartworm preventative for both dogs was $259.87. (this is after we spent $130.00 for food.
Your numbers aren't even close to what it cost to PROPERLY feed and care for a companion animal.
Are you sure you want to delete this comment?
pics, advice, info and stories for pet lovers
The strong bonds that dogs can form are undeniable.

Think you know your pet's every unspoken wish? Think again. Your pet is unlikely to be capable of communicating her wants and needs in ways you might assume she would. Even those of you most in touch with your pets' feelings are likely missing a few cues here and there.

The Chesapeake Bay Retriever made both our readers' and veterinary professionals' lists of breeds that love the water.

You might proudly call yourself a dog owner, pet parent or canine guardian, but let's be real: Your dog owns you. You might be laughing now, but think about it — you've surrendered the best seat on the sofa to him, you plan your entire weekend around his trips to the dog park, and you take him to the groomer more often than you get your own hair cut. And let's not forget who's in every photo on your Facebook and Instagram feeds. Sound familiar? We thought so. But in case you still think you're in charge, here are seven classic signs that your dog is the one calling the shots.

One of the best things about being a veterinarian is all the different dogs I get to meet. Of course, I love the Labs and Beagles and Boxers and Poodles, not to mention those crazy Canine Cocktails, or what my parents used to call Heinz 57s. They are among the more popular dogs out there, and I see a lot of them. In fact, it used to be that it was rare to see anything else. Here are nine dog breeds I sometimes see now that I didn't see in the past.

We asked veterinary experts and readers which breeds they think and if it is OK to shave longhaired pets in the summer.

If you're searching for a breed that may enjoy the company of a kid, we have some great suggestions for you.

When searching for the right dog to add to your family, your first instinct might be to bring home a tiny little thing that your kids can cradle in their laps. But we're here to remind you that the best fit for you may be a large dog breed.

Many breeds were developed to do work that required them to act independently. Those dogs tend to be smart, but as family pets, they may need more leadership and training than others. Ultimately, though, they're worth it. Here are 11 dog breeds that tend to have independent personalities.

Many of us here at Vetstreet are fascinated by pets who have unique coats and cool shapes hidden in their markings. So we asked our Facebook fans to share pictures of animals that have interesting coloration, and you did not disappoint. From mustachioed cats to a horse of a different color, here are our 13 favorite photos of pets with cool coats.

We surveyed 284 veterinary professionals (including vets, veterinary technicians and office staff) to see which breeds they felt were most likely to chew something they shouldn't and wind up in the veterinary emergency room, and we've listed the top five answers below. Do you agree with their opinions? Which breeds would you add to the list?

This Fourth of July, Americans will celebrate with the sights and sounds of fireworks. While we love the pyrotechnics, it's important to remember that our patriotic midsummer spectacular is no holiday for many of our pets.