How much is that puppy in the window ... per month?
A full-service pet leasing business claims to make keeping and caring for a pet easier than ever.
Yes, that's right. If you're so inclined, you can say goodbye to the old days when you owned a pet and took care of his needs yourself. Instead, you can now elect to "adopt" a pet for a monthly fee and live comfortably with the knowledge that your adored family member gets all the meals, supplies and healthcare he needs — except that he's not really your pet.
Hannah the Pet Society is a new company that's taking the concept of pet placement and animal healthcare to what its founder believes is the next level: a full-service pet leasing business that claims to make keeping and caring for a pet easier than ever.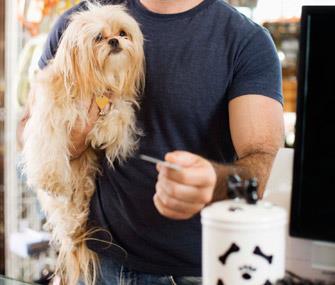 How it works
You pick out a pet in one of two Portland, Ore., storefronts (the first of their kind) and agree to pay a set monthly fee to cover the cost of his lease, food, basic supplies and veterinary care. Prospective pet keepers can choose a dog, cat, rabbit or guinea pig knowing that if it doesn't work out, they can always return him.
The sales pitch
Offering you everything that your pet needs in a convenient, one-payment-a-month approach means more people can budget appropriately for their pets and feel secure in the knowledge that they will not want for anything. The service gets more animals into more homes, with fewer reasons for relinquishment to shelters — or so the sales pitch claims.
Bing: Find out where to adopt a pet
The catch
The downside is that you don't actually have any legal control over your pet. Not only does the company reserve the right to repossess your pet — say, if you should fail to make timely payments — but it's in charge of all of your pet's nutrition, wellness care and medical decisions, too.
This veterinarian's concerns
This latter point is largely why veterinarians like me are uncomfortable with pet services like Hannah's. The fact that the person most invested in the life of the pet isn't responsible for major medical decisions is somewhat unsettling. And knowing that a for-profit company with actuarial tables to consult and books to balance is in charge of someone you love should send shivers down your spine.
Read the rest of the story here.
More from Vetstreet:
Rent-a-Pet Cafes Are All the Rage
10 Hottest Dog Names for 2013
Should I Get My Pet a Flu Shot?
Veterinarian's Surprising Confession
13 Dog Breeds Ideal for Apartment Living

Love content like this? Friend us on Facebook, follow us on Twitter and find us on Pinterest



pics, advice, info and stories for pet lovers
With all the glitz and glamour that comes out of Tinseltown (not to mention the endless tabloid fodder), it's not always obvious that many celebrities are animal lovers, too.

From designer crosses to giant breeds, we scoured Vetstreet's data of millions of dog breeds to determine the trendiest breeds of the past decade.

Tow lot employee finds abandoned pup.

Animals, says Dr. Patty Khuly, are the best listeners in the world and don't care that you've just been dumped or laid off.

"No! Bad dog!" How many times have you scolded your misbehaving canine with those words? Probably too many. But before you fly off the handle, one of the most important things to understand about correcting bad behavior is that punishment doesn't work.

Your dog loves sticking his head out the window, but imagine the tragic results of disregarding his (or your) safety.

Death is a natural part of life, but it's never easy to understand. Here are some tips when the time comes to talk to your kids about pets passing.

Are you a 'dog person' or 'cat person'?

Whether they're on small pups like the Pug or huge ones like the Mastiff, adorable wrinkles are the envy of many a dog lover — which is exactly why we set out in search of the canine world's most wrinkled breeds.

Adopting an animal is a major commitment. Yet all too often people put more effort into researching what kind of car to get than the type of pet that would best fit their lifestyle.

From certain species of butterflies, zebras to horses and cockatoos, you might be surprised that some of our favorite creatures are dying out.

Creating a cat-friendly home means incorporating elements that accommodate your cat's natural instincts to climb, scratch and rest. Why not look for furniture that gives kitty what she needs and offers function for you too?