Dog versus cat: Which pet is better?
One veterinarian examines this age-old question among pet lovers.
By Dr. Marty Becker
I'm often asked if I'm a "dog person" or a "cat person," and as a veterinarian, I have to say I haven't any preference.
On our Almost Heaven Ranch in northern Idaho, in fact, the score is dead even: four dogs, four cats.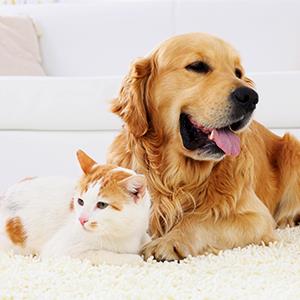 But I don't see cats and dogs as being the same. They need different things from me as a veterinarian, and they behave very differently from each other. For example, the tendency of cats to hide their illness is one reason why they don't go to the veterinarian as often as they should; their unhappiness at leaving their home is another.
Just for fun, I decided to think about how dogs and cats differ in terms of a competition. If we had pet Olympics, would dogs take home the most gold, or would cats?
Rate the competitors
To determine which is the "better" pet, let's see how cats and dogs stack up in five categories: vision, smell, speed, endurance and intelligence.
Vision. Cats win this one. Both animals are predators, which means their visual acumen stresses movement over detail. Neither cats nor dogs are going to read the type on road signs, and their color vision isn't as strong as ours, but a quick movement will get noticed even if it's minor. But give the gold to the cats for their ability to see in far less light. When the mousies come out to play at dusk, the cats are ready for them. A twitch of a whisker or a tiny movement in the leaves can be seen in near-darkness.
Smell. Dogs even the score with their sense of smell. There's a reason you don't see drug-sniffing cats, and it's not just because cats aren't exactly amenable to clocking in for a 9-to-5 shift at the police station. While cats have a better sense of smell than humans do — really, we're pretty worthless in the nose department — the canine sense of smell is nothing short of astonishing. Most dogs have a face that's really nothing but nose, and their ability to detect and distinguish odors is around four times better than a cat's.
Speed. Cats are natural sprinters, coiling and uncoiling their spines to blast off after prey or away from predators. For about the length of a suburban backyard, a cat can outrun and outjump a dog and can get over the fence before a dog can catch him. But that dash is going to take everything the cat has; he needs to rest after. Dogs such as greyhounds can maintain speeds of 40 mph for a pretty good distance and can catch up to and pass a cat pretty quickly. Have to give this one to the dogs, by a nose.
Bing: Cat recovering from act of animal cruelty
Endurance. Dogs are natural marathoners, and a fit dog such as a working sled dog can cover ground at a trot for hours. The only endurance sport a cat would win is napping, since the overwhelming majority of the feline day planner is filled with a single notation: "Zzzzzzzzzz." That's not a dig on cats, though: When they need to hunt for food they don't waste any time. They find, they kill, they eat -- and they nap.
Intelligence. Cat lovers can argue very effectively that cats are smart enough to get people to feed and care for them with little more than purring in return. Measured that way, it's hard to argue that dogs are smarter. But then you start listing all the jobs dogs have been trained to do, from smelling malignant tumors to taking down criminals, from finding and fetching birds to running an intricate agility course at top speed. And then there's the matter of language recognition: Many dogs know more than 100 words, and a few know almost twice that many. Cats? If they know more than the words you use to call them for dinner, they're not saying. Winner: dogs.
The only thing that matters is love
By human standards, a dog is "better," but that doesn't really matter at all. We love our cats, and they love us, and it's a relationship that works well on both sides. The same is true of dogs, of course. And as a veterinarian, I don't really care which pet is "better" as long as I can help make them "better," as in keep each one healthy for a long life as a well-loved companion.
More from Vetstreet:
Cats versus dogs: 6 differences and 7 similarities
6 myths about cats and dogs
Morris the cat: Remember America's first famous feline?
5 things you didn't know about cats and dogs
How old is your pet in people years?
Love content like this? Friend us on Facebook, follow us on Twitter and find us on Pinterest.
Photo: Kristian Sekulic
pics, advice, info and stories for pet lovers
Computer equipment delivery came with two cute stowaways.

Take a look at your house for these telltale signs that a cat is running the show.

Check out this list of requirements you should meet before getting a new puppy or adult dog.

Much like their famous owners, these pooches live a fabulous life. Some are rescues, others purebred, but one thing is certain – these dogs play an important part in their famous parents' lives. Can you guess who owns each of these dogs?

Pets are part of many children's lives. Learn how to help them foster strong, healthy relationships.

If you live with a feline companion, you know that cats can be quirky and totally entertaining. (Even if they'd never admit it in a million, trillion years.) Here are just a few of our favorite cat-isms, some with sandpaper tongue firmly in cheek. Did we miss any of yours?

Tummy troubles in your four-legged friends? Carrageenan in their pet food may be to blame.

There's more to choosing the perfect dog for your family than walking into a shelter and saying, "Find me one that looks like the dog from Marley and Me." Choosing a dog is more like buying a car. You want one that isn't just good looking, but is also a perfect fit for your family and lifestyle (and won't leak in the garage). Here are 8 great tips to help you determine the perfect pooch for your pack. By Jeremy Greenberg

CEO says, "it was one of the best ideas of my life"

Before you jump into marriage counseling, take a look at our list to see if you truly do love your dog more than your spouse.

Spring break isn't just for humans anymore. Cats and dogs know how to have fun in the sun, too, and would love to tag along on your vacation. In honor of the warm and relaxing days ahead, here are 15 pets catching some rays, going on hikes and floating in the pool.

Injuries often happen when dogs are outside chasing tennis balls or playing at dog parks. Because yours needs regular exercise, it can be difficult to protect him from many accidents.