World's oldest gorilla turns 56
Despite doomsday, Colo marks major milestone.
Assuming the world doesn't end today (as predicted by a Mayan prophecy), Ohio's Columbus Zoo plans to party: It's celebrating Colo the gorilla's 56th birthday this weekend.
The first gorilla to be born at a zoo, Colo is the oldest known gorilla in the world. That record was last held by Jenny at the Dallas Zoo, who died at age 55 in 2008.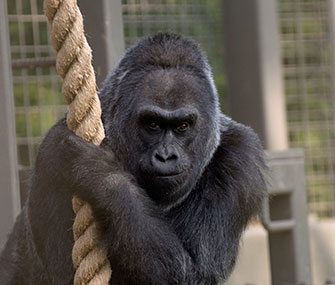 While zoo visitors serenade her with happy birthday wishes this weekend, Colo will indulge in a specially made cake and her favorite food — tomatoes.
Related: Rudolph really had a red nose
This accomplished Western gorilla is the mother of three, grandmother of 16, great grandmother of seven and great-great grandmother of two.
Bing: See photos of baby gorillas.
Photo: Columbus Zoo and Aquarium // Colo the gorilla turns 56 on Dec. 22.
More from Vetstreet:
7 Animals With Very Long Life Spans
Britney Spears, Jimmy Fallon & Taylor Swift's Pets Among the 11 Top Celeb Pets of 2012
7 Cats Who Hate Wearing Sweaters
Video: Playtime for Baby Monkey and Baby
Photos: Comfort Dogs Help the Grieving Town of Newtown, Connecticut
pics, advice, info and stories for pet lovers
Tiny Terrier rescued from traffic in Texas.

Shaved legs, trimmed mustaches and long, luxurious coats — sometimes we think the Westminster Dog Show, which airs Monday and Tuesday, is like a red-carpet event for unusual-looking breeds.

February 14 isn't just a day to shower the special human in your life with chocolates and roses. It's also important to do something special for the one member in your family who loves you unconditionally — your pet. In honor of how much we love all things furry, feathered and four-legged, we rounded up our favorite cats and dogs celebrating Valentine's Day.

Here are nine fundamental steps for taking care of your new kitten.

Only 35 of its kind exist in the U.S.

Everyone wins at the Puppy Bowl.