World's oldest gorilla turns 56
Despite doomsday, Colo marks major milestone.
Assuming the world doesn't end today (as predicted by a Mayan prophecy), Ohio's Columbus Zoo plans to party: It's celebrating Colo the gorilla's 56th birthday this weekend.
The first gorilla to be born at a zoo, Colo is the oldest known gorilla in the world. That record was last held by Jenny at the Dallas Zoo, who died at age 55 in 2008.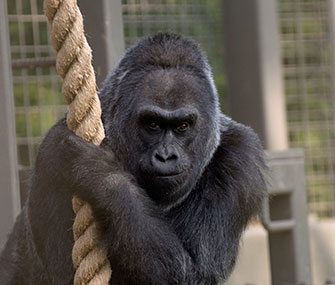 While zoo visitors serenade her with happy birthday wishes this weekend, Colo will indulge in a specially made cake and her favorite food — tomatoes.
Related: Rudolph really had a red nose
This accomplished Western gorilla is the mother of three, grandmother of 16, great grandmother of seven and great-great grandmother of two.
Bing: See photos of baby gorillas.
Photo: Columbus Zoo and Aquarium // Colo the gorilla turns 56 on Dec. 22.
More from Vetstreet:
7 Animals With Very Long Life Spans
Britney Spears, Jimmy Fallon & Taylor Swift's Pets Among the 11 Top Celeb Pets of 2012
7 Cats Who Hate Wearing Sweaters
Video: Playtime for Baby Monkey and Baby
Photos: Comfort Dogs Help the Grieving Town of Newtown, Connecticut
pics, advice, info and stories for pet lovers
I love all pets. I wouldn't be a veterinarian if I didn't, and I celebrate the human-animal bond every day. I do look forward, though, to the day when these five breeds aren't as popular. The reasons vary, but in many cases the problems are health-related, and overbreeding by puppy mills and other less-than-ideal operations has a lot to do with that. What would help these breeds is for there to be a lot less of them. A couple of them need many more adopters and far less breeding, and all would benefit from people who are well-prepared for the challenges of owning a dog, and who make sure to look to rescue, shelters and reputable breeders for their pets. As always, whatever pet you choose, we veterinarians are here to help you make healthy choices for life.

The mayor of an affluent California town has landed himself in a messy situation.

Dog reunited with owner in Brazil.

These breeds used to be more popular, but they could just be one hit TV show, movie or commercial away from a comeback.

267 veterinary professionals offered up their picks for the Most Athletic, Biggest Flirt and other popular high school categories.