Hollywood studio teaches dogs how to fly on planes
For $349, your dog can learn to fly.
SUE MANNING, Associated Press
LOS ANGELES (AP) — One Hollywood film studio now prepares dogs for a safe and calm flight.
The Air Hollywood class includes a real fuselage on a sound stage with a simulator that mimics takeoff, turbulence and landing. Hollywood extras create crowds and the chaos that come with airport terminals.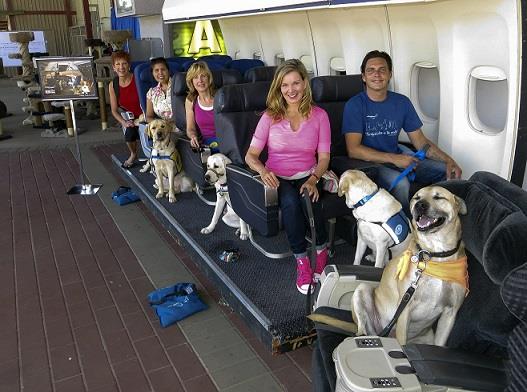 Photo: Megan Blake, Air Hollywood K9 Flight School program director, sitting left, front row, with dog Super Smiley, far right, and other puppies from the Canine Companions for Independence pose for a photo during a K9 flight simulation at the America's Family Pet Expo, at the Orange County Fair Grounds in Costa Mesa, Calif. (AP Photo/Air Hollywood, Sandra Lollino)
Talaat Captan, president and CEO of Air Hollywood, the world's largest aviation-themed film studio, had the idea after noticing a dog owner having a rough time getting the dog through airport security.
"The owner was stressed out, and the dog was freaking out," Captan said. "I figured, 'Why don't I train those people?'"
He hired his friend and former actress Megan Blake to write a program and teach the class with three other instructors and her dog Super Smiley. An animal trainer and lifestyle coach, Blake also has a psychology degree.
With more dogs on planes these days, it makes sense to take obedience school to a new level, said Heidi Heubner, who directs volunteers, including airport therapy dogs, at Los Angeles World Airport.
Dogs have become essential parts of a growing number of families, and traveling with them is becoming more common, said Kim Cunningham, a spokesman for the International Pet and Animal Transportation Association in Texas.
It will vary by airline, but there's always a fee for pets in the cabin. Working dogs or trained service animals fly free, but owners must give the airline documentation and advance notice. The animals sit at their owners' feet during flights. The class doesn't address cargo pets.
The class is using the same studio where parts of "Bridesmaids," ''Kill Bill" and 500 other movies were made.
Last year, Air Hollywood conducted a test class with 60 puppies from Guide Dogs for the Blind.
"Some of the handlers were more nervous than the dogs because they don't like to fly," said Rick Wilcox, who oversees puppy training in Southern California. "It was amazing how realistic it was."
Captan opened his studio about six months before the Sept. 11, 2001, terrorist attacks on the U.S. On Sept. 12, the phone started ringing because airports were locked down and movie and television studios couldn't shoot scenes they needed.
The studio has grown to include everything from a private jet to a 747, as well as props and supplies.
The dogs sit at their handlers' feet in the cabin during the simulated flight, which comes with engine sounds, the captain speaking, cabin lights being dimmed, overhead bins being shut and warm-up vibrations, Wilcox said.
When a dog gets nervous, it might clamp its jaw, lick its lips or get wide-eyed, Blake said. With the dogs in the test class, petting was enough to reassure them, she said.
"If a dog gets nervous, don't coddle them. That's the same thing we use to raise confident, well-balanced dogs," Wilcox said.
__
Online:
— www.airhollywood.com​
— www.guidedogs.com
More from Off the Leash:
Press corps 'smitten' with Sunny
Honorary feline mayor goes home after dog attack
'Superheroes' save cat from fire
Friend us on Facebook, follow us on Twitter and find us on Pinterest.
pics, advice, info and stories for pet lovers
Adopting an animal is a major commitment. Yet all too often people put more effort into researching what kind of car to get than the type of pet that would best fit their lifestyle.

'Tis the season to send out holiday greeting cards to all your friends and family. But, as our friends at Awkward Family Pet Photos know, not all holiday snapshots are the same. Some are just plain kooky — especially when pets are included. So with good tidings and great cheer, here are 10 wacky holiday animal portraits that are sure to make you laugh out loud and get you in the holiday spirit. And possibly make you think twice about dressing up the family cat this year.

King of the jungle? Nah, it's just a labradoodle!

Do you have a finicky furry friend on your holiday gift list this year? You're in luck! We've rounded up the coolest cat-approved products to bring you purrfect gift ideas for every kind of cat -- from the curious kitten to the most refined feline. Any one of these special gifts could make your resident kitty purr with pleasure and maybe, just maybe, like the present this year even more than the box and wrapping paper it came in!

Plus, puppy names to watch

We asked 218 veterinary professionals to vote on the dog breeds and mixes that are not good choices for first-time pet parents. German Shepherds, Bulldogs and Akitas are among the breeds new pet owners should steer clear of.

"No! Bad dog!" How many times have you scolded your misbehaving canine with those words? Probably too many. But before you fly off the handle, one of the most important things to understand about correcting bad behavior is that punishment doesn't work.

If you have a hard time cruising through the toy aisle without loading up, you're not alone. But the good news is that there are tons of inexpensive dog toys that still deliver big fun. Check out our picks, and be sure to share in the comments if we left off your dog's favorite!

Sexy mice? Yes, they exist

Stray surprises subway passengers.

Newly cast cat will better match character from the book series, producer and author say.