Cat attempts jail break
Kitty caught carrying tools into prison.
You've heard of a nail file in a cake, but a cat with a drill? That's what prison guards in Brazil's northeast Alagoas state say they found when they spotted the black and white feline trying to enter the jail.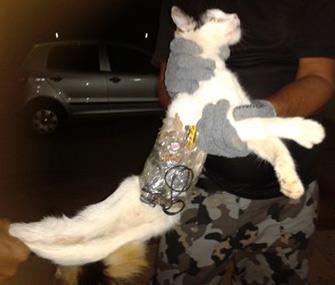 Also taped to the cat were two saws, assorted batteries and a cell phone. Officials believe the items were to be used for a prison break, but they have not yet discovered which of the 250 inmates the cat was supposed to be aiding.
The investigation is ongoing and the cat is in the possession of animal control.
Bing: Top kitten names of 2012
— Read it at CNN
Photo: Alagoas State Prisons
More from Vetstreet:
Blind dog gets help from a guide cat
10 most popular puppy names
Veterinarian's surprising confession
Cat helps baby learn English
Why does my cat meow at me?
pics, advice, info and stories for pet lovers
The adorable pair of kittens who shut down a New York subway get to stay together after all

An Arizona dog gets a second chance thanks to the kindness of a passerby

Loki is fourth dog firefighter has saved by mouth-to-mouth resuscitation

World Wildlife Foundation reports 441 new species discovered in Amazon rainforest

When a dog gets out of the water, one of the first things he does is shake. In just a second or two, water sprays everywhere, and then the moment ends. Now imagine if you could watch your dog shaking in slow motion. Think of your pup's floppy ears, loose jowls and bulging eyes. What would it look like? Well, photographer Carli Davidson set out to capture just that in her new book, Shake. In 2010, Davidson started using a high-speed-shutter camera to photograph rescue dogs in mid-shake. When she posted the photos on Facebook, they quickly went viral. The project's popularity led her to this book, in which two photos of 61 canine models, including French Bulldogs, Springer Spaniels and Boxers, are presented side by side in mid-shake. Check out our photo gallery featuring some of our favorite shakes from the book, and don't be afraid to post photos on our Facebook wall of your dog shaking. We know it will be a challenge, but it will be worth it!