Cat attempts jail break
Kitty caught carrying tools into prison.
You've heard of a nail file in a cake, but a cat with a drill? That's what prison guards in Brazil's northeast Alagoas state say they found when they spotted the black and white feline trying to enter the jail.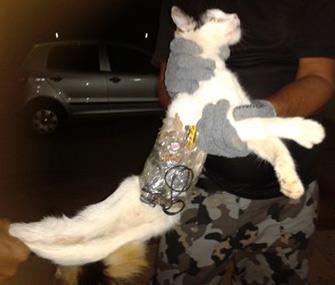 Also taped to the cat were two saws, assorted batteries and a cell phone. Officials believe the items were to be used for a prison break, but they have not yet discovered which of the 250 inmates the cat was supposed to be aiding.
The investigation is ongoing and the cat is in the possession of animal control.
Bing: Top kitten names of 2012
— Read it at CNN
Photo: Alagoas State Prisons
More from Vetstreet:
Blind dog gets help from a guide cat
10 most popular puppy names
Veterinarian's surprising confession
Cat helps baby learn English
Why does my cat meow at me?
pics, advice, info and stories for pet lovers
Plus, puppy names to watch

We asked 218 veterinary professionals to vote on the dog breeds and mixes that are not good choices for first-time pet parents. German Shepherds, Bulldogs and Akitas are among the breeds new pet owners should steer clear of.

"No! Bad dog!" How many times have you scolded your misbehaving canine with those words? Probably too many. But before you fly off the handle, one of the most important things to understand about correcting bad behavior is that punishment doesn't work.

If you have a hard time cruising through the toy aisle without loading up, you're not alone. But the good news is that there are tons of inexpensive dog toys that still deliver big fun. Check out our picks, and be sure to share in the comments if we left off your dog's favorite!

Sexy mice? Yes, they exist