Cat attempts jail break
Kitty caught carrying tools into prison.
You've heard of a nail file in a cake, but a cat with a drill? That's what prison guards in Brazil's northeast Alagoas state say they found when they spotted the black and white feline trying to enter the jail.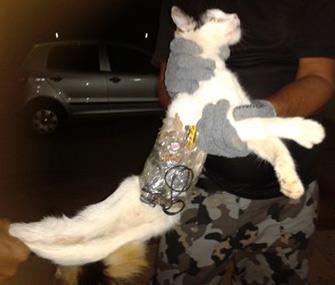 Also taped to the cat were two saws, assorted batteries and a cell phone. Officials believe the items were to be used for a prison break, but they have not yet discovered which of the 250 inmates the cat was supposed to be aiding.
The investigation is ongoing and the cat is in the possession of animal control.
Bing: Top kitten names of 2012
— Read it at CNN
Photo: Alagoas State Prisons
More from Vetstreet:
Blind dog gets help from a guide cat
10 most popular puppy names
Veterinarian's surprising confession
Cat helps baby learn English
Why does my cat meow at me?
pics, advice, info and stories for pet lovers
267 veterinary professionals offered up their picks for the Most Athletic, Biggest Flirt and other popular high school categories.

BarkBuddy helps match prospective doggie-adopters with potential pets.

It's all calm and quiet around your house until one of these visitors appears.

Are you a cat owner? Are you sure about that? Who caters to her resident feline's every need? Who dotes upon her demanding little dictator? Who can be put in her place with just one look of disdain from the kitty in the corner?

Dogs might not seem as mysterious as cats, but canines do have their fair share of behaviors that are truly baffling.

In some households pets are allowed everywhere, all the time. In others, pets aren't allowed on any furniture, ever. But in many, the answer lies somewhere in between.