Cat attempts jail break
Kitty caught carrying tools into prison.
You've heard of a nail file in a cake, but a cat with a drill? That's what prison guards in Brazil's northeast Alagoas state say they found when they spotted the black and white feline trying to enter the jail.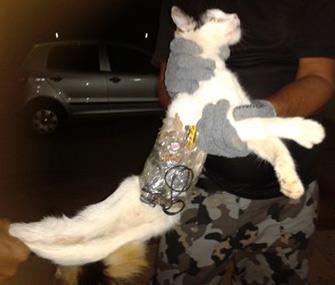 Also taped to the cat were two saws, assorted batteries and a cell phone. Officials believe the items were to be used for a prison break, but they have not yet discovered which of the 250 inmates the cat was supposed to be aiding.
The investigation is ongoing and the cat is in the possession of animal control.
Bing: Top kitten names of 2012
— Read it at CNN
Photo: Alagoas State Prisons
More from Vetstreet:
Blind dog gets help from a guide cat
10 most popular puppy names
Veterinarian's surprising confession
Cat helps baby learn English
Why does my cat meow at me?
pics, advice, info and stories for pet lovers
It's Independence Day — and we're celebrating our freedom and everything American. Before you light up the grill or head out to catch the fireworks, take a moment to check out these fun photos of patriotic pups. We hope you have a wonderful holiday and, as always, remember to keep your pets safe.

You love him so much, but you put up with a lot for your pup.

There's no denying that cats are excellent companions, but sometimes they do something that leaves you scratching your head in total confusion. If you're used to dogs, cats' social interactions and the way they communicate can be very confusing. Yet it's these special behaviors, like affectionate head-butting and their penchant for cardboard boxes, that make us love them so much. To help you better understand your elusive feline, we rounded up 10 cat behaviors that people commonly consider mysterious. You'll find that many of these habits aren't weird at all for cats -- they're normal. Click through this slideshow to learn more about mysterious feline habits and what they mean.

Soldier the cat is now recovering thanks to a special oxygen mask used for reviving animals.

Donna the dog served in Afghanistan and is retiring.

Kitty can't hide its excitement when his owner walks through the door.

It's an age-old discussion: Are you a cat person or a dog person?

Fire-rescue crews were able to lead the animal to safety.

For many, summer means getting outside and spending quality time with four-legged friends. Sometimes that's a game of fetch in the backyard, but sometimes it's fun in the sun (and sand) at the beach. Luckily, there are a number of beaches in the United States that let you bring your pooch — as long as you follow the rules, of course. Here are eight beaches that you can visit with your dog.

Factors include weather, walkability, yard sizes and more

Check out some of the sweetest cat naps we've ever seen...