Missing cat travels 190 miles back home
An emaciated Holly the cat was found just a mile from her home after two months' lost.
When they took their motor home on a road trip to Florida's Daytona International Speedway in November, Jacob and Bonnie Richter brought their cat, Holly, with them. But while they were there, Holly got spooked by fireworks one night, and escaped.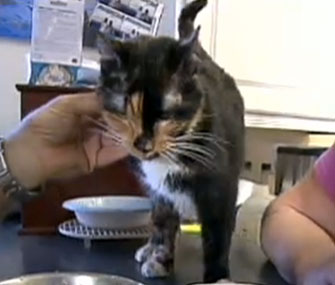 The Richters searched for their pet for days but had no luck. Finally, they made the 190-mile drive south to their West Palm Beach home.
The indoor cat apparently spent the next two months walking home, and was recently found emaciated in a yard just a mile from her owners' home.
The woman who found Holly took her to a veterinarian and discovered a microchip with her owners' information, and helped Holly make the final leg of her trip home to the Richters.
"It was quite a journey for this little girl," Jacob Richter told Florida's WPBF-TV.  "We just can't believe she came home."
More from Vetstreet:
Why does my cat… head butt me?
Video: Cat pushes baby brother in swing
Veterinarian's surprising confession
4 places to pet your cat – and one to leave alone
10 trendiest dog names of the year
— Read it at ABC News
Bing: The latest feline news
Love content like this? Friend us on Facebook, follow us on Twitter and find us on Pinterest
Photo: ABC News
pics, advice, info and stories for pet lovers
What is the best route to follow should your pet bite one of your guests or run off and nip an innocent bystander?

Tiny Terrier rescued from traffic in Texas.

Shaved legs, trimmed mustaches and long, luxurious coats — sometimes we think the Westminster Dog Show, which airs Monday and Tuesday, is like a red-carpet event for unusual-looking breeds.

February 14 isn't just a day to shower the special human in your life with chocolates and roses. It's also important to do something special for the one member in your family who loves you unconditionally — your pet. In honor of how much we love all things furry, feathered and four-legged, we rounded up our favorite cats and dogs celebrating Valentine's Day.

Here are nine fundamental steps for taking care of your new kitten.

Only 35 of its kind exist in the U.S.