Missing cat travels 190 miles back home
An emaciated Holly the cat was found just a mile from her home after two months' lost.
When they took their motor home on a road trip to Florida's Daytona International Speedway in November, Jacob and Bonnie Richter brought their cat, Holly, with them. But while they were there, Holly got spooked by fireworks one night, and escaped.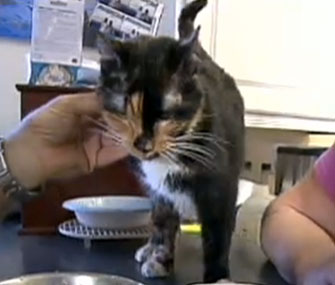 The Richters searched for their pet for days but had no luck. Finally, they made the 190-mile drive south to their West Palm Beach home.
The indoor cat apparently spent the next two months walking home, and was recently found emaciated in a yard just a mile from her owners' home.
The woman who found Holly took her to a veterinarian and discovered a microchip with her owners' information, and helped Holly make the final leg of her trip home to the Richters.
"It was quite a journey for this little girl," Jacob Richter told Florida's WPBF-TV.  "We just can't believe she came home."
More from Vetstreet:
Why does my cat… head butt me?
Video: Cat pushes baby brother in swing
Veterinarian's surprising confession
4 places to pet your cat – and one to leave alone
10 trendiest dog names of the year
— Read it at ABC News
Bing: The latest feline news
Love content like this? Friend us on Facebook, follow us on Twitter and find us on Pinterest
Photo: ABC News
pics, advice, info and stories for pet lovers
I love all pets. I wouldn't be a veterinarian if I didn't, and I celebrate the human-animal bond every day. I do look forward, though, to the day when these five breeds aren't as popular. The reasons vary, but in many cases the problems are health-related, and overbreeding by puppy mills and other less-than-ideal operations has a lot to do with that. What would help these breeds is for there to be a lot less of them. A couple of them need many more adopters and far less breeding, and all would benefit from people who are well-prepared for the challenges of owning a dog, and who make sure to look to rescue, shelters and reputable breeders for their pets. As always, whatever pet you choose, we veterinarians are here to help you make healthy choices for life.

The mayor of an affluent California town has landed himself in a messy situation.

Dog reunited with owner in Brazil.

These breeds used to be more popular, but they could just be one hit TV show, movie or commercial away from a comeback.

267 veterinary professionals offered up their picks for the Most Athletic, Biggest Flirt and other popular high school categories.