Newark Mayor Cory Booker saves another dog
The animal-loving mayor of the New Jersey city rescued an abused pooch.
Mayor and Senate candidate Cory Booker, who saved a freezing dog from outside a Newark, N.J., home in January, has come to the rescue of another pooch in trouble.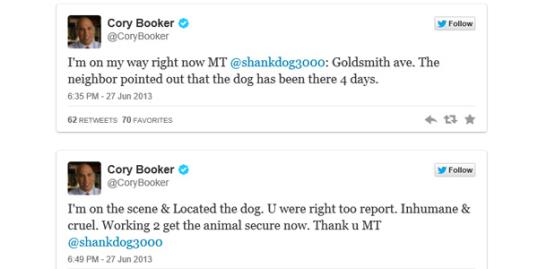 On Thursday night, @shankdog3000, Michael Cruickshank, tweeted the mayor about
a dog he said he'd been told was locked in a small crate in an empty lot in the steamy city for four days. Without hesitation, the hands-on mayor asked for the dog's location, and two minutes later, he tweeted that he was on his way there.
Gallery: How dogs make our lives better
"I'm on the scene & Located the dog. U were right too report. Inhumane & cruel. Working 2 get the animal secure now. Thank u MT ‪@shankdog3000," Booker tweeted at 9:49 p.m.
Bing: Which mayor was involved in a drug scandal?
Less than an hour later, he confirmed on Twitter that the dog had been secured and transported to a shelter. Cruickshank's "compassion & love helped stop some really cruel treatment. Wish we could find person responsible," Booker tweeted.
And Cruickshank was thankful to the mayor. "@corybooker you are awesome," he wrote.
— Read it at Twitchy
More from Vetstreet:
Best spots to pet a dog – and a few to leave alone
This floppy-eared dog breed is great with kids and easily trained
10 people-pleasing dog breeds
8 eyebrow-raising animal crossing signs from around the world
Photo: Via Twitter @corybooker
pics, advice, info and stories for pet lovers
Much like their famous owners, these pooches live a fabulous life. Some are rescues, others purebred, but one thing is certain – these dogs play an important part in their famous parents' lives. Can you guess who owns each of these dogs?

Pets are part of many children's lives. Learn how to help them foster strong, healthy relationships.

If you live with a feline companion, you know that cats can be quirky and totally entertaining. (Even if they'd never admit it in a million, trillion years.) Here are just a few of our favorite cat-isms, some with sandpaper tongue firmly in cheek. Did we miss any of yours?

Tummy troubles in your four-legged friends? Carrageenan in their pet food may be to blame.

There's more to choosing the perfect dog for your family than walking into a shelter and saying, "Find me one that looks like the dog from Marley and Me." Choosing a dog is more like buying a car. You want one that isn't just good looking, but is also a perfect fit for your family and lifestyle (and won't leak in the garage). Here are 8 great tips to help you determine the perfect pooch for your pack. By Jeremy Greenberg

CEO says, "it was one of the best ideas of my life"

Before you jump into marriage counseling, take a look at our list to see if you truly do love your dog more than your spouse.

Spring break isn't just for humans anymore. Cats and dogs know how to have fun in the sun, too, and would love to tag along on your vacation. In honor of the warm and relaxing days ahead, here are 15 pets catching some rays, going on hikes and floating in the pool.

Injuries often happen when dogs are outside chasing tennis balls or playing at dog parks. Because yours needs regular exercise, it can be difficult to protect him from many accidents.

When searching for the right dog to add to your family, your first instinct might be to bring home a tiny little thing that your kids can cradle in their laps. But we're here to remind you that the best dog for you may be a larger breed. Big dogs like Labrador Retrievers and Saint Bernards can become a child's protector, adventure buddy and best friend. Check out this slideshow to see nine large breeds that can be good for families.

In case you haven't heard, March 21 is a very special day -- it's National Puppy Day! The holiday was created nine years ago to not only celebrate the joy, love and cuteness young pups bring into our lives, but also to help save orphaned puppies all over the world. In honor of puppies everywhere, we've found 14 precious pooches to share with you.

When you're sick, your four-legged family members can provide enormous comfort just by being there.