Big-nosed, horned-faced dinosaur unearthed in Utah
A new type of dinosaur called Nasutoceratops titusi has been discovered.
SALT LAKE CITY (AP) — Researchers in Utah said Wednesday they discovered a new type of big-nosed, horned-faced dinosaur that lived about 76 million years ago in the area of what is now the Grand Staircase-Escalante National Monument.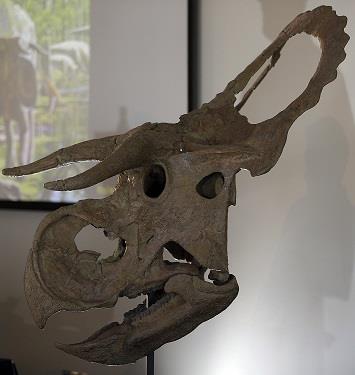 Photo: A reconstruction of a "Nasutoceratops titusi" is shown during a news conference at the Natural History Museum of Utah Wednesday, July 17 in Salt lake City. (AP Photo/Rick Bowmer)
The discovery of the creature, named "Nasutoceratops titusi," was described in the British scientific journal Proceedings of the Royal Society B and by officials at the National History Museum of Utah in Salt Lake City.
The dinosaur was a wide-bodied plant-eater that grew to 15 feet long and weighed 2 1/2 tons, said Patti Carpenter, spokeswoman for the museum. It is considered unique for its oversized nose and its exceptionally long, curved and forward-pointing horns over the eyes. It also had a low, narrow blade-like horn above the nose.
Research headed by Scott Sampson, former chief curator at the museum, determined that Nasutoceratops lived in a swampy and subtropical environment about 62 miles from the water.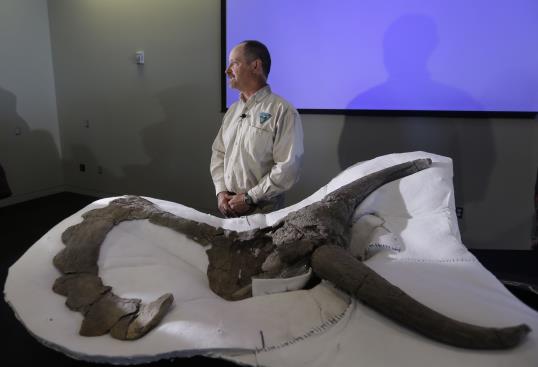 Photo: Paleontologist Alan Titus stands next to a fossil of a "Nasutoceratops titusi."  (AP Photo/Rick Bowmer)
It was part of the same family as the well-known Triceratops, from which it derives part of its name. The second part of the name recognizes paleontologist Alan Titus for his years of research work in the Grand Staircase-Escalante National Monument.
The bones were discovered in 2006 by a University of Utah masters student, Eric Lund. Specimens are permanently housed and displayed at the museum at the University of Utah. Lund, who is now at Ohio University, is a co-author of the study with researchers Mark Loewen, Andrew Farke and Katherine Clayton.
Sampson is now vice president of research and collections at the Denver Museum of Nature & Science. He said researchers don't believe the large nose of the Nasutoceratops had anything to do with smell, since olfactory receptors were far back in the head.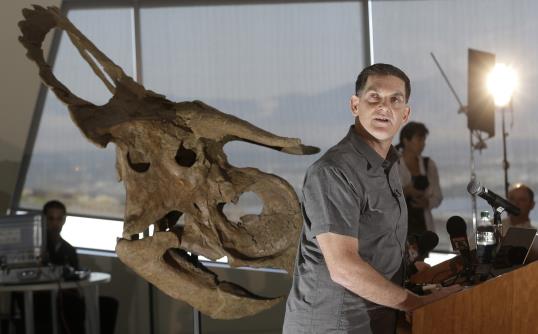 Photo: Dinosaur paleontologist Scott Sampson stands next to a reconstruction of a "Nasutoceratops titusi." (AP Photo/Rick Bowmer)
Horned dinosaurs or "ceratopsids," were four-footed herbivores that lived during the late Cretaceous period, when the North American continent was split in two by waters of a warm shallow sea.
Bing: Most dangerous dinosaurs
Researchers call the western portion of the continent Laramidia. It now yields dinosaur digs and research sites from Alaska to Mexico.
Research was funded by the federal Bureau of Land Management, the National Science Foundation and the museums in Salt Lake City and Denver.
More from Off the Leash:
Lawmaker reunited with dog after a year
Man gets birthday kiss from gorilla
Dogs help owners with dementia
Friend us on Facebook, follow us on Twitter and find us on Pinterest.
You sure it's not a bunch of different creatures just shoved together to try and make it look like a new dinosaur?  I mean its been done before and even after it has been proven that a particular set of bones or fossils don't belong together, they go on promoting it as though they are still a set.  Don't know if I'll believe this one yet.  I'll wait and see if the horns actually belong to more than one creature first.
Are you sure you want to delete this comment?
pics, advice, info and stories for pet lovers
Computer equipment delivery came with two cute stowaways.

Take a look at your house for these telltale signs that a cat is running the show.

Check out this list of requirements you should meet before getting a new puppy or adult dog.

Much like their famous owners, these pooches live a fabulous life. Some are rescues, others purebred, but one thing is certain – these dogs play an important part in their famous parents' lives. Can you guess who owns each of these dogs?

Pets are part of many children's lives. Learn how to help them foster strong, healthy relationships.

If you live with a feline companion, you know that cats can be quirky and totally entertaining. (Even if they'd never admit it in a million, trillion years.) Here are just a few of our favorite cat-isms, some with sandpaper tongue firmly in cheek. Did we miss any of yours?

Tummy troubles in your four-legged friends? Carrageenan in their pet food may be to blame.

There's more to choosing the perfect dog for your family than walking into a shelter and saying, "Find me one that looks like the dog from Marley and Me." Choosing a dog is more like buying a car. You want one that isn't just good looking, but is also a perfect fit for your family and lifestyle (and won't leak in the garage). Here are 8 great tips to help you determine the perfect pooch for your pack. By Jeremy Greenberg

CEO says, "it was one of the best ideas of my life"

Before you jump into marriage counseling, take a look at our list to see if you truly do love your dog more than your spouse.

Spring break isn't just for humans anymore. Cats and dogs know how to have fun in the sun, too, and would love to tag along on your vacation. In honor of the warm and relaxing days ahead, here are 15 pets catching some rays, going on hikes and floating in the pool.

Injuries often happen when dogs are outside chasing tennis balls or playing at dog parks. Because yours needs regular exercise, it can be difficult to protect him from many accidents.