Big-nosed, horned-faced dinosaur unearthed in Utah
A new type of dinosaur called Nasutoceratops titusi has been discovered.
SALT LAKE CITY (AP) — Researchers in Utah said Wednesday they discovered a new type of big-nosed, horned-faced dinosaur that lived about 76 million years ago in the area of what is now the Grand Staircase-Escalante National Monument.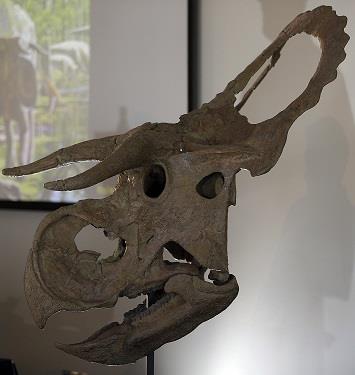 Photo: A reconstruction of a "Nasutoceratops titusi" is shown during a news conference at the Natural History Museum of Utah Wednesday, July 17 in Salt lake City. (AP Photo/Rick Bowmer)
The discovery of the creature, named "Nasutoceratops titusi," was described in the British scientific journal Proceedings of the Royal Society B and by officials at the National History Museum of Utah in Salt Lake City.
The dinosaur was a wide-bodied plant-eater that grew to 15 feet long and weighed 2 1/2 tons, said Patti Carpenter, spokeswoman for the museum. It is considered unique for its oversized nose and its exceptionally long, curved and forward-pointing horns over the eyes. It also had a low, narrow blade-like horn above the nose.
Research headed by Scott Sampson, former chief curator at the museum, determined that Nasutoceratops lived in a swampy and subtropical environment about 62 miles from the water.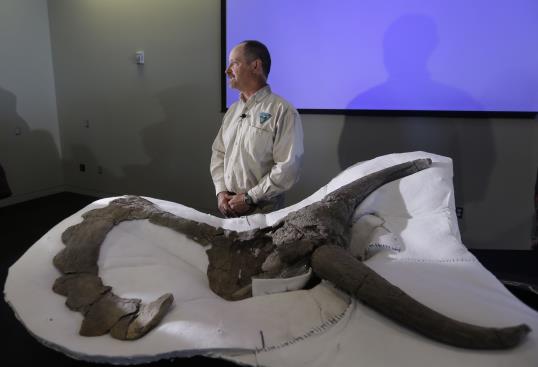 Photo: Paleontologist Alan Titus stands next to a fossil of a "Nasutoceratops titusi."  (AP Photo/Rick Bowmer)
It was part of the same family as the well-known Triceratops, from which it derives part of its name. The second part of the name recognizes paleontologist Alan Titus for his years of research work in the Grand Staircase-Escalante National Monument.
The bones were discovered in 2006 by a University of Utah masters student, Eric Lund. Specimens are permanently housed and displayed at the museum at the University of Utah. Lund, who is now at Ohio University, is a co-author of the study with researchers Mark Loewen, Andrew Farke and Katherine Clayton.
Sampson is now vice president of research and collections at the Denver Museum of Nature & Science. He said researchers don't believe the large nose of the Nasutoceratops had anything to do with smell, since olfactory receptors were far back in the head.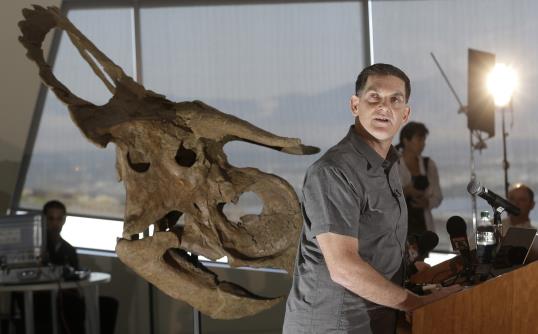 Photo: Dinosaur paleontologist Scott Sampson stands next to a reconstruction of a "Nasutoceratops titusi." (AP Photo/Rick Bowmer)
Horned dinosaurs or "ceratopsids," were four-footed herbivores that lived during the late Cretaceous period, when the North American continent was split in two by waters of a warm shallow sea.
Bing: Most dangerous dinosaurs
Researchers call the western portion of the continent Laramidia. It now yields dinosaur digs and research sites from Alaska to Mexico.
Research was funded by the federal Bureau of Land Management, the National Science Foundation and the museums in Salt Lake City and Denver.
More from Off the Leash:
Lawmaker reunited with dog after a year
Man gets birthday kiss from gorilla
Dogs help owners with dementia
Friend us on Facebook, follow us on Twitter and find us on Pinterest.
You sure it's not a bunch of different creatures just shoved together to try and make it look like a new dinosaur?  I mean its been done before and even after it has been proven that a particular set of bones or fossils don't belong together, they go on promoting it as though they are still a set.  Don't know if I'll believe this one yet.  I'll wait and see if the horns actually belong to more than one creature first.
Are you sure you want to delete this comment?
pics, advice, info and stories for pet lovers
The strong bonds that dogs can form are undeniable.

Think you know your pet's every unspoken wish? Think again. Your pet is unlikely to be capable of communicating her wants and needs in ways you might assume she would. Even those of you most in touch with your pets' feelings are likely missing a few cues here and there.

The Chesapeake Bay Retriever made both our readers' and veterinary professionals' lists of breeds that love the water.

You might proudly call yourself a dog owner, pet parent or canine guardian, but let's be real: Your dog owns you. You might be laughing now, but think about it — you've surrendered the best seat on the sofa to him, you plan your entire weekend around his trips to the dog park, and you take him to the groomer more often than you get your own hair cut. And let's not forget who's in every photo on your Facebook and Instagram feeds. Sound familiar? We thought so. But in case you still think you're in charge, here are seven classic signs that your dog is the one calling the shots.

One of the best things about being a veterinarian is all the different dogs I get to meet. Of course, I love the Labs and Beagles and Boxers and Poodles, not to mention those crazy Canine Cocktails, or what my parents used to call Heinz 57s. They are among the more popular dogs out there, and I see a lot of them. In fact, it used to be that it was rare to see anything else. Here are nine dog breeds I sometimes see now that I didn't see in the past.

We asked veterinary experts and readers which breeds they think and if it is OK to shave longhaired pets in the summer.

If you're searching for a breed that may enjoy the company of a kid, we have some great suggestions for you.

When searching for the right dog to add to your family, your first instinct might be to bring home a tiny little thing that your kids can cradle in their laps. But we're here to remind you that the best fit for you may be a large dog breed.

Many breeds were developed to do work that required them to act independently. Those dogs tend to be smart, but as family pets, they may need more leadership and training than others. Ultimately, though, they're worth it. Here are 11 dog breeds that tend to have independent personalities.

Many of us here at Vetstreet are fascinated by pets who have unique coats and cool shapes hidden in their markings. So we asked our Facebook fans to share pictures of animals that have interesting coloration, and you did not disappoint. From mustachioed cats to a horse of a different color, here are our 13 favorite photos of pets with cool coats.

We surveyed 284 veterinary professionals (including vets, veterinary technicians and office staff) to see which breeds they felt were most likely to chew something they shouldn't and wind up in the veterinary emergency room, and we've listed the top five answers below. Do you agree with their opinions? Which breeds would you add to the list?

This Fourth of July, Americans will celebrate with the sights and sounds of fireworks. While we love the pyrotechnics, it's important to remember that our patriotic midsummer spectacular is no holiday for many of our pets.