Big-nosed, horned-faced dinosaur unearthed in Utah
A new type of dinosaur called Nasutoceratops titusi has been discovered.
SALT LAKE CITY (AP) — Researchers in Utah said Wednesday they discovered a new type of big-nosed, horned-faced dinosaur that lived about 76 million years ago in the area of what is now the Grand Staircase-Escalante National Monument.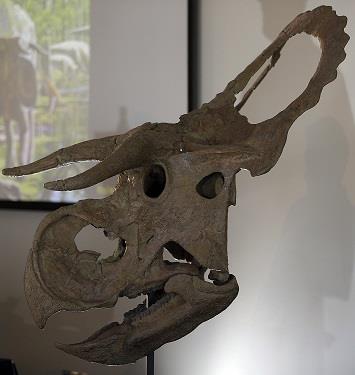 Photo: A reconstruction of a "Nasutoceratops titusi" is shown during a news conference at the Natural History Museum of Utah Wednesday, July 17 in Salt lake City. (AP Photo/Rick Bowmer)
The discovery of the creature, named "Nasutoceratops titusi," was described in the British scientific journal Proceedings of the Royal Society B and by officials at the National History Museum of Utah in Salt Lake City.
The dinosaur was a wide-bodied plant-eater that grew to 15 feet long and weighed 2 1/2 tons, said Patti Carpenter, spokeswoman for the museum. It is considered unique for its oversized nose and its exceptionally long, curved and forward-pointing horns over the eyes. It also had a low, narrow blade-like horn above the nose.
Research headed by Scott Sampson, former chief curator at the museum, determined that Nasutoceratops lived in a swampy and subtropical environment about 62 miles from the water.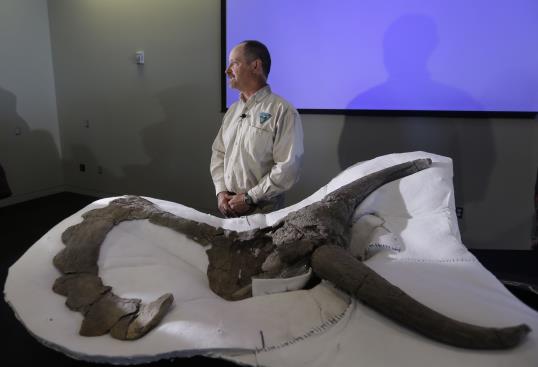 Photo: Paleontologist Alan Titus stands next to a fossil of a "Nasutoceratops titusi."  (AP Photo/Rick Bowmer)
It was part of the same family as the well-known Triceratops, from which it derives part of its name. The second part of the name recognizes paleontologist Alan Titus for his years of research work in the Grand Staircase-Escalante National Monument.
The bones were discovered in 2006 by a University of Utah masters student, Eric Lund. Specimens are permanently housed and displayed at the museum at the University of Utah. Lund, who is now at Ohio University, is a co-author of the study with researchers Mark Loewen, Andrew Farke and Katherine Clayton.
Sampson is now vice president of research and collections at the Denver Museum of Nature & Science. He said researchers don't believe the large nose of the Nasutoceratops had anything to do with smell, since olfactory receptors were far back in the head.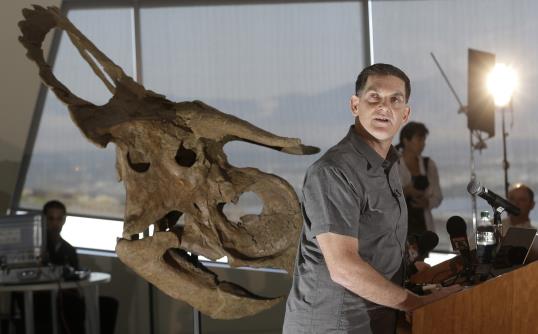 Photo: Dinosaur paleontologist Scott Sampson stands next to a reconstruction of a "Nasutoceratops titusi." (AP Photo/Rick Bowmer)
Horned dinosaurs or "ceratopsids," were four-footed herbivores that lived during the late Cretaceous period, when the North American continent was split in two by waters of a warm shallow sea.
Bing: Most dangerous dinosaurs
Researchers call the western portion of the continent Laramidia. It now yields dinosaur digs and research sites from Alaska to Mexico.
Research was funded by the federal Bureau of Land Management, the National Science Foundation and the museums in Salt Lake City and Denver.
More from Off the Leash:
Lawmaker reunited with dog after a year
Man gets birthday kiss from gorilla
Dogs help owners with dementia
Friend us on Facebook, follow us on Twitter and find us on Pinterest.
You sure it's not a bunch of different creatures just shoved together to try and make it look like a new dinosaur?  I mean its been done before and even after it has been proven that a particular set of bones or fossils don't belong together, they go on promoting it as though they are still a set.  Don't know if I'll believe this one yet.  I'll wait and see if the horns actually belong to more than one creature first.
Are you sure you want to delete this comment?
pics, advice, info and stories for pet lovers
Adopting an animal is a major commitment. Yet all too often people put more effort into researching what kind of car to get than the type of pet that would best fit their lifestyle.

'Tis the season to send out holiday greeting cards to all your friends and family. But, as our friends at Awkward Family Pet Photos know, not all holiday snapshots are the same. Some are just plain kooky — especially when pets are included. So with good tidings and great cheer, here are 10 wacky holiday animal portraits that are sure to make you laugh out loud and get you in the holiday spirit. And possibly make you think twice about dressing up the family cat this year.

King of the jungle? Nah, it's just a labradoodle!

Do you have a finicky furry friend on your holiday gift list this year? You're in luck! We've rounded up the coolest cat-approved products to bring you purrfect gift ideas for every kind of cat -- from the curious kitten to the most refined feline. Any one of these special gifts could make your resident kitty purr with pleasure and maybe, just maybe, like the present this year even more than the box and wrapping paper it came in!

Plus, puppy names to watch

We asked 218 veterinary professionals to vote on the dog breeds and mixes that are not good choices for first-time pet parents. German Shepherds, Bulldogs and Akitas are among the breeds new pet owners should steer clear of.

"No! Bad dog!" How many times have you scolded your misbehaving canine with those words? Probably too many. But before you fly off the handle, one of the most important things to understand about correcting bad behavior is that punishment doesn't work.

If you have a hard time cruising through the toy aisle without loading up, you're not alone. But the good news is that there are tons of inexpensive dog toys that still deliver big fun. Check out our picks, and be sure to share in the comments if we left off your dog's favorite!

Sexy mice? Yes, they exist

Stray surprises subway passengers.

Newly cast cat will better match character from the book series, producer and author say.