Zoos leap into the holiday spirit
Twinkling lights, romance and ... gingerbread habitats?
By Shayna Meliker
'Tis the season for gifts, Christmas lights and winter wonderlands — and not just for us humans! Zoo and aquarium animals across the country are proving that you don't have to be a human (or a reindeer) to get into the holiday spirit.
So if gingerbread houses and cheerful music unwrap your holiday joy, check out this roundup of our favorite zoo and aquarium holiday events.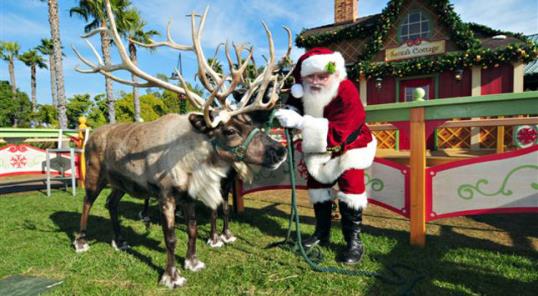 Photo: Mike Aguilera, SeaWorld San Diego // Kriss Kringle visits with a reindeer at Santa's Cottage at SeaWorld.
More than 500,000 environmentally friendly lights brighten up the National Zoo in Washington, D.C., this month. And they'll create the perfect fairy-tale backdrop for the ZooLights Date Night on Friday, Dec. 14. While enjoying Champagne and sweets, lovebird visitors get to learn about courtship and breeding behaviors in certain species.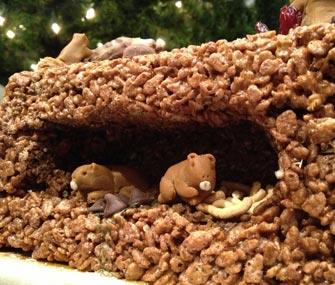 Photo: Elise Bernardoni, Smithsonian National Zoo // An entry in this year's Gin-Grr-Bread Habitat Competition.
The National Zoo also hosted its annual Gin-Grr-Bread Habitat Competition, which invited participants to create edible habitats celebrating the zoo's new American Trail exhibit.
Celebrate Christmas in California
It probably won't get too chilly in San Diego this winter, but that has never stopped all the SeaWorld creatures from celebrating the December holidays. An otter and a troop of sea lions star in a holiday comedy called Clyde and Seamore Save Christmas. And you can head on over to Santa's reindeer corral (pictured above) to visit with the animals — and even Kriss Kringle himself.
Remembering species past
Now in its 22nd year, the Denver Zoo's Zoo Lights event has revamped its beloved train ride with a new theme. The ride, now called Yesterday's Zoo Train Experience, teaches kids about extinct species in the hopes that they'll support conservation of the species we still have.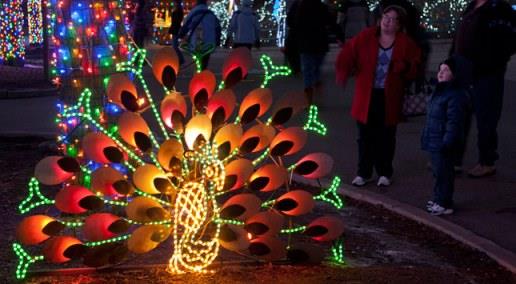 Photo: Denver Zoo // The Denver Zoo's beloved Zoo Lights event has been around for 22 years.
Other holiday sights include the Sea of Lights (a light display of seahorses, whales and a gigantic octopus) and animal ice sculptures created by power tool-wielding Santa's helpers.
Animals love holiday presents, too
It's the most important meal of the day, so why not share it with Santa and your favorite critters? The Palm Beach Zoo will host Breakfast With Santa this weekend (Dec. 15 and 16) and next weekend (Dec. 22 and 23). During this season of giving, the zoo is asking visitors to donate enrichment toys for many of its species, from howler monkeys to New Guinea Singing Dogs. These gifts keep the animals healthy (in both mind and body) year-round. And the best part is that you can go to the zoo and watch the animals tear into their new toys — just like you'll be doing on Christmas morning!
Bing: Holiday pet photos.
More from Vetstreet:
10 hilarious awkward family holiday pet photos
What is the secret of the white house holiday decorations? Bo knows
Video: Chimp and 6-month-old baby connect at zoo
Great products for dogs: A holiday gift guide
Is it OK to give a pet as a gift over the holidays?

pics, advice, info and stories for pet lovers
Adopting an animal is a major commitment. Yet all too often people put more effort into researching what kind of car to get than the type of pet that would best fit their lifestyle.

'Tis the season to send out holiday greeting cards to all your friends and family. But, as our friends at Awkward Family Pet Photos know, not all holiday snapshots are the same. Some are just plain kooky — especially when pets are included. So with good tidings and great cheer, here are 10 wacky holiday animal portraits that are sure to make you laugh out loud and get you in the holiday spirit. And possibly make you think twice about dressing up the family cat this year.

King of the jungle? Nah, it's just a labradoodle!

Do you have a finicky furry friend on your holiday gift list this year? You're in luck! We've rounded up the coolest cat-approved products to bring you purrfect gift ideas for every kind of cat -- from the curious kitten to the most refined feline. Any one of these special gifts could make your resident kitty purr with pleasure and maybe, just maybe, like the present this year even more than the box and wrapping paper it came in!

Plus, puppy names to watch

We asked 218 veterinary professionals to vote on the dog breeds and mixes that are not good choices for first-time pet parents. German Shepherds, Bulldogs and Akitas are among the breeds new pet owners should steer clear of.

"No! Bad dog!" How many times have you scolded your misbehaving canine with those words? Probably too many. But before you fly off the handle, one of the most important things to understand about correcting bad behavior is that punishment doesn't work.

If you have a hard time cruising through the toy aisle without loading up, you're not alone. But the good news is that there are tons of inexpensive dog toys that still deliver big fun. Check out our picks, and be sure to share in the comments if we left off your dog's favorite!

Sexy mice? Yes, they exist

Stray surprises subway passengers.

Newly cast cat will better match character from the book series, producer and author say.