Zoos leap into the holiday spirit
Twinkling lights, romance and ... gingerbread habitats?
By Shayna Meliker
'Tis the season for gifts, Christmas lights and winter wonderlands — and not just for us humans! Zoo and aquarium animals across the country are proving that you don't have to be a human (or a reindeer) to get into the holiday spirit.
So if gingerbread houses and cheerful music unwrap your holiday joy, check out this roundup of our favorite zoo and aquarium holiday events.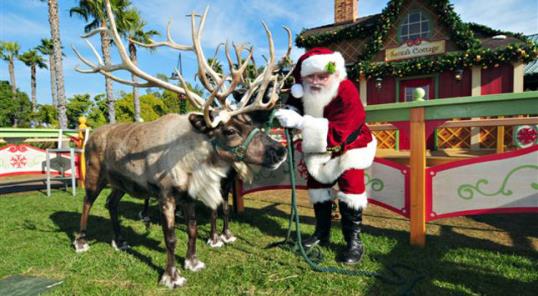 Photo: Mike Aguilera, SeaWorld San Diego // Kriss Kringle visits with a reindeer at Santa's Cottage at SeaWorld.
More than 500,000 environmentally friendly lights brighten up the National Zoo in Washington, D.C., this month. And they'll create the perfect fairy-tale backdrop for the ZooLights Date Night on Friday, Dec. 14. While enjoying Champagne and sweets, lovebird visitors get to learn about courtship and breeding behaviors in certain species.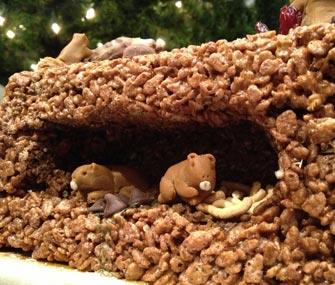 Photo: Elise Bernardoni, Smithsonian National Zoo // An entry in this year's Gin-Grr-Bread Habitat Competition.
The National Zoo also hosted its annual Gin-Grr-Bread Habitat Competition, which invited participants to create edible habitats celebrating the zoo's new American Trail exhibit.
Celebrate Christmas in California
It probably won't get too chilly in San Diego this winter, but that has never stopped all the SeaWorld creatures from celebrating the December holidays. An otter and a troop of sea lions star in a holiday comedy called Clyde and Seamore Save Christmas. And you can head on over to Santa's reindeer corral (pictured above) to visit with the animals — and even Kriss Kringle himself.
Remembering species past
Now in its 22nd year, the Denver Zoo's Zoo Lights event has revamped its beloved train ride with a new theme. The ride, now called Yesterday's Zoo Train Experience, teaches kids about extinct species in the hopes that they'll support conservation of the species we still have.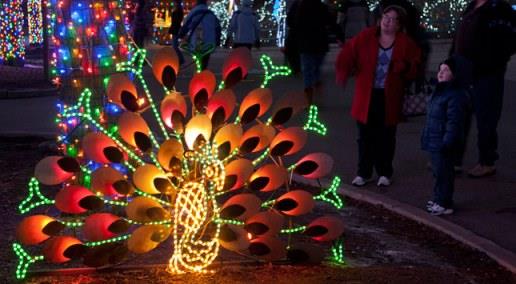 Photo: Denver Zoo // The Denver Zoo's beloved Zoo Lights event has been around for 22 years.
Other holiday sights include the Sea of Lights (a light display of seahorses, whales and a gigantic octopus) and animal ice sculptures created by power tool-wielding Santa's helpers.
Animals love holiday presents, too
It's the most important meal of the day, so why not share it with Santa and your favorite critters? The Palm Beach Zoo will host Breakfast With Santa this weekend (Dec. 15 and 16) and next weekend (Dec. 22 and 23). During this season of giving, the zoo is asking visitors to donate enrichment toys for many of its species, from howler monkeys to New Guinea Singing Dogs. These gifts keep the animals healthy (in both mind and body) year-round. And the best part is that you can go to the zoo and watch the animals tear into their new toys — just like you'll be doing on Christmas morning!
Bing: Holiday pet photos.
More from Vetstreet:
10 hilarious awkward family holiday pet photos
What is the secret of the white house holiday decorations? Bo knows
Video: Chimp and 6-month-old baby connect at zoo
Great products for dogs: A holiday gift guide
Is it OK to give a pet as a gift over the holidays?

pics, advice, info and stories for pet lovers
We asked veterinary experts and readers which breeds they think and if it is OK to shave longhaired pets in the summer.

If you're searching for a breed that may enjoy the company of a kid, we have some great suggestions for you.

When searching for the right dog to add to your family, your first instinct might be to bring home a tiny little thing that your kids can cradle in their laps. But we're here to remind you that the best fit for you may be a large dog breed.

Many breeds were developed to do work that required them to act independently. Those dogs tend to be smart, but as family pets, they may need more leadership and training than others. Ultimately, though, they're worth it. Here are 11 dog breeds that tend to have independent personalities.

Many of us here at Vetstreet are fascinated by pets who have unique coats and cool shapes hidden in their markings. So we asked our Facebook fans to share pictures of animals that have interesting coloration, and you did not disappoint. From mustachioed cats to a horse of a different color, here are our 13 favorite photos of pets with cool coats.

We surveyed 284 veterinary professionals (including vets, veterinary technicians and office staff) to see which breeds they felt were most likely to chew something they shouldn't and wind up in the veterinary emergency room, and we've listed the top five answers below. Do you agree with their opinions? Which breeds would you add to the list?

This Fourth of July, Americans will celebrate with the sights and sounds of fireworks. While we love the pyrotechnics, it's important to remember that our patriotic midsummer spectacular is no holiday for many of our pets.

It's Independence Day — and we're celebrating our freedom and everything American. Before you light up the grill or head out to catch the fireworks, take a moment to check out these fun photos of patriotic pups. We hope you have a wonderful holiday and, as always, remember to keep your pets safe.

You love him so much, but you put up with a lot for your pup.

There's no denying that cats are excellent companions, but sometimes they do something that leaves you scratching your head in total confusion. If you're used to dogs, cats' social interactions and the way they communicate can be very confusing. Yet it's these special behaviors, like affectionate head-butting and their penchant for cardboard boxes, that make us love them so much. To help you better understand your elusive feline, we rounded up 10 cat behaviors that people commonly consider mysterious. You'll find that many of these habits aren't weird at all for cats -- they're normal. Click through this slideshow to learn more about mysterious feline habits and what they mean.

Soldier the cat is now recovering thanks to a special oxygen mask used for reviving animals.