Goat on the lam snarls NJ's Pulaski Skyway traffic
A goat believed to have escaped en route to a slaughterhouse snarled the morning commute along one of the busiest roadways in northern New Jersey on Tuesday, leading police on a nearly two-hour chase.
JERSEY CITY, N.J. (AP) — The small, chocolate brown female with curved horns eluded five Jersey City police officers for more than 90 minutes by jumping back and forth over a central divider along the Pulaski Skyway, alternately disrupting traffic along both east and west-bound lanes, according to city spokesman Stan Eason.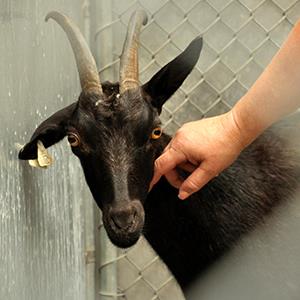 Traffic was snarled from 7:10 a.m. until almost 9 a.m. along the elevated roadway, which traverses the Passaic and Hackensack rivers between Newark and Jersey City and carries thousands of vehicles daily to the Holland Tunnel and into New York.
Four vehicles, whose drivers were attempting to avoid the zigzagging goat, were involved in a minor accident, police said. There were no injuries.
"A call came in: 'There was a motor vehicle accident, and there's a goat running around on the skyway," Eason said, adding that Jersey City police were not alarmed. "We had full-sized bucked deer running around in the metropolis downtown of Exchange Place about two years ago, before it jumped in the Hudson River and swam to Governor's Island, so nothing surprises us," he added.
Slideshow: The secret life of a stay-at-home mom
The frisky goat eventually tired, Eason said, and officers were able to form a semi-circle around her and secure her in a noose.
Officials are still trying to determine where the goat came from. One of the goat's ears is tagged with a U.S. Department of Agriculture tag, indicating the animal likely escaped a truck headed to a slaughterhouse, Eason said. If no company claims the animal, it will be moved to a rural animal welfare facility that can accommodate livestock.
Gallery: 7 annoying moms you'll meet at the park (or wherever else you go)
"If it can survive running around the Pulaski Skyway for two hours, and then winds up in a slaughterhouse, it's kind of sad," Eason said. "But if someone claims her, she is private property, so there's not much we can do."
More from Off the Leash:
Pet store puppies prone to behavioral problems
Why did penguins lose the ability to fly?
Farms devastated by Oklahoma tornado
Love content like this? Friend us on Facebook, follow us on Twitter and find us on Pinterest.
Photo: In this photo provided by the Jersey City Police Department,  Lt. Kelly Chesler at Liberty Humane Society pets a goat on Tuesday, May 21  in Jersey City, N.J. Chesler was one of the officers who caught the goat, which went lose on the Pulaski Skyway, causing a traffic jam Tuesday morning. (AP Photo / Jersey City Police Department, Francisco Rodriguez)
pics, advice, info and stories for pet lovers
Adopting an animal is a major commitment. Yet all too often people put more effort into researching what kind of car to get than the type of pet that would best fit their lifestyle.

'Tis the season to send out holiday greeting cards to all your friends and family. But, as our friends at Awkward Family Pet Photos know, not all holiday snapshots are the same. Some are just plain kooky — especially when pets are included. So with good tidings and great cheer, here are 10 wacky holiday animal portraits that are sure to make you laugh out loud and get you in the holiday spirit. And possibly make you think twice about dressing up the family cat this year.

King of the jungle? Nah, it's just a labradoodle!

Do you have a finicky furry friend on your holiday gift list this year? You're in luck! We've rounded up the coolest cat-approved products to bring you purrfect gift ideas for every kind of cat -- from the curious kitten to the most refined feline. Any one of these special gifts could make your resident kitty purr with pleasure and maybe, just maybe, like the present this year even more than the box and wrapping paper it came in!

Plus, puppy names to watch

We asked 218 veterinary professionals to vote on the dog breeds and mixes that are not good choices for first-time pet parents. German Shepherds, Bulldogs and Akitas are among the breeds new pet owners should steer clear of.

"No! Bad dog!" How many times have you scolded your misbehaving canine with those words? Probably too many. But before you fly off the handle, one of the most important things to understand about correcting bad behavior is that punishment doesn't work.

If you have a hard time cruising through the toy aisle without loading up, you're not alone. But the good news is that there are tons of inexpensive dog toys that still deliver big fun. Check out our picks, and be sure to share in the comments if we left off your dog's favorite!

Sexy mice? Yes, they exist

Stray surprises subway passengers.

Newly cast cat will better match character from the book series, producer and author say.