Goat on the lam snarls NJ's Pulaski Skyway traffic
A goat believed to have escaped en route to a slaughterhouse snarled the morning commute along one of the busiest roadways in northern New Jersey on Tuesday, leading police on a nearly two-hour chase.
JERSEY CITY, N.J. (AP) — The small, chocolate brown female with curved horns eluded five Jersey City police officers for more than 90 minutes by jumping back and forth over a central divider along the Pulaski Skyway, alternately disrupting traffic along both east and west-bound lanes, according to city spokesman Stan Eason.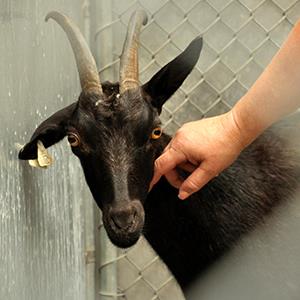 Traffic was snarled from 7:10 a.m. until almost 9 a.m. along the elevated roadway, which traverses the Passaic and Hackensack rivers between Newark and Jersey City and carries thousands of vehicles daily to the Holland Tunnel and into New York.
Four vehicles, whose drivers were attempting to avoid the zigzagging goat, were involved in a minor accident, police said. There were no injuries.
"A call came in: 'There was a motor vehicle accident, and there's a goat running around on the skyway," Eason said, adding that Jersey City police were not alarmed. "We had full-sized bucked deer running around in the metropolis downtown of Exchange Place about two years ago, before it jumped in the Hudson River and swam to Governor's Island, so nothing surprises us," he added.
Slideshow: The secret life of a stay-at-home mom
The frisky goat eventually tired, Eason said, and officers were able to form a semi-circle around her and secure her in a noose.
Officials are still trying to determine where the goat came from. One of the goat's ears is tagged with a U.S. Department of Agriculture tag, indicating the animal likely escaped a truck headed to a slaughterhouse, Eason said. If no company claims the animal, it will be moved to a rural animal welfare facility that can accommodate livestock.
Gallery: 7 annoying moms you'll meet at the park (or wherever else you go)
"If it can survive running around the Pulaski Skyway for two hours, and then winds up in a slaughterhouse, it's kind of sad," Eason said. "But if someone claims her, she is private property, so there's not much we can do."
More from Off the Leash:
Pet store puppies prone to behavioral problems
Why did penguins lose the ability to fly?
Farms devastated by Oklahoma tornado
Love content like this? Friend us on Facebook, follow us on Twitter and find us on Pinterest.
Photo: In this photo provided by the Jersey City Police Department,  Lt. Kelly Chesler at Liberty Humane Society pets a goat on Tuesday, May 21  in Jersey City, N.J. Chesler was one of the officers who caught the goat, which went lose on the Pulaski Skyway, causing a traffic jam Tuesday morning. (AP Photo / Jersey City Police Department, Francisco Rodriguez)
pics, advice, info and stories for pet lovers
The strong bonds that dogs can form are undeniable.

Think you know your pet's every unspoken wish? Think again. Your pet is unlikely to be capable of communicating her wants and needs in ways you might assume she would. Even those of you most in touch with your pets' feelings are likely missing a few cues here and there.

The Chesapeake Bay Retriever made both our readers' and veterinary professionals' lists of breeds that love the water.

You might proudly call yourself a dog owner, pet parent or canine guardian, but let's be real: Your dog owns you. You might be laughing now, but think about it — you've surrendered the best seat on the sofa to him, you plan your entire weekend around his trips to the dog park, and you take him to the groomer more often than you get your own hair cut. And let's not forget who's in every photo on your Facebook and Instagram feeds. Sound familiar? We thought so. But in case you still think you're in charge, here are seven classic signs that your dog is the one calling the shots.

One of the best things about being a veterinarian is all the different dogs I get to meet. Of course, I love the Labs and Beagles and Boxers and Poodles, not to mention those crazy Canine Cocktails, or what my parents used to call Heinz 57s. They are among the more popular dogs out there, and I see a lot of them. In fact, it used to be that it was rare to see anything else. Here are nine dog breeds I sometimes see now that I didn't see in the past.

We asked veterinary experts and readers which breeds they think and if it is OK to shave longhaired pets in the summer.

If you're searching for a breed that may enjoy the company of a kid, we have some great suggestions for you.

When searching for the right dog to add to your family, your first instinct might be to bring home a tiny little thing that your kids can cradle in their laps. But we're here to remind you that the best fit for you may be a large dog breed.

Many breeds were developed to do work that required them to act independently. Those dogs tend to be smart, but as family pets, they may need more leadership and training than others. Ultimately, though, they're worth it. Here are 11 dog breeds that tend to have independent personalities.

Many of us here at Vetstreet are fascinated by pets who have unique coats and cool shapes hidden in their markings. So we asked our Facebook fans to share pictures of animals that have interesting coloration, and you did not disappoint. From mustachioed cats to a horse of a different color, here are our 13 favorite photos of pets with cool coats.

We surveyed 284 veterinary professionals (including vets, veterinary technicians and office staff) to see which breeds they felt were most likely to chew something they shouldn't and wind up in the veterinary emergency room, and we've listed the top five answers below. Do you agree with their opinions? Which breeds would you add to the list?

This Fourth of July, Americans will celebrate with the sights and sounds of fireworks. While we love the pyrotechnics, it's important to remember that our patriotic midsummer spectacular is no holiday for many of our pets.