Goat on the lam snarls NJ's Pulaski Skyway traffic
A goat believed to have escaped en route to a slaughterhouse snarled the morning commute along one of the busiest roadways in northern New Jersey on Tuesday, leading police on a nearly two-hour chase.
JERSEY CITY, N.J. (AP) — The small, chocolate brown female with curved horns eluded five Jersey City police officers for more than 90 minutes by jumping back and forth over a central divider along the Pulaski Skyway, alternately disrupting traffic along both east and west-bound lanes, according to city spokesman Stan Eason.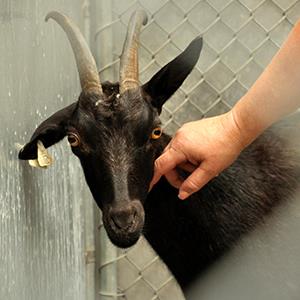 Traffic was snarled from 7:10 a.m. until almost 9 a.m. along the elevated roadway, which traverses the Passaic and Hackensack rivers between Newark and Jersey City and carries thousands of vehicles daily to the Holland Tunnel and into New York.
Four vehicles, whose drivers were attempting to avoid the zigzagging goat, were involved in a minor accident, police said. There were no injuries.
"A call came in: 'There was a motor vehicle accident, and there's a goat running around on the skyway," Eason said, adding that Jersey City police were not alarmed. "We had full-sized bucked deer running around in the metropolis downtown of Exchange Place about two years ago, before it jumped in the Hudson River and swam to Governor's Island, so nothing surprises us," he added.
Slideshow: The secret life of a stay-at-home mom
The frisky goat eventually tired, Eason said, and officers were able to form a semi-circle around her and secure her in a noose.
Officials are still trying to determine where the goat came from. One of the goat's ears is tagged with a U.S. Department of Agriculture tag, indicating the animal likely escaped a truck headed to a slaughterhouse, Eason said. If no company claims the animal, it will be moved to a rural animal welfare facility that can accommodate livestock.
Gallery: 7 annoying moms you'll meet at the park (or wherever else you go)
"If it can survive running around the Pulaski Skyway for two hours, and then winds up in a slaughterhouse, it's kind of sad," Eason said. "But if someone claims her, she is private property, so there's not much we can do."
More from Off the Leash:
Pet store puppies prone to behavioral problems
Why did penguins lose the ability to fly?
Farms devastated by Oklahoma tornado
Love content like this? Friend us on Facebook, follow us on Twitter and find us on Pinterest.
Photo: In this photo provided by the Jersey City Police Department,  Lt. Kelly Chesler at Liberty Humane Society pets a goat on Tuesday, May 21  in Jersey City, N.J. Chesler was one of the officers who caught the goat, which went lose on the Pulaski Skyway, causing a traffic jam Tuesday morning. (AP Photo / Jersey City Police Department, Francisco Rodriguez)
pics, advice, info and stories for pet lovers
Computer equipment delivery came with two cute stowaways.

Take a look at your house for these telltale signs that a cat is running the show.

Check out this list of requirements you should meet before getting a new puppy or adult dog.

Much like their famous owners, these pooches live a fabulous life. Some are rescues, others purebred, but one thing is certain – these dogs play an important part in their famous parents' lives. Can you guess who owns each of these dogs?

Pets are part of many children's lives. Learn how to help them foster strong, healthy relationships.

If you live with a feline companion, you know that cats can be quirky and totally entertaining. (Even if they'd never admit it in a million, trillion years.) Here are just a few of our favorite cat-isms, some with sandpaper tongue firmly in cheek. Did we miss any of yours?

Tummy troubles in your four-legged friends? Carrageenan in their pet food may be to blame.

There's more to choosing the perfect dog for your family than walking into a shelter and saying, "Find me one that looks like the dog from Marley and Me." Choosing a dog is more like buying a car. You want one that isn't just good looking, but is also a perfect fit for your family and lifestyle (and won't leak in the garage). Here are 8 great tips to help you determine the perfect pooch for your pack. By Jeremy Greenberg

CEO says, "it was one of the best ideas of my life"

Before you jump into marriage counseling, take a look at our list to see if you truly do love your dog more than your spouse.

Spring break isn't just for humans anymore. Cats and dogs know how to have fun in the sun, too, and would love to tag along on your vacation. In honor of the warm and relaxing days ahead, here are 15 pets catching some rays, going on hikes and floating in the pool.

Injuries often happen when dogs are outside chasing tennis balls or playing at dog parks. Because yours needs regular exercise, it can be difficult to protect him from many accidents.