Dog sticks by missing toddler
Australian shepherd leads searchers to boy.
Ashepoo, an Australian shepherd, never leaves 2-year-old Peyton Myrick's side. So, when the toddler wandered off into the woods in South Carolina last week while his grandfather was taking care of him, it was the loyal dog who saved him.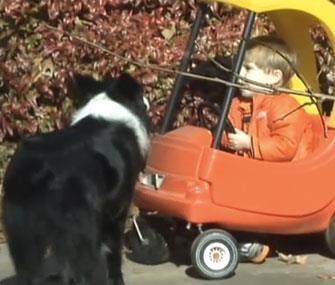 Hundreds of people helped Peyton's terrified family search for the boy for four hours. At about 8:30 p.m., when it had become dark and cold, neighbors combing the area spotted Ashepoo, who led them behind a barn — and straight to the little boy, who was safe and asleep on his jacket.
Ashepoo had stayed by the boy's side the whole time.
"If a dog can be a hero, that dog's a hero," said Peyton's father, Rich Myrick. — Watch it at CNN
Photo: CNN // Ashepoo, an Australian Shepherd, stayed by Peyton Myrick's side while he was missing in the woods.
Bing: More animal hero stories.
More from Vetstreet:
10 most popular puppy names of 2012
Dog reunited with owner after 7 years
Why does my cat… bite me when I pet her?
What do animals see in the mirror?
Video: Baby elephant takes adorable first steps
Are you sure you want to delete this comment?
pics, advice, info and stories for pet lovers
267 veterinary professionals offered up their picks for the Most Athletic, Biggest Flirt and other popular high school categories.

BarkBuddy helps match prospective doggie-adopters with potential pets.

It's all calm and quiet around your house until one of these visitors appears.

Are you a cat owner? Are you sure about that? Who caters to her resident feline's every need? Who dotes upon her demanding little dictator? Who can be put in her place with just one look of disdain from the kitty in the corner?

Dogs might not seem as mysterious as cats, but canines do have their fair share of behaviors that are truly baffling.

In some households pets are allowed everywhere, all the time. In others, pets aren't allowed on any furniture, ever. But in many, the answer lies somewhere in between.