Dog sticks by missing toddler
Australian shepherd leads searchers to boy.
Ashepoo, an Australian shepherd, never leaves 2-year-old Peyton Myrick's side. So, when the toddler wandered off into the woods in South Carolina last week while his grandfather was taking care of him, it was the loyal dog who saved him.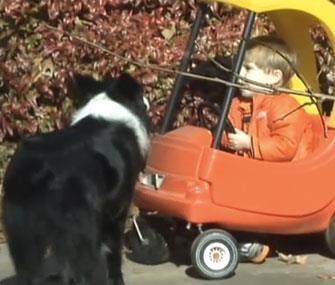 Hundreds of people helped Peyton's terrified family search for the boy for four hours. At about 8:30 p.m., when it had become dark and cold, neighbors combing the area spotted Ashepoo, who led them behind a barn — and straight to the little boy, who was safe and asleep on his jacket.
Ashepoo had stayed by the boy's side the whole time.
"If a dog can be a hero, that dog's a hero," said Peyton's father, Rich Myrick. — Watch it at CNN
Photo: CNN // Ashepoo, an Australian Shepherd, stayed by Peyton Myrick's side while he was missing in the woods.
Bing: More animal hero stories.
More from Vetstreet:
10 most popular puppy names of 2012
Dog reunited with owner after 7 years
Why does my cat… bite me when I pet her?
What do animals see in the mirror?
Video: Baby elephant takes adorable first steps
Are you sure you want to delete this comment?
pics, advice, info and stories for pet lovers
What is the best route to follow should your pet bite one of your guests or run off and nip an innocent bystander?

Tiny Terrier rescued from traffic in Texas.

Shaved legs, trimmed mustaches and long, luxurious coats — sometimes we think the Westminster Dog Show, which airs Monday and Tuesday, is like a red-carpet event for unusual-looking breeds.

February 14 isn't just a day to shower the special human in your life with chocolates and roses. It's also important to do something special for the one member in your family who loves you unconditionally — your pet. In honor of how much we love all things furry, feathered and four-legged, we rounded up our favorite cats and dogs celebrating Valentine's Day.

Here are nine fundamental steps for taking care of your new kitten.

Only 35 of its kind exist in the U.S.