Man's best friend, and a blood donor, too
Dogs are giving regularly at veterinary hospitals.
MADISON, Wis. (AP) — Dogs always have been known as loyal companions to humans. These days, they're increasingly helping each other — by giving their blood.
Rising demand is causing places like the University of Wisconsin-Madison's veterinary teaching hospital to seek more dog and cat blood donors.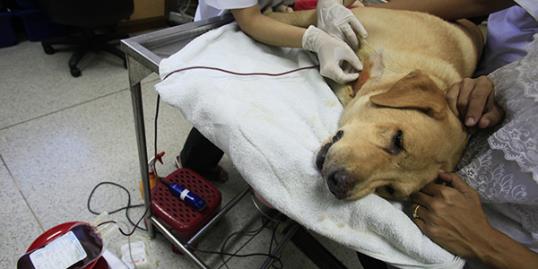 Six years ago, they had three donors. Now they have about 22 dogs and cats who give blood regularly.
More from MSN Living: How dogs make our lives better
Dr. Jonathan Bach, who oversees the hospital's blood bank, says demand has grown along with pet owners' willingness to give a high level of care to their animals.
The donors are sometimes former patients themselves. But most often, they're companions to students or staff members.
More from MSN Living: 10 household plants that are dangerous for dogs and cats
Animals most often need the blood because of anemia, although the hospital does get animals who have suffered injuries or accidental poisonings.
Bing: What does bacteria on dog owner's skin reveal?
More from Off the Leash:
Vet emergency team dispatched in Texas
Spayed, neutered dogs live longer
'Miracle cat' survives being buried alive
Photo: Gundum, a five-year-old Labrador lies on a  surgical table as veterinarians  prepare to collect her blood as part of volunteer activities for canine blood donation in 2010./ Sakchai Lalit/AP
pics, advice, info and stories for pet lovers
Plus, puppy names to watch

We asked 218 veterinary professionals to vote on the dog breeds and mixes that are not good choices for first-time pet parents. German Shepherds, Bulldogs and Akitas are among the breeds new pet owners should steer clear of.

"No! Bad dog!" How many times have you scolded your misbehaving canine with those words? Probably too many. But before you fly off the handle, one of the most important things to understand about correcting bad behavior is that punishment doesn't work.

If you have a hard time cruising through the toy aisle without loading up, you're not alone. But the good news is that there are tons of inexpensive dog toys that still deliver big fun. Check out our picks, and be sure to share in the comments if we left off your dog's favorite!

Sexy mice? Yes, they exist