Man's best friend, and a blood donor, too
Dogs are giving regularly at veterinary hospitals.
MADISON, Wis. (AP) — Dogs always have been known as loyal companions to humans. These days, they're increasingly helping each other — by giving their blood.
Rising demand is causing places like the University of Wisconsin-Madison's veterinary teaching hospital to seek more dog and cat blood donors.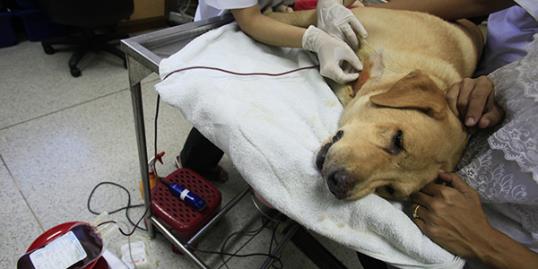 Six years ago, they had three donors. Now they have about 22 dogs and cats who give blood regularly.
More from MSN Living: How dogs make our lives better
Dr. Jonathan Bach, who oversees the hospital's blood bank, says demand has grown along with pet owners' willingness to give a high level of care to their animals.
The donors are sometimes former patients themselves. But most often, they're companions to students or staff members.
More from MSN Living: 10 household plants that are dangerous for dogs and cats
Animals most often need the blood because of anemia, although the hospital does get animals who have suffered injuries or accidental poisonings.
Bing: What does bacteria on dog owner's skin reveal?
More from Off the Leash:
Vet emergency team dispatched in Texas
Spayed, neutered dogs live longer
'Miracle cat' survives being buried alive
Photo: Gundum, a five-year-old Labrador lies on a  surgical table as veterinarians  prepare to collect her blood as part of volunteer activities for canine blood donation in 2010./ Sakchai Lalit/AP
pics, advice, info and stories for pet lovers
I love all pets. I wouldn't be a veterinarian if I didn't, and I celebrate the human-animal bond every day. I do look forward, though, to the day when these five breeds aren't as popular. The reasons vary, but in many cases the problems are health-related, and overbreeding by puppy mills and other less-than-ideal operations has a lot to do with that. What would help these breeds is for there to be a lot less of them. A couple of them need many more adopters and far less breeding, and all would benefit from people who are well-prepared for the challenges of owning a dog, and who make sure to look to rescue, shelters and reputable breeders for their pets. As always, whatever pet you choose, we veterinarians are here to help you make healthy choices for life.

The mayor of an affluent California town has landed himself in a messy situation.

Dog reunited with owner in Brazil.

These breeds used to be more popular, but they could just be one hit TV show, movie or commercial away from a comeback.

267 veterinary professionals offered up their picks for the Most Athletic, Biggest Flirt and other popular high school categories.