Pet spending hits new high
Americans spent more than $53 billion on their furry friends in 2012.
People may have been feeling the pinch from a tough economy in 2012, but they didn't pass it on to their pets.
Instead, Americans spent a new record of $53 billion on their four-legged friends last year, according to the American Pet Products Association. That's a five percent increase over 2011, when the number hit $50 billion.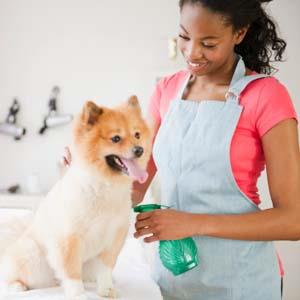 The number includes a 10 percent increase in spending on luxuries like grooming and hotels.
People shelled out about $34 billion on food and vet care - about two-thirds of total spending.
Funds spent on supplies and medications rose more than seven percent. Pet owners also hedged their bets on alternative vet care like acupuncture, spending about $12.5 billion.
— Read it at PawNation
More from Vetstreet:
Photos: 11 unforgettable animal smiles
5 dog breeds that are worrisome
10 least-trendy cat names of 2013
How old is my pet in people years?
11 wackiest and unique pet products of 2013
Bing: Pampered celebrity pets.
Photo: Pet spending hits all-time high / Jamie Grill/JGI/Getty Images
pics, advice, info and stories for pet lovers
With all the glitz and glamour that comes out of Tinseltown (not to mention the endless tabloid fodder), it's not always obvious that many celebrities are animal lovers, too.

From designer crosses to giant breeds, we scoured Vetstreet's data of millions of dog breeds to determine the trendiest breeds of the past decade.

Tow lot employee finds abandoned pup.

Animals, says Dr. Patty Khuly, are the best listeners in the world and don't care that you've just been dumped or laid off.

"No! Bad dog!" How many times have you scolded your misbehaving canine with those words? Probably too many. But before you fly off the handle, one of the most important things to understand about correcting bad behavior is that punishment doesn't work.

Your dog loves sticking his head out the window, but imagine the tragic results of disregarding his (or your) safety.

Death is a natural part of life, but it's never easy to understand. Here are some tips when the time comes to talk to your kids about pets passing.

Are you a 'dog person' or 'cat person'?

Whether they're on small pups like the Pug or huge ones like the Mastiff, adorable wrinkles are the envy of many a dog lover — which is exactly why we set out in search of the canine world's most wrinkled breeds.

Adopting an animal is a major commitment. Yet all too often people put more effort into researching what kind of car to get than the type of pet that would best fit their lifestyle.

From certain species of butterflies, zebras to horses and cockatoos, you might be surprised that some of our favorite creatures are dying out.

Creating a cat-friendly home means incorporating elements that accommodate your cat's natural instincts to climb, scratch and rest. Why not look for furniture that gives kitty what she needs and offers function for you too?