Pet spending hits new high
Americans spent more than $53 billion on their furry friends in 2012.
People may have been feeling the pinch from a tough economy in 2012, but they didn't pass it on to their pets.
Instead, Americans spent a new record of $53 billion on their four-legged friends last year, according to the American Pet Products Association. That's a five percent increase over 2011, when the number hit $50 billion.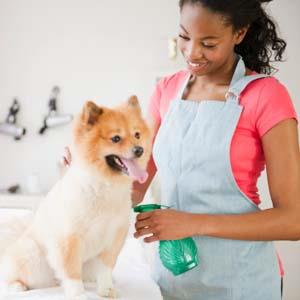 The number includes a 10 percent increase in spending on luxuries like grooming and hotels.
People shelled out about $34 billion on food and vet care - about two-thirds of total spending.
Funds spent on supplies and medications rose more than seven percent. Pet owners also hedged their bets on alternative vet care like acupuncture, spending about $12.5 billion.
— Read it at PawNation
More from Vetstreet:
Photos: 11 unforgettable animal smiles
5 dog breeds that are worrisome
10 least-trendy cat names of 2013
How old is my pet in people years?
11 wackiest and unique pet products of 2013
Bing: Pampered celebrity pets.
Photo: Pet spending hits all-time high / Jamie Grill/JGI/Getty Images
pics, advice, info and stories for pet lovers
What is the best route to follow should your pet bite one of your guests or run off and nip an innocent bystander?

Tiny Terrier rescued from traffic in Texas.

Shaved legs, trimmed mustaches and long, luxurious coats — sometimes we think the Westminster Dog Show, which airs Monday and Tuesday, is like a red-carpet event for unusual-looking breeds.

February 14 isn't just a day to shower the special human in your life with chocolates and roses. It's also important to do something special for the one member in your family who loves you unconditionally — your pet. In honor of how much we love all things furry, feathered and four-legged, we rounded up our favorite cats and dogs celebrating Valentine's Day.

Here are nine fundamental steps for taking care of your new kitten.

Only 35 of its kind exist in the U.S.