Pet spending hits new high
Americans spent more than $53 billion on their furry friends in 2012.
People may have been feeling the pinch from a tough economy in 2012, but they didn't pass it on to their pets.
Instead, Americans spent a new record of $53 billion on their four-legged friends last year, according to the American Pet Products Association. That's a five percent increase over 2011, when the number hit $50 billion.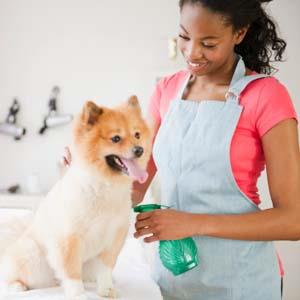 The number includes a 10 percent increase in spending on luxuries like grooming and hotels.
People shelled out about $34 billion on food and vet care - about two-thirds of total spending.
Funds spent on supplies and medications rose more than seven percent. Pet owners also hedged their bets on alternative vet care like acupuncture, spending about $12.5 billion.
— Read it at PawNation
More from Vetstreet:
Photos: 11 unforgettable animal smiles
5 dog breeds that are worrisome
10 least-trendy cat names of 2013
How old is my pet in people years?
11 wackiest and unique pet products of 2013
Bing: Pampered celebrity pets.
Photo: Pet spending hits all-time high / Jamie Grill/JGI/Getty Images
pics, advice, info and stories for pet lovers
The adorable pair of kittens who shut down a New York subway get to stay together after all

An Arizona dog gets a second chance thanks to the kindness of a passerby

Loki is fourth dog firefighter has saved by mouth-to-mouth resuscitation

World Wildlife Foundation reports 441 new species discovered in Amazon rainforest

When a dog gets out of the water, one of the first things he does is shake. In just a second or two, water sprays everywhere, and then the moment ends. Now imagine if you could watch your dog shaking in slow motion. Think of your pup's floppy ears, loose jowls and bulging eyes. What would it look like? Well, photographer Carli Davidson set out to capture just that in her new book, Shake. In 2010, Davidson started using a high-speed-shutter camera to photograph rescue dogs in mid-shake. When she posted the photos on Facebook, they quickly went viral. The project's popularity led her to this book, in which two photos of 61 canine models, including French Bulldogs, Springer Spaniels and Boxers, are presented side by side in mid-shake. Check out our photo gallery featuring some of our favorite shakes from the book, and don't be afraid to post photos on our Facebook wall of your dog shaking. We know it will be a challenge, but it will be worth it!