JetBlue Launches Program for Furry Jet Setters
By Laura Cross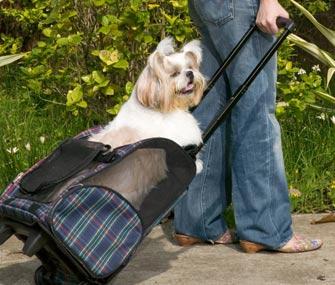 Do you wish it were easier to travel with your pet? From now until Dec. 31, 2012, JetBlue Airlines is helping you out by offering
unlimited flights for pets for $299
through their
JetPaws
program. This means you can take Fido or Fluffy with you on as many flights as you want through the end of the year for one flat $299 fee rather than the standard $100 one-way pet fare.
Even if you're not interested in the pass, you can join JetBlue's free JetPaws program. By signing up, your animal gets a special carrier bag tag, a travel etiquette brochure and the ability to earn TrueBlue points on flights. Plus, you can shop for pet travel gear designed by JetBlue and pet columnist Cindy Adams.
As with many deals, there are a variety of rules and regulations, so make sure you check out JetBlue's pet travel site before making any bookings.
Photo: Thinkstock
More from Vetstreet:
Traveling With Your Dog: What You Need to Know
Meet the British Royal Pets: Past, Present and Future
11 Small Dogs With Big Personalities
How to Make Flying With Your Dog Easier
Is it Dangerous for Dogs to Eat Other Animal Poop?
pics, advice, info and stories for pet lovers
With all the glitz and glamour that comes out of Tinseltown (not to mention the endless tabloid fodder), it's not always obvious that many celebrities are animal lovers, too.

From designer crosses to giant breeds, we scoured Vetstreet's data of millions of dog breeds to determine the trendiest breeds of the past decade.

Tow lot employee finds abandoned pup.

Animals, says Dr. Patty Khuly, are the best listeners in the world and don't care that you've just been dumped or laid off.

"No! Bad dog!" How many times have you scolded your misbehaving canine with those words? Probably too many. But before you fly off the handle, one of the most important things to understand about correcting bad behavior is that punishment doesn't work.

Your dog loves sticking his head out the window, but imagine the tragic results of disregarding his (or your) safety.

Death is a natural part of life, but it's never easy to understand. Here are some tips when the time comes to talk to your kids about pets passing.

Are you a 'dog person' or 'cat person'?

Whether they're on small pups like the Pug or huge ones like the Mastiff, adorable wrinkles are the envy of many a dog lover — which is exactly why we set out in search of the canine world's most wrinkled breeds.

Adopting an animal is a major commitment. Yet all too often people put more effort into researching what kind of car to get than the type of pet that would best fit their lifestyle.

From certain species of butterflies, zebras to horses and cockatoos, you might be surprised that some of our favorite creatures are dying out.

Creating a cat-friendly home means incorporating elements that accommodate your cat's natural instincts to climb, scratch and rest. Why not look for furniture that gives kitty what she needs and offers function for you too?