Rare monkey born at Sacramento Zoo
Only 35 of its kind exist in the U.S.
The Sacramento Zoo welcomed a very special little girl late last month, when a Wolf's guenon gave birth to her first child. The occasion is especially significant for the zoo, since there are only 35 Wolf's guenons in 11 U.S. wildlife parks.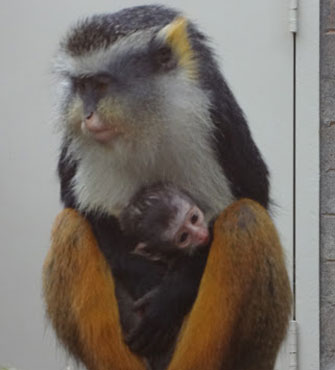 The monkey was born to mom Mimi, who was born at the San Diego Zoo in 2007, and dad Eddie, who was born at the San Antonio Zoo in 1995. The two were just transferred to Sacramento in the fall.
Their keepers are hopeful that Mimi and Eddie learned parenting skills from their own parents. But because parenting can be tough for guenons, they have preparations in place in case there are any problems.
"Little is known about Wolf's guenons because of their small population in zoos. In the wild, the dense forests in which they live make them hard to spot," said Harrison Edell, Sacramento Zoo General Curator, in a blog announcement.
"With every birth, we learn more about this species' biology, contributing to our overall knowledge about this species."
This type of monkey is native to central Africa, where they live in forests and sometimes form groups with other primate species like Bonobos, colobus monkeys and other types of guenons.
More from Vetstreet:
6 bizarre eating habits of animals
The year's 10 trendiest cat names
Playtime for baby monkey and kitten
10 most popular dog breeds that are biggest losers
10 surprising things about how animals sleep
Photo: Rare monkey born at Sacramento Zoo / Christa Klein, Sacramento Zoo
pics, advice, info and stories for pet lovers
I love all pets. I wouldn't be a veterinarian if I didn't, and I celebrate the human-animal bond every day. I do look forward, though, to the day when these five breeds aren't as popular. The reasons vary, but in many cases the problems are health-related, and overbreeding by puppy mills and other less-than-ideal operations has a lot to do with that. What would help these breeds is for there to be a lot less of them. A couple of them need many more adopters and far less breeding, and all would benefit from people who are well-prepared for the challenges of owning a dog, and who make sure to look to rescue, shelters and reputable breeders for their pets. As always, whatever pet you choose, we veterinarians are here to help you make healthy choices for life.

The mayor of an affluent California town has landed himself in a messy situation.

Dog reunited with owner in Brazil.

These breeds used to be more popular, but they could just be one hit TV show, movie or commercial away from a comeback.

267 veterinary professionals offered up their picks for the Most Athletic, Biggest Flirt and other popular high school categories.