Rare pygmy hippo makes debut in Tampa
There are fewer than 3,000 left in the wild.
The Lowry Park Zoo is celebrating an early holiday gift this season: the birth of a rare pygmy hippopotamus.
The female calf, who weighed only 10 pounds when she was born just before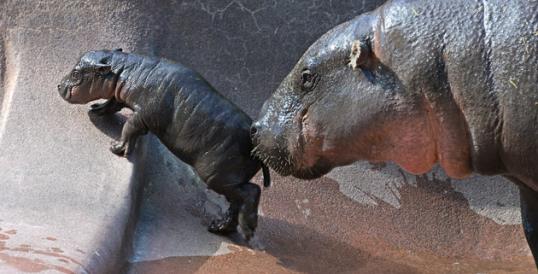 Thanksgiving, is thriving at the Tampa zoo. She's the second baby for mother Zsa Zsa.
This kind of hippo is much smaller than its relative, the Nile hippo. When it's full grown, an adult pygmy hippo stands only about 3 feet tall at the shoulder and weighs between 350 and 550 pounds.
"With fewer than 3,000 pigmy hippos in the wild, each birth is vital if we have any hope of saving this truly unique species," says Dr. Larry Killmar, the zoo's vice president of animal science and conservation.
The calf doesn't have a name yet, but the zoo just closed a naming contest that invited fans to pick one of three monikers: Zawadi ("gift"), Zola ("to love") or Zuri ("beautiful"). Stay tuned, and we'll let you know which name got the most votes!
Photo: David Parkinson
Bing: Get the latest zoo news.
More from Vetstreet:
10 most popular kitten names of 2012
Boy pens heartbreaking letter after shelter mistakenly euthanizes his cat
10 cat and dog breeds with magical beginnings
5 dog breeds losing popularity
Only three types of dogs need sweaters
pics, advice, info and stories for pet lovers
I love all pets. I wouldn't be a veterinarian if I didn't, and I celebrate the human-animal bond every day. I do look forward, though, to the day when these five breeds aren't as popular. The reasons vary, but in many cases the problems are health-related, and overbreeding by puppy mills and other less-than-ideal operations has a lot to do with that. What would help these breeds is for there to be a lot less of them. A couple of them need many more adopters and far less breeding, and all would benefit from people who are well-prepared for the challenges of owning a dog, and who make sure to look to rescue, shelters and reputable breeders for their pets. As always, whatever pet you choose, we veterinarians are here to help you make healthy choices for life.

The mayor of an affluent California town has landed himself in a messy situation.

Dog reunited with owner in Brazil.

These breeds used to be more popular, but they could just be one hit TV show, movie or commercial away from a comeback.

267 veterinary professionals offered up their picks for the Most Athletic, Biggest Flirt and other popular high school categories.