Rare pygmy hippo makes debut in Tampa
There are fewer than 3,000 left in the wild.
The Lowry Park Zoo is celebrating an early holiday gift this season: the birth of a rare pygmy hippopotamus.
The female calf, who weighed only 10 pounds when she was born just before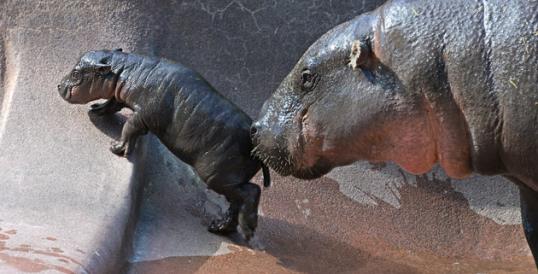 Thanksgiving, is thriving at the Tampa zoo. She's the second baby for mother Zsa Zsa.
This kind of hippo is much smaller than its relative, the Nile hippo. When it's full grown, an adult pygmy hippo stands only about 3 feet tall at the shoulder and weighs between 350 and 550 pounds.
"With fewer than 3,000 pigmy hippos in the wild, each birth is vital if we have any hope of saving this truly unique species," says Dr. Larry Killmar, the zoo's vice president of animal science and conservation.
The calf doesn't have a name yet, but the zoo just closed a naming contest that invited fans to pick one of three monikers: Zawadi ("gift"), Zola ("to love") or Zuri ("beautiful"). Stay tuned, and we'll let you know which name got the most votes!
Photo: David Parkinson
Bing: Get the latest zoo news.
More from Vetstreet:
10 most popular kitten names of 2012
Boy pens heartbreaking letter after shelter mistakenly euthanizes his cat
10 cat and dog breeds with magical beginnings
5 dog breeds losing popularity
Only three types of dogs need sweaters
pics, advice, info and stories for pet lovers
We recently listed the top five smartest dog breeds as chosen by veterinary professionals, and, unsurprisingly, our readers were quick to comment on other breeds that show enormous intelligence. Now we're sharing another result from that survey of 122 veterinary professionals. We aren't going to say "least intelligent" because all dogs have their own kind of genius, right? But we will say that in the opinion of the surveyed veterinary professionals, the breeds named here aren't necessarily known for their cleverness even if they are known for having many wonderful characteristics. Of course, please know that in no way are we saying these dogs aren't smart or aren't trainable. They just might not keep up with the Border Collie in their obedience class. And that's OK — whether our pets sit at the front of the class or flunk out of puppy school, we love them just the same.

Typically, cats don't rush up and bombard you with kisses like some dogs, but many do display genuine friendliness. Happy-to-be-with-you cats range from the demure lap lounger to the chatty feline who escorts you from room to room. Vetstreet shines the spotlight on nine feline breeds with stellar reputations for thoroughly enjoying the company of their favorite people.

Do you find it hard to sit still? Would you rather spend your time running and playing and working outdoors instead of lounging at home on the couch? If so, you may have met your match in these breeds. We polled 122 veterinary experts to get their opinions on which dog breeds are the most energetic. Here are the five that received the most votes!

Are cats an acquired taste?

Researchers say invention can tell you what your dog is thinking.

Mom shocked by big fish in photo.