Puppies reign on Super Bowl Sunday
Everyone wins at the Puppy Bowl.
Before the Baltimore Ravens and San Francisco 49ers kicked off Super Bowl XLVII in New Orleans, there was another (much cuter) big game on Sunday afternoon: Animal Planet's Puppy Bowl IX.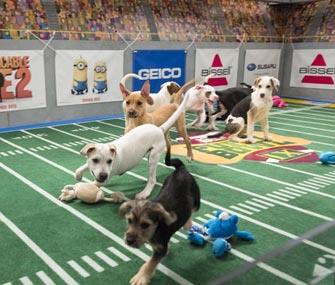 The game featured 63 adorable shelter pups from around the country — as well as Meep the bird who Tweeted game updates, hamster sports reporters, hedgehog cheerleaders, the traditional kitten half time show and one lucky human ref, who doled out penalties for "excessive cuteness."
Marta, a Schnauzer-Beagle mix who's "deceptively athletic," took home the "Most Valuable Puppy" prize — and all of the puppies are now the winners of forever homes. — Read it at
USA Today
and
meet the puppy players
Plus: Never doubt an animal prognosticator! Or at least not these two. Both Teddy Bear the talking porcupine and the Golden Retriever puppies who delighted the audience on Jimmy Fallon's Late Night last week picked the Ravens, who won 34-31.
More from Vetstreet:
5 best Super Bowl commercials starring animals
Rescued mom dog goes back for her pups
8 newest dog breeds
Kitty delights in her first snow
Stories behind eight Westminster Dog Show contender names
Photo: Animal Planet / Puppies take to the field at Puppy Bowl IX.
pics, advice, info and stories for pet lovers
I love all pets. I wouldn't be a veterinarian if I didn't, and I celebrate the human-animal bond every day. I do look forward, though, to the day when these five breeds aren't as popular. The reasons vary, but in many cases the problems are health-related, and overbreeding by puppy mills and other less-than-ideal operations has a lot to do with that. What would help these breeds is for there to be a lot less of them. A couple of them need many more adopters and far less breeding, and all would benefit from people who are well-prepared for the challenges of owning a dog, and who make sure to look to rescue, shelters and reputable breeders for their pets. As always, whatever pet you choose, we veterinarians are here to help you make healthy choices for life.

The mayor of an affluent California town has landed himself in a messy situation.

Dog reunited with owner in Brazil.

These breeds used to be more popular, but they could just be one hit TV show, movie or commercial away from a comeback.

267 veterinary professionals offered up their picks for the Most Athletic, Biggest Flirt and other popular high school categories.