Puppies reign on Super Bowl Sunday
Everyone wins at the Puppy Bowl.
Before the Baltimore Ravens and San Francisco 49ers kicked off Super Bowl XLVII in New Orleans, there was another (much cuter) big game on Sunday afternoon: Animal Planet's Puppy Bowl IX.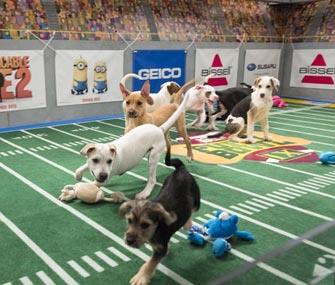 The game featured 63 adorable shelter pups from around the country — as well as Meep the bird who Tweeted game updates, hamster sports reporters, hedgehog cheerleaders, the traditional kitten half time show and one lucky human ref, who doled out penalties for "excessive cuteness."
Marta, a Schnauzer-Beagle mix who's "deceptively athletic," took home the "Most Valuable Puppy" prize — and all of the puppies are now the winners of forever homes. — Read it at
USA Today
and
meet the puppy players
Plus: Never doubt an animal prognosticator! Or at least not these two. Both Teddy Bear the talking porcupine and the Golden Retriever puppies who delighted the audience on Jimmy Fallon's Late Night last week picked the Ravens, who won 34-31.
More from Vetstreet:
5 best Super Bowl commercials starring animals
Rescued mom dog goes back for her pups
8 newest dog breeds
Kitty delights in her first snow
Stories behind eight Westminster Dog Show contender names
Photo: Animal Planet / Puppies take to the field at Puppy Bowl IX.
pics, advice, info and stories for pet lovers
The adorable pair of kittens who shut down a New York subway get to stay together after all

An Arizona dog gets a second chance thanks to the kindness of a passerby

Loki is fourth dog firefighter has saved by mouth-to-mouth resuscitation

World Wildlife Foundation reports 441 new species discovered in Amazon rainforest

When a dog gets out of the water, one of the first things he does is shake. In just a second or two, water sprays everywhere, and then the moment ends. Now imagine if you could watch your dog shaking in slow motion. Think of your pup's floppy ears, loose jowls and bulging eyes. What would it look like? Well, photographer Carli Davidson set out to capture just that in her new book, Shake. In 2010, Davidson started using a high-speed-shutter camera to photograph rescue dogs in mid-shake. When she posted the photos on Facebook, they quickly went viral. The project's popularity led her to this book, in which two photos of 61 canine models, including French Bulldogs, Springer Spaniels and Boxers, are presented side by side in mid-shake. Check out our photo gallery featuring some of our favorite shakes from the book, and don't be afraid to post photos on our Facebook wall of your dog shaking. We know it will be a challenge, but it will be worth it!