Puppies reign on Super Bowl Sunday
Everyone wins at the Puppy Bowl.
Before the Baltimore Ravens and San Francisco 49ers kicked off Super Bowl XLVII in New Orleans, there was another (much cuter) big game on Sunday afternoon: Animal Planet's Puppy Bowl IX.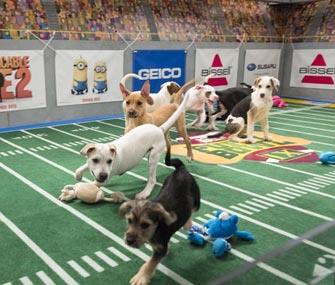 The game featured 63 adorable shelter pups from around the country — as well as Meep the bird who Tweeted game updates, hamster sports reporters, hedgehog cheerleaders, the traditional kitten half time show and one lucky human ref, who doled out penalties for "excessive cuteness."
Marta, a Schnauzer-Beagle mix who's "deceptively athletic," took home the "Most Valuable Puppy" prize — and all of the puppies are now the winners of forever homes. — Read it at
USA Today
and
meet the puppy players
Plus: Never doubt an animal prognosticator! Or at least not these two. Both Teddy Bear the talking porcupine and the Golden Retriever puppies who delighted the audience on Jimmy Fallon's Late Night last week picked the Ravens, who won 34-31.
More from Vetstreet:
5 best Super Bowl commercials starring animals
Rescued mom dog goes back for her pups
8 newest dog breeds
Kitty delights in her first snow
Stories behind eight Westminster Dog Show contender names
Photo: Animal Planet / Puppies take to the field at Puppy Bowl IX.
pics, advice, info and stories for pet lovers
We recently listed the top five smartest dog breeds as chosen by veterinary professionals, and, unsurprisingly, our readers were quick to comment on other breeds that show enormous intelligence. Now we're sharing another result from that survey of 122 veterinary professionals. We aren't going to say "least intelligent" because all dogs have their own kind of genius, right? But we will say that in the opinion of the surveyed veterinary professionals, the breeds named here aren't necessarily known for their cleverness even if they are known for having many wonderful characteristics. Of course, please know that in no way are we saying these dogs aren't smart or aren't trainable. They just might not keep up with the Border Collie in their obedience class. And that's OK — whether our pets sit at the front of the class or flunk out of puppy school, we love them just the same.

Typically, cats don't rush up and bombard you with kisses like some dogs, but many do display genuine friendliness. Happy-to-be-with-you cats range from the demure lap lounger to the chatty feline who escorts you from room to room. Vetstreet shines the spotlight on nine feline breeds with stellar reputations for thoroughly enjoying the company of their favorite people.

Do you find it hard to sit still? Would you rather spend your time running and playing and working outdoors instead of lounging at home on the couch? If so, you may have met your match in these breeds. We polled 122 veterinary experts to get their opinions on which dog breeds are the most energetic. Here are the five that received the most votes!

Are cats an acquired taste?

Researchers say invention can tell you what your dog is thinking.

Mom shocked by big fish in photo.