Puppies reign on Super Bowl Sunday
Everyone wins at the Puppy Bowl.
Before the Baltimore Ravens and San Francisco 49ers kicked off Super Bowl XLVII in New Orleans, there was another (much cuter) big game on Sunday afternoon: Animal Planet's Puppy Bowl IX.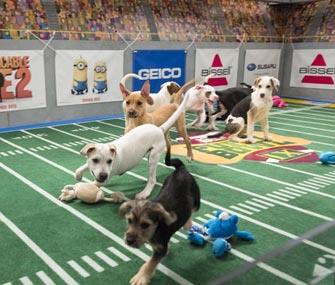 The game featured 63 adorable shelter pups from around the country — as well as Meep the bird who Tweeted game updates, hamster sports reporters, hedgehog cheerleaders, the traditional kitten half time show and one lucky human ref, who doled out penalties for "excessive cuteness."
Marta, a Schnauzer-Beagle mix who's "deceptively athletic," took home the "Most Valuable Puppy" prize — and all of the puppies are now the winners of forever homes. — Read it at
USA Today
and
meet the puppy players
Plus: Never doubt an animal prognosticator! Or at least not these two. Both Teddy Bear the talking porcupine and the Golden Retriever puppies who delighted the audience on Jimmy Fallon's Late Night last week picked the Ravens, who won 34-31.
More from Vetstreet:
5 best Super Bowl commercials starring animals
Rescued mom dog goes back for her pups
8 newest dog breeds
Kitty delights in her first snow
Stories behind eight Westminster Dog Show contender names
Photo: Animal Planet / Puppies take to the field at Puppy Bowl IX.
pics, advice, info and stories for pet lovers
It's Independence Day — and we're celebrating our freedom and everything American. Before you light up the grill or head out to catch the fireworks, take a moment to check out these fun photos of patriotic pups. We hope you have a wonderful holiday and, as always, remember to keep your pets safe.

You love him so much, but you put up with a lot for your pup.

There's no denying that cats are excellent companions, but sometimes they do something that leaves you scratching your head in total confusion. If you're used to dogs, cats' social interactions and the way they communicate can be very confusing. Yet it's these special behaviors, like affectionate head-butting and their penchant for cardboard boxes, that make us love them so much. To help you better understand your elusive feline, we rounded up 10 cat behaviors that people commonly consider mysterious. You'll find that many of these habits aren't weird at all for cats -- they're normal. Click through this slideshow to learn more about mysterious feline habits and what they mean.

Soldier the cat is now recovering thanks to a special oxygen mask used for reviving animals.

Donna the dog served in Afghanistan and is retiring.

Kitty can't hide its excitement when his owner walks through the door.

It's an age-old discussion: Are you a cat person or a dog person?

Fire-rescue crews were able to lead the animal to safety.

For many, summer means getting outside and spending quality time with four-legged friends. Sometimes that's a game of fetch in the backyard, but sometimes it's fun in the sun (and sand) at the beach. Luckily, there are a number of beaches in the United States that let you bring your pooch — as long as you follow the rules, of course. Here are eight beaches that you can visit with your dog.

Factors include weather, walkability, yard sizes and more

Check out some of the sweetest cat naps we've ever seen...