Puppies reign on Super Bowl Sunday
Everyone wins at the Puppy Bowl.
Before the Baltimore Ravens and San Francisco 49ers kicked off Super Bowl XLVII in New Orleans, there was another (much cuter) big game on Sunday afternoon: Animal Planet's Puppy Bowl IX.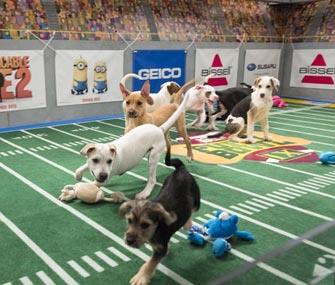 The game featured 63 adorable shelter pups from around the country — as well as Meep the bird who Tweeted game updates, hamster sports reporters, hedgehog cheerleaders, the traditional kitten half time show and one lucky human ref, who doled out penalties for "excessive cuteness."
Marta, a Schnauzer-Beagle mix who's "deceptively athletic," took home the "Most Valuable Puppy" prize — and all of the puppies are now the winners of forever homes. — Read it at
USA Today
and
meet the puppy players
Plus: Never doubt an animal prognosticator! Or at least not these two. Both Teddy Bear the talking porcupine and the Golden Retriever puppies who delighted the audience on Jimmy Fallon's Late Night last week picked the Ravens, who won 34-31.
More from Vetstreet:
5 best Super Bowl commercials starring animals
Rescued mom dog goes back for her pups
8 newest dog breeds
Kitty delights in her first snow
Stories behind eight Westminster Dog Show contender names
Photo: Animal Planet / Puppies take to the field at Puppy Bowl IX.
pics, advice, info and stories for pet lovers
Low-energy and easygoing breeds like the French Bulldog and the Maltese are great choices for seniors looking for a pet.

Pucker up for controversy.

How a pup rescued from a backyard breeder is inspiring change

Whatever you believe about animals and their feelings, the truth is that smiles on animals can be contagious. We found some of the best smiles the animal kingdom has to offer.

Stick chew toys and self-warming beds are some of the top canine products we saw at Global Pet Expo 2013.

We rounded up the best feline food puzzles, toys, scratchers and accessories we could find at the Global Pet Expo. It's like a Disney World for kitties.

The tiny implanted device can do what a missing collar never could — reunite you with a lost family member.

One all the things we love about attending Global Pet Expo, the industry's biggest annual trade show, our favorite is coming across products that amuse us by being unusual or surprisingly clever. Some are truly creative solutions to problems we all face, while others fill a need we didn't even know we had. Regardless, each item in this gallery is sure to make you smile.

Study finds getting a pet is a better predictor of staying together than having a baby.

Once popular, names such as Brandy, Scooter, Spike, Scooby and Lucky have fallen on hard times in the dog-naming world. Check out which male and female names are out of fashion in 2013.

We've already examined the most popular puppy names of 2012, but just finding out which names we're most likely to hear at the dog park wasn't quite enough. We wanted to look at which monikers were on the rise, so we dug a little deeper to determine the 10 trendiest names of 2012. To do so, we hit up Vetstreet's data, which includes information about 1.26 million dogs. We looked at where the names were in 2003 and 2012; those that moved up the most made the list. Of course, some names fell off the list completely in the past decade — Elvis, Ozzie and Cassie among them. Some of these were replaced by newer names like Thor and Athena that, despite a late entry to the Top 100, have become popular enough that they, too, were included.

What is the best route to follow should your pet bite one of your guests or run off and nip an innocent bystander?