Wire Fox Terrier wins 'Best in Show' for second year in a row
The win at the National Dog Show is one for the history books.
For the second year in a row, a Wire Fox Terrier won the coveted Best in Show title at the National Dog Show presented by Purina. The same breed hasn't won two years in row in a major competition since an English Springer Spaniel won Westminster in 1971 and 1972.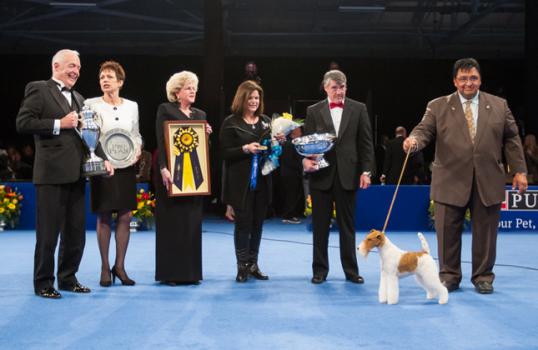 It wasn't easy for the Terrier Group winner to nab Best in Show — the 4-year-old female faced some serious canine competition. Out of more than 1,500 dogs, 160 breeds, and six other Group Winners, Best in Show Judge Vicki Abbot chose GCH Afterall Painting the Sky to win the prestigious honor.
"She has a keen expression and that dense, wiry coat. The handler let her show herself and she performed," said Abbot.
Sky beat out an Affenpinscher from the Toy Group, an American Foxhound from the Hound Group, a Great Dane from the Working Group, a Tibetan Spaniel from the Non-Sporting Group, a Bearded Collie from the Herding Group and a Field Spaniel from the Sporting Group.
"Sky is a very beautiful Wire Fox Terrier," said Sky's handler, Gabriel Rangel. "She is a natural show dog with a short, well-balanced body. She has a beautiful head and her face is unbelievable."
This isn't the first time Rangel has gotten to hold the Best in Show trophy. In fact, the handler has won the National Dog Show three of the last four years. He won with Sadie the Scottish Terrier in 2009, and with two Wire Fox Terriers — Eira in 2011, and now Sky.
Photo: Steve Donahue, See Spot Run Photography
Bing: Read more about the National Dog Show
More from Vetstreet:
Why does my dog… dance before he goes to the bathroom?
5 popular hairless dogs and cats
12 best couch potato dog breeds
5 dogs breeds that are sadly losing popularity
Want a large, gentle dog? Then this breed is for you
pics, advice, info and stories for pet lovers
Computer equipment delivery came with two cute stowaways.

Take a look at your house for these telltale signs that a cat is running the show.

Check out this list of requirements you should meet before getting a new puppy or adult dog.

Much like their famous owners, these pooches live a fabulous life. Some are rescues, others purebred, but one thing is certain – these dogs play an important part in their famous parents' lives. Can you guess who owns each of these dogs?

Pets are part of many children's lives. Learn how to help them foster strong, healthy relationships.

If you live with a feline companion, you know that cats can be quirky and totally entertaining. (Even if they'd never admit it in a million, trillion years.) Here are just a few of our favorite cat-isms, some with sandpaper tongue firmly in cheek. Did we miss any of yours?

Tummy troubles in your four-legged friends? Carrageenan in their pet food may be to blame.

There's more to choosing the perfect dog for your family than walking into a shelter and saying, "Find me one that looks like the dog from Marley and Me." Choosing a dog is more like buying a car. You want one that isn't just good looking, but is also a perfect fit for your family and lifestyle (and won't leak in the garage). Here are 8 great tips to help you determine the perfect pooch for your pack. By Jeremy Greenberg

CEO says, "it was one of the best ideas of my life"

Before you jump into marriage counseling, take a look at our list to see if you truly do love your dog more than your spouse.

Spring break isn't just for humans anymore. Cats and dogs know how to have fun in the sun, too, and would love to tag along on your vacation. In honor of the warm and relaxing days ahead, here are 15 pets catching some rays, going on hikes and floating in the pool.

Injuries often happen when dogs are outside chasing tennis balls or playing at dog parks. Because yours needs regular exercise, it can be difficult to protect him from many accidents.