Dog reunites with owner after 7 years
Man 'never gave up hope' that his dog would be found
It was seven years ago that B.A. got spooked by a thunderstorm and took off from his Raleigh, N.C., home. So, when owner Dan Kesler, who now lives in Arizona, got a call last month from the Durham County Animal Shelter saying that B.A. had been identified by a microchip, he was shocked.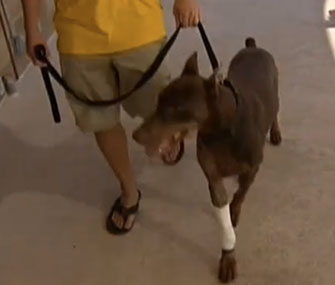 "Oh my God, it's my dog!" Kesler said. "Did I think he'd be back? I can't say yes, but I never gave up hope."
B.A. favors one leg from what the shelter's veterinarian believes was an old injury, but is otherwise healthy, and was recently flown out to Arizona to be with Kesler.
"There was some angel watching out for this dog for seven years," said shelter director Shafonda Davis. "That is one lucky dog."
— Watch it at CNN
Photo: CNN // B.A. was reunited with owner Dan Kesler after seven years.
Bing: Amazing animal stories
More from Vetstreet:
5 dog breeds that are sadly losing popularity
Video: Baby koala steals a sneak peek?
2 new dog breeds make debut
Why does my dog… walk in a circle before lying down?
5 great low-maintenance dogs
pics, advice, info and stories for pet lovers
What is the best route to follow should your pet bite one of your guests or run off and nip an innocent bystander?

Tiny Terrier rescued from traffic in Texas.

Shaved legs, trimmed mustaches and long, luxurious coats — sometimes we think the Westminster Dog Show, which airs Monday and Tuesday, is like a red-carpet event for unusual-looking breeds.

February 14 isn't just a day to shower the special human in your life with chocolates and roses. It's also important to do something special for the one member in your family who loves you unconditionally — your pet. In honor of how much we love all things furry, feathered and four-legged, we rounded up our favorite cats and dogs celebrating Valentine's Day.

Here are nine fundamental steps for taking care of your new kitten.

Only 35 of its kind exist in the U.S.