'No pets left behind' in Colorado rescues
"Pet-friendly" flood rescue effort helped convince reluctant residents to leave their homes.
JERI CLAUSING, Associated Press
BOULDER, Colo. (AP) — Some helicopters rescuing people after massive flooding in Colorado carried more dogs, cats and fish than people. Rescuers using zip lines to evacuate people over raging rivers also risked their lives to make sure the four-legged members of families were safe.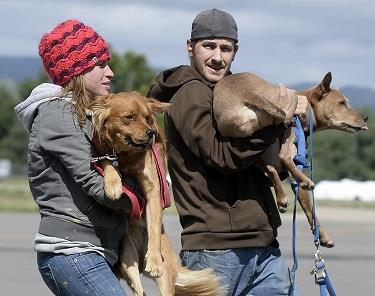 In contrast to stories of people forced to leave their pets when New Orleans was swamped by Hurricane Katrina, the motto during one of the largest evacuations in Colorado history was "No pets left behind," said Skye Robinson, a spokesman for the National Guard air search and rescue operations during Colorado's floods. That's because including pets in the rescue effort helped convince even reluctant residents to leave their homes. Officials also had more than enough space for the animals and even carried animal crates with them.
More than 800 pets have been ferried to safety with their owners via helicopter, the National Guard said. Hundreds more were rescued by ground crews. Livestock, like horses and cattle, were left behind, but a monkey was among those saved.
Once safely on dry ground, Red Cross shelters had water bowls, on-site dog kennels and all the necessary supplies to ensure already stressed evacuees wouldn't be separated from their pets.
"We kind of learned after Katrina, when people wouldn't evacuate because of their pets," said Kathy Conner, a worker at a shelter at a YMCA in Boulder.
Evacuees Jerry Grove and Dorothy Scott-Grove said they never would have abandoned their vacation cabin in Estes Park without their two golden retrievers. But they didn't have to make that hard choice. Firefighters carried the two large dogs to safety on the same zip line used to rescue the retired Ohio couple.
"They put them in a harness and one of the firefighters hooked himself to them and brought them across," Dorothy Scott-Grove said. "We will not be separated."
Once out, the Red Cross found the couple a pet-friendly hotel where the dogs the next day "were resting comfortably on our king-sized bed," she said.
In a state where dog passengers are as common as humans in cars, Lisa Pedersen, CEO of the Humane Society of Boulder Valley, said taking care of pets has become a central part of disaster planning.
It appears to be working. One week after floods and mudslides forced the local evacuation of more than 3,000 people, Pederson said the Boulder area shelter had just 72 pet evacuees — all but two of which were delivered by their owners for temporary shelter after they were forced from their homes.
"It just makes sense that you bring the pets along. They are part of the family," Robinson said. "You wouldn't leave a family behind because they had kids."
More from Off the Leash:
Russian library hires stray cat
Dog credited with saving family from snake
Cheer up, Grumpy Cat: You have an endorsement deal
Friend us on Facebook, follow us on Twitter and find us on Pinterest.
Photo: Evacuees carry their dogs at the Boulder, Colo., Municipal Airport after being rescued from a flood-damaged area by helicopter on Monday, Sept. 16. (AP Photo/The Daily Camera, Jeremy Papasso)

pics, advice, info and stories for pet lovers
Adopting an animal is a major commitment. Yet all too often people put more effort into researching what kind of car to get than the type of pet that would best fit their lifestyle.

'Tis the season to send out holiday greeting cards to all your friends and family. But, as our friends at Awkward Family Pet Photos know, not all holiday snapshots are the same. Some are just plain kooky — especially when pets are included. So with good tidings and great cheer, here are 10 wacky holiday animal portraits that are sure to make you laugh out loud and get you in the holiday spirit. And possibly make you think twice about dressing up the family cat this year.

King of the jungle? Nah, it's just a labradoodle!

Do you have a finicky furry friend on your holiday gift list this year? You're in luck! We've rounded up the coolest cat-approved products to bring you purrfect gift ideas for every kind of cat -- from the curious kitten to the most refined feline. Any one of these special gifts could make your resident kitty purr with pleasure and maybe, just maybe, like the present this year even more than the box and wrapping paper it came in!

Plus, puppy names to watch

We asked 218 veterinary professionals to vote on the dog breeds and mixes that are not good choices for first-time pet parents. German Shepherds, Bulldogs and Akitas are among the breeds new pet owners should steer clear of.

"No! Bad dog!" How many times have you scolded your misbehaving canine with those words? Probably too many. But before you fly off the handle, one of the most important things to understand about correcting bad behavior is that punishment doesn't work.

If you have a hard time cruising through the toy aisle without loading up, you're not alone. But the good news is that there are tons of inexpensive dog toys that still deliver big fun. Check out our picks, and be sure to share in the comments if we left off your dog's favorite!

Sexy mice? Yes, they exist

Stray surprises subway passengers.

Newly cast cat will better match character from the book series, producer and author say.